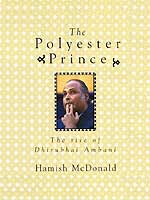 Banned book: The Polyester Prince: The Rise of Dhirubhai Ambani HarperCollins, 1998
Status: Injunction against the book in 1998
So the same kind of people who sneered at an Indian government for suppressing Salman Rushdie's The Satanic Verses and thereby "appeasing" an over-sensitive minority are now in the business of book-banning too.
Penguin Books India's craven decision to pulp its edition of US academic Wendy Doniger's The Hindus: An Alternative History is another example of publishers wilting without putting up a fight in court, in this instance to test the assertion by one Dina Nath Batra, of a Hindu nationalist outfit called Shiksha Bachao Andolan, that it insulted the feelings of a religious group.
The publisher is part of Penguin Random...