Abhishek Mukherjee (name changed), 26, had landed a job in a real-estate firm after taking an engineering degree. The job paid well. He met clients between nine to five and went home to his parents after that. Then he gave himself up to his passion—poker. He first started dabbling in it online. Soon, it ensnared him enough for it to take the form of an addiction. And he started making money. Serious money. "I earned Rs 1.5 lakh in the first month," he says. As Abhishek spent more time on poker, he started making more money. The call of the cards was irresistible—enough for him to chuck his job and took to the game full time. Abhishek now 'earns' between Rs 5-6 lakhs a month, more than what he would have made in a year as a real estate agent.
Poker is not all mad luck; it involves skill, mind-control, and consistent 'grinding'. A 'grinder' is a poker player who makes an honest living playing a tight game: no frills and no knee-jerk decisions on the table because the person next to you is looking at you funnily. The game itself is an American creation. The king among all its derivates (games like Omaha, Stud) being No-Limit Texas Hold'em, the game most poker players try their hand at. Why? Because it's mostly all or nothing, and you can strip someone of all their chips (read money) in a matter of minutes.
However, the game its founding fathers invented is passing us by. It is not about beer-guzzling Texans in cowboy hats anymore. Hoodies have replaced the hats. In 2003, the aptly named Chris Moneymaker won a tournament on the online portal Pokerstars, and gained entry into the finale of the World Series of Poker, the glitziest competition in the poker world. Revenue from online poker totalled $3.2 billion in 2007 in the US alone. The online version resembles a real-time poker game, except that there is a virtual table on the computer screen and profiles of real players who occ­upy the seats. You put in your money via a debit/credit card into an e-wallet. You then choose the stakes and you are on.
The floating casinos on the Man­dovi river in Goa is where this new breed of 'grinders' honed its craft. "I first started playing in college," says Harsh Raj, another 26-year-old engineer from Ranchi. He acq­uainted himself with the poker scene via small cash games. "We would play a game where we'd each put in 100 bucks and although the winner took all, the money was spent on things like alcohol for all." But along the way, the game took a serious turn. He now earns close to Rs 6 lakhs a month on an average from the online games. "I first got hooked by Zynga poker on Facebook," says Naveen Kumar, yet ano­ther young engineer from Ranchi.
Foreign-based-portals like Full Tilt Poker and Pokerstars were available but they "have the hassles of having a Neteller acc­ount for cash transfers", says Rohan (name changed), 25, from Dibrugarh. "The games are too tight and there are less fish", he says, implying that money is harder to come by and that the players are hardened pros.
Around five years back, Indian websites like Adda52.com which offer real cash games in poker and rummy sprang up. Cash games, with an initial buy-in of Rs 50, could give you a smallest possible game where the blinds (or bets) were as low as Rs 2/4. There were bigger ones too—a buy-in of Rs 10,000, with blinds of Rs 500/1,000. "I used to play for fun in college, as did most of us," says Harsh. "But when I started earning 50-60k in just a month I seriously started considering it". Initially, the virtual tables were empty and players few, but in "the last three years, especially in the past year, the games are picking up," says Naveen.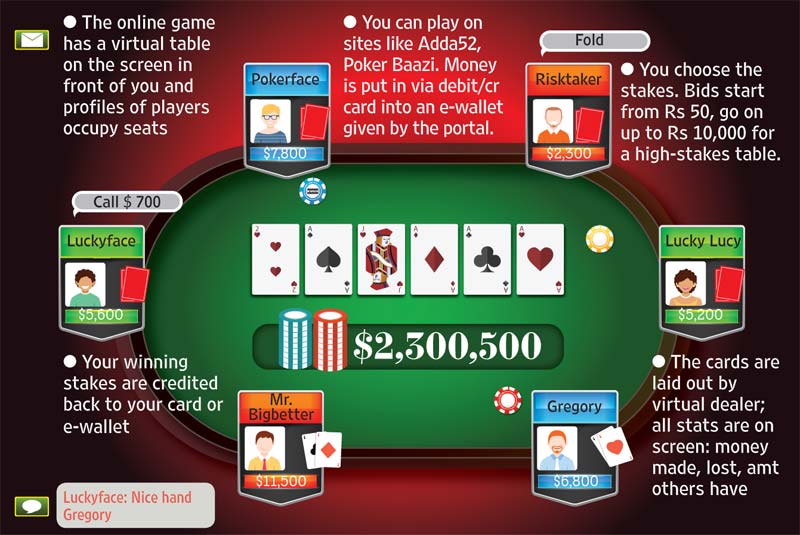 More websites are also springing up to accommodate a pick-up in games. Adda52 may have blazed a trail but portals like Starpoker, PokerHigh and PokerBaazi have caught up. "It's better playing in rupees than dollars," says Navkiran Singh Navi, founder of PokerBaazi and a player himself. Navkiran says the website now has over 10,000 registered users, many of whom play the free-rolls (a tournament with no entry fee but a guaranteed prize for the winner).
Navkiran is coy about his earnings but mentions that the site rakes in close to Rs 2 lakh daily. "Close to 50 per cent of that goes back to the players," he says, citing free-rolls and bonuses for registered players.
But isn't 'gambling' illegal in India? The online gambling industry is working in leg­ally grey territory. The Supreme Court had asked for the Centre to come up with a policy decision about this, but nothing happened. Gambling is a state subject, and Goa, Sikkim and Daman allow casinos to operate. "We got a lot of legal opinion bef­ore starting the enterprise and I think the government is mature enough to make a distinction when push comes to shove," says Navkiran. Currently, the game is put in the 'entertainment' bracket in the country and a tax deduction at source (TDS) of 30.9 per cent is charged for winnings above Rs 10,000.
But how do you keep a poker face when telling your family that your profession is poker? Many don't—the reason why some players we spoke to wanted their names changed. "No, it's not gambling," says Harsh, who went to great lengths to convince his parents. "I explained that it is a game of skill," he says. While Naveen says he will tell his parents that he never took up that job in Bangalore "by the end of the year", Rohan's mother has moved to Goa to stay with him. "She knows how I function: Sleep through the day and play at night," he says. "And she is fine with it because she has seen how all of it works." Punishing late-nights at the 'workplace' aside, players pre­­fer the online space to live games, called B&M (brick and mortar) games at casinos. "You can play at any time of the day and there will be players available online," says Harsh. "Online is faster, you can play on multiple tables, and there are more hands you can play in an hour," says Abhishek.
And what of those who haven't fared so well even after sacrificing careers to poker? One player left a cushy job in Dubai and returned to India to 'grind' it out. But a few bad hands made him scurry back for corporate cover. "There are risks involved; you'd be stupid to think otherwise," says Harsh. "All of us have bad days or a bad beat, but you keep at it," says Naveen.
Cold hard luck can get the better of them at times; sometimes the permutations and combinations can addle their overworked brains. But players staking much at the altar of poker have honed their skills for nothing. Equal parts of tenacity, luck and nerve make a whole part of mojo.