In the great cull of the print media that the internet is perpetrating, the magazine was always thought to be among the first to drop. It is the unhealthiest form of print excess, after all. The magazine appears weekly or fortnightly, or monthly or quarterly, in an era when even the next day's newspaper sometimes feels stale. It lavishes money and time upon stories, and who has a surplus of these items anymore? It publishes these stories at lengths of up to 10,000 words, which is, we are told, roug­hly 9,900 words more than the average reader's attention span. The magazine aims for depth; the internet rewards shallowness. The magazine is stodgy and slow to move; the internet demands nimbleness. This contest was supposed to be over even before it properly began.
And make no mistake: many magazines are foundering. The newsweeklies, in particular, are in trouble—perhaps not all of them financially, but certainly as an idea of a published product. Newsweeklies once provided the long, analytical view; they now try to reframe stories that broke on Twitter, appeared on television's grinding news cycle, headlined newspapers and provoked heated arguments in the comments sections of websites. By the time this piece of meat reaches the newsweekly's end of the digestive process, there is nothing left but gristle.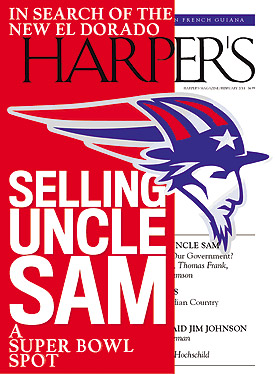 Among the oldest Harper's, founded in 1850, is the second-oldest continuously published magazine in the US
But somehow, so far, magazines have survived. In fact, leaving finances aside for a mom­ent, it's even possible to say they have thrived. Many of the world's best older magazines have shown astonishing agility, and dozens of new magazines have been born. Perhaps the pundits underestimated the genre's resolve to adapt. Perhaps also, though, the form itself has proven vital and essential in some way, difficult to replace and more necessary today than ever.
The grand established magazines—The New Yorker, the Eco­nomist, Harper's, Wired, National Geographic—have realigned themselves. Their websites have grown livelier, updating themselves several times a day, responding quickly to news or even breaking it. They think harder about presenting photos and videos. And they all have tablet editions, ranging from the simple facsimile of the Economist's print issue to the hyperlinked, multimedia glory of Wired on the iPad. For overseas readers, these apps are marvellous beasts. I subscribe to more of them than I can read, something I'd never have done for their print iss­ues, which arrive in stutters to Indian addresses. The iPad has multiplied the potential paying readership for high-quality magazines.
But these publications, it might be argued, had money to experiment and expand; in the Darwinian scheme of things, they also had to evolve to survive. The real comfort for devotees of the form is to be derived from the blossoming of new ventures and smaller magazines. Media firms that were not originally in the magazine business seem to be pulled, almost gravitationally, towards the shape and heft of the magazine story. I'm thinking, for instance, of the Guardian, which publishes a wealth of original stories every day in its newspaper but still started publishing 5,000-word 'Long Reads' three times a week; of BuzzFeed, which consciously diversified away from cat listicles and into longer reported pieces and essays; of Mint, which already puts out the superb Lounge on Saturdays but recently started a slim digital magazine on Sundays. The Delhi Press relaunched Caravan; the Tamil newspaper group Dina Malar publishes a fine English monthly called Fountain Ink.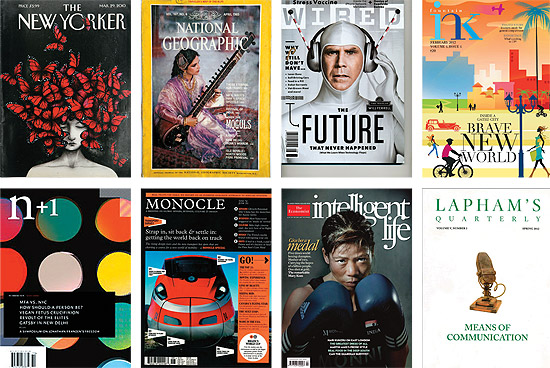 Steadies & Newbies Big names like The New Yorker and National Geographic have segued to the digital world; Wired reaches beyond techies; Fountain Ink (from the Tamil Dina Malar group) and n+1 break new ground; Lapham's focuses on one theme per issue.
Most excitingly of all, there are the small magazines online, which I seem to discover at the rate of one a week, building for myself an impossible backlog. For these, the internet is an ardent accomplice. Every weekday, Aeon presents a magazine-length story that explores the seams of science, philosophy and culture. Every month, Nautilus publishes multiple articles on a single scientific theme, so that each issue is like an eccentric but marvellous symposium. The Atavist brings out one piece of narrative journalism every month; each digital release is gorgeously des­igned, and many include video, audio or interactive elements. On a recent, random day, when the Cabinet was 56 issues old, its home page held two essays I couldn't wait to read: 'Episodes in the Life of Bounce', about the role of the ball in human culture, and 'The Invention of Clumsiness', on how photography changed the depiction of the human body. When I can, I read the Walrus or Hazlitt, published in Canada, or Cityscapes, out of South Africa, or the dense but rewarding n+1, from New York. And what are podcasts if not sonic versions of magazine stories? Serial, a podcaster that explores non-fiction stories and runs them in parts, exhumed an old murder case last year: the first season felt precisely like a long investigative article. The shorter episodes of 99% Invisible or Radiolab are like timeless feature stories.

Glossy Cornucopia The W.H. Smith bookstore in London, diplaying its eclectic spread of periodicals. (Photograph by Alamy, From Outlook Issue 02 November 2015)
I present this flood of examples partly by way of enthusiastic recommendation, but partly also as voluminous proof of the renaissance of the magazine. The magazine story is unique: too long and too deep for a newspaper, too short for a book, too time-consuming for television, too much effort for the news websites du jour that insist they will create original content but then lazily "curate" the work of others. The agility of the magazine form is also a thing of beauty. A piece can be heavily analytical, vividly dramatic, reflective or investigative. It is capacious enough to allow for shades of grey, for doubt and for messiness—which is, more and more, a vital quality for journalism in an increasingly complex world. More than anything, a well-written magazine story is 'readable'—an ugly word but an important one, because a readable narrative is still the most effective way to convey dense and complicated realities.
Not that the magazine is wholly out of the woods yet. Far from it, in fact. Finances are still strained, advertising continues to drop, costs rise. Edi­t­ors must still count their pennies, cho­ose one story idea over another because the budget won't accommodate both. But the good fight is being fought. Magazines are being inventive, clever and committed, hoping that subscribers—and history—will reward them for it.
---
Samanth Subramanian's writing has appeared in the New Yorker and Granta. His books include Following Fish: Travels around the Indian Coast and This Divided Island.