"I weep when I cruise past my village in my BMW. My chauffeur thinks I'm crazy when I ask him to stop the car by a huge tree. I get out and rest in its shade. I give it a hug and even talk to it."
—Ashok Khade, chairman, Das Offshore Pvt Ltd, Mumbai
The tree Khade stops by falls on the way to his village Ped in Sangli district in Maharashtra, and is the very place where his father made a living as a cobbler. Young Khade's caste marked him out for exclusion—from the village ground, the well, its water, the temple—almost everything. Education held the lone hope in this dark abyss, and Khade clutched firmly at this straw, sweating it out at the Mazgaon docks during the day and studying for a diploma in mechanical engineering at night. It wasn't easy; there were times when he had to live under staircases because he could not afford to pay the rent. But determination and hard work eventually paid off. Today, Khade presides over a business empire that is worth Rs 550 crore and has a workforce of 4,500 people. Das Offshore undertakes construction assignments for offshore rigs, and also builds skywalks or foot overbridges.

Khade and 30 other businesspersons, including a woman, are now part of a league of 'Dalit crorepatis', comprising first-generation entrepreneurs who run successful businesses and give jobs to others. And they haven't used the ladder of quotas to get to the top, preferring instead to strike out on their own, cocking a snook at the cynics who disapprovingly cluck at the very mention of an inclusive society based on positive discrimination. Propelled by sheer grittiness and tremendous self-belief, they have arrived at a juncture far removed from their predecessors and have acquired a clout their forefathers wouldn't even have dreamt of. So much so that the Confederation of Indian Industry (CII) is trying to formalise an association with their body, the Dalit Indian Chamber of Commerce and Industry (DICCI).
"Why is it that the state still indulges in skill development jargon for poor and leadership development for rich?"
And they are by no means done yet. "Every time I look at Fortune magazine's list of billionaires," says Milind Kamble, CMD of Fortune Construction Company, Pune, "I wonder when one of us will make it to the list." When he says "one of us", Kamble is referring to the country's most oppressed community, the Dalits, making it to the world's list of the richest. Incidentally, Kamble takes some measure of pride in one of his recent projects—laying the pipeline supplying water to Baramati, the pocketborough of Union agriculture minister Sharad Pawar. "Mein Pawar ko pani pilata hoon (give him water, literally, but the phrase could also mean get the better of someone)," he says jocularly.
Outlook's list of 30 Dalit crorepatis (sourced from the DICCI) is far from complete; members of the chamber say the numbers are likely to increase as more entrepreneurs come forward. But what makes each of these success stories that much sweeter is the fact that it has come after years of fighting a system whose very structure is designed to keep Dalits out. Not only that, many of the enterprises are in areas not traditionally open to the community.
As Surinder S. Jodhka of the Indian Institute of Dalit Studies at Delhi's Jawaharlal Nehru University puts it, "It is a tough struggle in a market where businesses are run on networks and caste lines, and being a Dalit often means no land and virtually no assets. The discrimination is not just on the lines of untouchability, a whole structure of stereotypes is built around them—that they lack the required skills or can't speak good English—which takes time to work around." Besides, Jodhka points out, the informal sector is brutal and exploitative, while shrinking avenues of employment in the government sector in the face of liberalisation have meant that the oppressed classes have had to perforce step out and try to forge networks as they rise up in the open market—the very reason DICCI was set up in 2005.
Not all are ready to raise a toast to the 30. Don't read much into their lavish lifestyle and their BMWs, they say.
The market, say many of these Dalit entrepreneurs, is not quite the leveller it is often made out to be. The poor and socially backward find credit facilities to start something big hard to come by. Admits Kalpana Saroj, chairperson of the Mumbai-based Kamani Tubes, which she took over after clearing a debt of Rs 140 crore, "Being a woman and a Dalit, it was really tough to make the grade."
Married off at the age of 12, Saroj took a loan of Rs 40,000 from Allahabad Bank to purchase a few sewing machines and employed women to stitch and embroider garments. But ambition got the better of her and she moved soon enough into real estate and construction, using that money to buy Kamani Tubes eventually. The company started small, but today boasts a turnover of Rs 100 crore. Her next project: to buy a helicopter before Diwali!

Did her Dalit background inhibit her in any way? "One has to move forward," Saroj says philosophically, adding that the initiative has come from her side. "Not all Dalits can become businessmen," notes political writer Chandra Bhan, "just as not every bania (traditionally traders) is a businessman. The Dalit crorepatis show how success is possible within the system."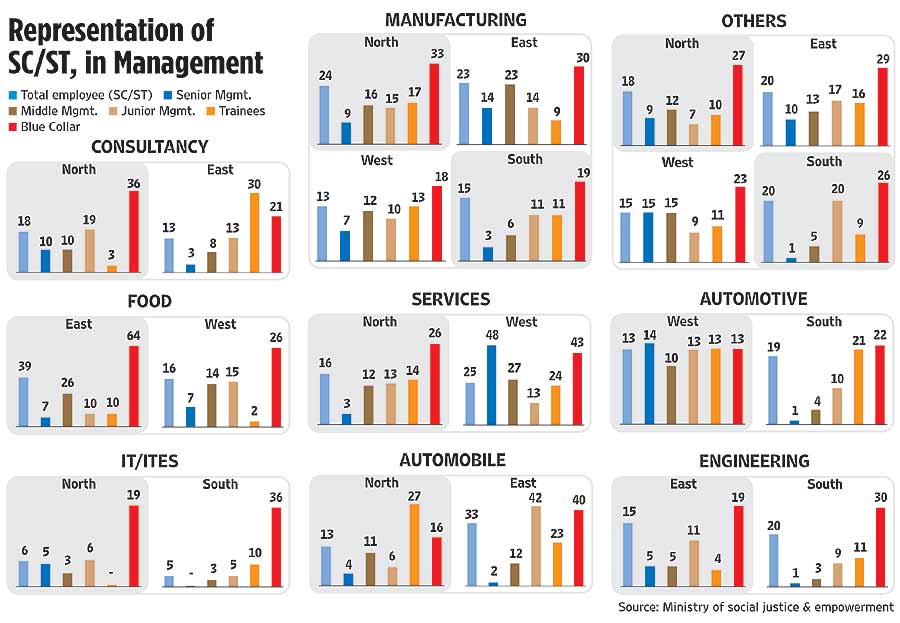 Once a business gets going, though, getting loans becomes easier for expansion and diversification. Devjibhai Makwana from Bhavnagar, Gujarat, found it difficult to source funds when he tried to set up a unit manufacturing multi-filament yarn used in fishing nets. But now things have changed, as his son Nagin Makwana explains. "My father struggled to get a loan, now there is no dearth of bankers queuing up to offer credit. We have a BMW now and our business of multi-filament yarn can only look upwards." Currently, the Makwanas' Suraj Filament has a turnover of Rs 300 crore.

Success, however, has not made these Dalit crorepatis turn their back on where they came from. Instead, they are striving to uplift their brethren, whether by example or through community service. Since education is what liberated them from the chains of caste, Saroj, Khade and others have opted to open schools in their villages. Dr Sushant Meshram, whose father worked as a waiter in an ordnance factory and who himself went on to become a fellow at the Johns Hopkins University, is now putting the final touches on a multi-speciality state-of-the-art hospital in Nagpur which will be open to the public in a month's time. "Fortunately, I was a bright student and did well in college. We are socially backward but we have chosen not to be economically backward," he says.

There is also the more celebrated example of IIM graduate Sharath Babu, who grew up in the slums of Chennai and whose mother sold idlis for a living. He went on to study at BITS Pilani and then IIM-A and started the eatery chain Food King four years ago. With his business yielding an annual turnover of Rs 7 crore now, Sharath decided it was time to repay the faith people reposed in his abilities. And so he contested the recent assembly elections in Tamil Nadu. He feels people like him should join politics to rid it of its bad name.
"Industrialists oppose reservations but welcome subsidised loans, tax cuts—another form of reservation."
And where does the state figure in this saga of Dalit emancipation and inclusion? Six decades after Independence, the state seems to have confined itself to playing the welfare card with its schemes for the scheduled castes. Employment of Dalits in the private sector is still voluntary though the idea was mooted in 2007. And predictably, the business lobby was quick to raise concerns of quality taking a hit should it implement the suggested inclusive agenda, even as they would publicly declare that the market does not discriminate on lines of caste. Given this scenario, the number of backward castes making it to top-level positions is virtually an impossibility. Something that irks Professor Anil Gupta of IIM Ahmedabad no end. The state, he says, has disengaged itself from where it should actively be helping. "Why is that the state still engages in the skill development jargon for the poor and talks of leadership development for the rich? How many leadership institutes do we have in states where there's a larger scheduled caste population?" he asks.
Ironically, inclusion is an initiative being taken by some Dalits themselves. IIT Roorkee graduate Harish Bhaskar, who started the Kota tutorials in Agra, takes pride in the fact that almost all castes come to him to gain an entry to the elite IITs. Started 10 years ago, Bhaskar says he is trying hard to persuade members of his community to take education seriously. "Most of them are too scared to look at IITs and IIMs, and there are few people to guide them," he says.
Not all, however, are hurrying to raise a toast to this group of 30. Some fear the lobby of Dalit crorepatis might well be gobbled up by big business as other enterprises have been by an unsentimental market. Others say poverty and backwardness are still endemic to most castes and not much should be read into the lavish lifestyle and BMWs of Dalit businesspersons.

Which is not to say that new Dalit entrepreneurs should not be helped along, and the field be made open to all. Karnataka announced a slew of policies last year that ranged from a Rs 10 crore budgetary allocation for the welfare of SC/STs and credit at 4 per cent rate of interest by the state finance corporation to 40 per cent subsidy on land. Says Baalu of the Karnataka chapter of small enterprises: "The state can intervene with loans on easy terms of interest, easy credit and subsidies on land—as are made available for the big business houses." Adds professor Y.S. Alone of JNU: "All industrialists thrive on government money and support. They are opposed to reservations but welcome tax cuts, subsidised loans and many such government measures which are another form of reservation."
Ask the Dalit crorepatis, and they say they don't see the need for reservations for their children. Let others not as fortunate as us avail of its benefits, they say. They are set on consolidating on the gains they have made so far. And maybe get into Fortune's list of billionaires. With a firm named Fortune Constructions, Kamble just might make it there.

---
Top 10 Dalit Crorepati Club
Natha Ram, Chairman, Steelmont Pvt Ltd, Mumbai, Turnover: Rs 600 crore

Ashok Khade, CEO, Das Offshore Engineering, Mumbai, Rs 550 crore

Kalpana Saroj, Chairperson, Kamani Tubes, Mumbai, Rs 100 crore

Milind Kamble, CMD, Fortune Construction Company, Pune, Rs 101 crore

Sanjay Kshirsagar, MD, Sound Concept, Mumbai, Rs 100 crore

Devjibhai Makwana, CEO, Suraj Filament, Bhavnagar, Gujarat, Rs 300 crore

Swwapnil Bhingardeve, MD, Khandoba Prassana Sakhar, Pune, Rs 90 crore

Malkiat Chand, CEO, Janagal exports, Ludhiana, Rs 70 crore

Dr Sushant Meshram, Multi-specialty hospital in Nagpur, Rs 40 crore

Avinash Jagtap, CMD, Everest Spun Pipes, Pune, Rs 35 crore
***
20 Emerging 'Dalpatis'
Sushil Kumar, MD, Simlex Engineers, Noida, Rs 25 crore
Mahavir Singh, MD, Tricon Buildcon, Delhi, Rs 16 crore

Rajendra Gaikwad, MD, GT Pest Control, Pune, Rs 15 crore

Pradeep Nagrare, MD, P.K. Nagrare Construction, Nagpur, Rs 15 crore

Dilip Bhai, CEO, Amba Synthetics, Bhavnagar, Rs 15 crore

Jeetu Makwana, MD, Millennium Industries, Bhavnagar, Rs 10 crore

Sharath Babu, CEO, Food King, Chennai, Rs 10 crore

Harsh Bhaskar, Director, Kota Tutorials, Agra, Rs 10 crore

Devanand Londhe, MD, Payod Industries, Pune, Rs 7 crore

Raju Neele, MD, Sunrise Auto Pack, Aurangabad, Rs 7 crore

Sukesh Ranjan, MD, ABS Beverages, Lucknow, Rs 7 crore

Bijendra Singh, MD, Kabeera Printo Graphic, Faridabad, Haryana, Rs 6 crore

Nand Kishor Chandan, MD, Samrat Ashoka Buildwell, Delhi, Rs 5 crore
Madan Lal Khinder, MD, Rattan Brothers, Jalandhar, Punjab, Rs 5 crore

Lalit Bhansod, MD, Comsolve Mediatech, Pune, Rs 4 crore

J.S. Phulia, MD, Signet Freight Express, New Delhi, Rs 3 crore

Shishupal Singh, CEO, Sangam Exports, Delhi, Rs 3 crore

Shammi Kapoor, MD, Buildtech Engineers, Ludhiana, Rs 3 crore

Devki Nandan Sone, MD, Hotel Taj Plaza, Agra, Rs 3 crore

Sudhir Chaudhary, CEO, MD Plastics, Gurgaon, Rs 3 crore