A Tale Of Two Cities
What's happening?
Why are prices zooming?

---

Residential property prices in Mumbai and NCR are increasing sharply; average increases of 18-20 per cent over the past 12 months
Ready possession properties in both cities are seeing as much as 40 per cent spikes in prices
Price of housing in both cities is reaching a crisis point; unaffordable for the middle class

Large speculative demand in both cities; 65 per cent of NCR purchases speculative in nature
Some relief over the economy revival; buyers pay premiums for ready possession, willing to take a risk on future projects as investments
Builders in JVs with land owners are holding on to exorbitant prices, especially in Mumbai
---
Apart from the daily traffic snares, noise pollution and common spaces chock-a-block with
construction, there's another truism for those living in India's two megalopolises, NCR and Mumbai. The middle class can no longer afford to buy property in India's capital and financial hub. Residential real estate prices in the two cities are reaching levels that several builders and real estate experts say are bordering on 'sheer craziness'. This has even prompted a warning from the rbi governor during the recent credit policy: "In Mumbai and Delhi, real estate prices have overshot their pre-crisis peak.... we're keeping a close eye on this."
It's hard to understand this sharp increase. The rest of the country is seeing a fairly stable rise in prices and volumes. In contrast, experts say prices of residential units have gone up an average 18-20 per cent over the past 12 months in these two cities. In some cases, where residential projects are ready to be occupied, prices have shot up by almost 40 per cent. Interestingly, this upward trend doesn't apply to commercial property: an oversupply there has kept rentals steady in both cities.
"A 20-25 per cent rise in prices in residential property will strangle the demand from the genuine home-buyers."
"The price of homes in certain locations of Mumbai and Delhi are ridiculously high and something needs to be done to get the prices under control," says Renu Sud Karnad, managing director of housing finance major HDFC. "A 20-25 per cent additional rise in prices in residential property might strangle the demand from genuine home-buyers. We have been telling developers that if there is an unprecedented rise in home prices, people will get out of the market," she goes on to caution.
Take the Shahs, for example. Shishir and Ruchi Shah currently live in a rented two-bedroom apartment in Goregaon West, Mumbai. This banker and teacher couple wanted to purchase a house in the same neighbourhood two years ago. They had looked at many new projects, but found most out of their budget. Then the slowdown happened. The Shahs reckoned that prices would fall and they would wait to see what happened. Two years later, they still can't afford the 'perfect' apartment.
Experts are unanimous that consumers would do well to wait and watch before making that purchase decision. "Open you eyes before you buy. Understand why you are paying as much as you are before making any decisions about purchases in these two markets," warns K. Raheja Corp's Vinod Rohira. Most realty experts agree—these prices are simply not sustainable.
Sure, the Indian economy's rapid recovery has buoyed this price increase. Also, while increments and bonuses are back, investment options haven't kept pace. "As no major boom is foreseen in the stockmarket or gold, the only investment avenue seen as holding hidden gains is real estate," says Rajesh Shukla, a statistician with ncaer. Builders also attribute the increase to higher input costs. "Inflationary pressures and high input costs coupled with the imposition of service tax has made real estate costlier for consumers," says an official from Omaxe.
---
Irrational Rise
Prices of mid-segment residences continue to spiral upwards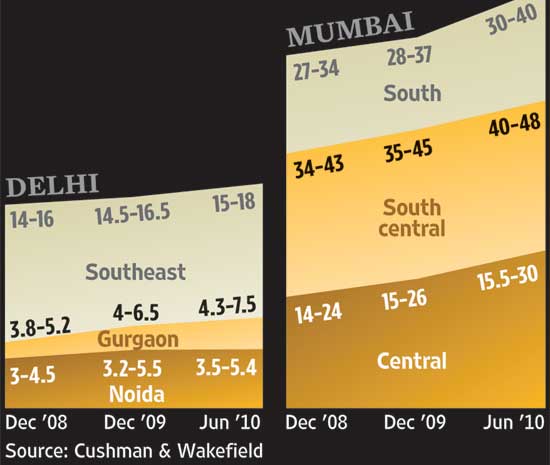 ---
Buyers remain cautious about future projects but are confident of their investments in ready projects. In Mumbai, amenity-based projects that are near completion are finding takers even at higher rates. One such project in central Mumbai was priced at Rs 30,000/sq ft when it was launched three years back and fell to Rs 18,500/sq ft last year but is currently selling ready apartments for Rs 40,000/sq ft.
"Whether the peaks in these two cities will stay is difficult to say. In real estate, cycles last five to eight years."
In the NCR, however, it's a more complicated story. There are several takers for both ready and future projects. Real estate analysts PropEquity says Noida has seen the most spectacular sales despite soaring prices. End-users drive part of it, of course, but many industry-watchers say speculative investment is hard at work here. "Broker-led consortiums are aggressively buying up apartments and reselling them at jacked up rates. This kind of speculative purchasing is artificially pushing rates up," says one top developer.
At the heart of the matter lies exorbitant land deals. Last year, builders could not afford to hold on to high prices given the kind of debt they had on their books. But joint ventures between developers and owners of land helped some stay above price cuts because they could afford to defer plans. During that debilitating period, the government allowed real estate companies to restructure their debt. "Also, if a developer has already sold part of a project at a high price, he will be reluctant to lower the price for the rest of it. Brand new projects will be sold at higher prices," says Knight Frank's Pranay Vakil. The rbi has since asked banks to be cautious about lending to real estate.
"If all the proposed commitments on land and projected supply in Mumbai and Delhi come about in the next five years, it will mean a considerable amount of supply and it will put pressure on values," predicts Sanjay Dutt, a consultant at Jones Lang LaSalle Meghraj. Another developer cautions that even the current spirals are going to be detrimental to future growth in both cities. "What is happening is stupid. There's no justification for it, it will just mean higher costs of living. With interest rates rising and high inflation, it's going to mean that people can no longer afford to stay on in these cities. It will have a ripple effect on industrial growth if things continue this way."
But the irony is that even though there is buyer resistance in both cities, demand still outstrips supply. And although volumes of sales in these cities are currently falling, it's not affecting pricing because the drop in volumes is not significant enough. The current quarter may be a lean one for most developers due to the monsoons, a time when purchase decisions take a backseat. In other parts of the country, housing finance companies like HDFC expect that as long as properties remain affordable, demand will continue to be robust.
The real test for NCR and Mumbai will begin when the festive and nri season starts. "Whether the peaks in these two cities will stay is difficult to say. In real estate, cycles generally last five to eight years. Trends do not support that prices will fall in the foreseeable future," says Anurag Mathur, Cushman & Wakefield. Other experts agree that new projects would come at a higher price tag. Will builders continue with this madness or succumb to reasonable prices? Somebody has to press the stop button before it all inevitably comes down.