What Worked For Modi In Gujarat
Image of a strong, hands-on, action-oriented leader with a proven track record
Average Gujarati's belief that they were electing a future prime minister
25 lakh first-time voters born after 1991 who have never seen Congress rule
Creation of 22 urban, semi-urban clusters due to delimitation of constituencies
Record turnouts in both phases of elections snuffing out losses in rural areas
Relentless online, offline and on-air projection of "development agenda"
Strong support from business houses who are invested in the idea of Gujarat
Growing backing of Muslims for BJP, even in psychologically important Godhra
Congress reluctance to tackle ghosts of 2002, firing from shoulders of activists
Division of anti-BJP votes, with Keshubhai Patel's GPP entering the fray
What Might Not Work In New Delhi
Reservations in RSS about the man who has cut VHP, Bajrang Dal down to size
An OBC leader in a Sangh brotherhood dominated by Brahmins and upper castes
L.K. Advani said to be still eyeing the top spot should it be available in 2014
Advani's acolytes—the famous Delhi 6—said to be not too enamoured of Modi
Unapologetic persona with not a single Muslim candidate despite 2002
In era of coalition politics, Modi's ability to work with NDA allies under question
In a cadre-based party, the rise of a "cult figure" discomfits many in BJP, NDA
Projection of Modi as face of BJP might polarise and galvanise Congress voters
Indian middle-class aspirations different from that of Gujarati middle class
Modi's appeal outside Gujarat unclear; BJP lost Himachal despite his campaign.
***
Lord Voldemort is the 'Dark Lord' in the Harry Potter series, a wizard of astounding powers, referred to as He-Who-Must-Not-Be-Named. He sets out to conquer both magical and real worlds, and it is his personality and ambition that are pivots for the drama in the seven books that had an entire generation riveted. Potter and his friends, teachers and helpers are relatively ordinary folk reacting to events unleashed by the Great Wizard.
In the real world of contemporary India, Narendra Modi has just mastered a powerful magical spell and, abracadabra, conquered Gujarat thrice! It was a battle where the Congress tactically chose to be low-key and where its leaders chose not to utter his name ("You Know Who" is how Voldemort is also referred to in awestruck tones in the Potter books). Now it seems that Modi has the media quite spellbound by the possible tale of how he could conquer India next. The middle classes, it says, are quite in thrall of the possibility of the strong leader emerging in an age of drift. The young, they say, see him as dynamic. The women of Gujarat, they say, are quite enamoured of this big, strong man. Why, statistics have been reeled out to show that even the Muslim community is taking the first steps to join this age of enlightenment set to dawn upon us.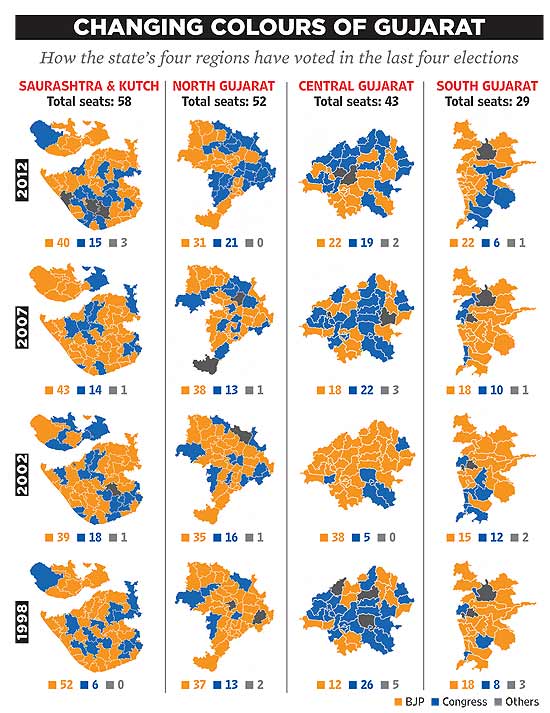 Because of the extraordinary baggage he carries, Modi needed to not just match his 2007 performance of 117, but better it. He fell two short, or rather well short of the more bullish projections. Still, he has won thrice. Till December 20, 2012, he was the Lord of Hype whose loyal followers fought for him on internet forums, media and hyper media, a creature of 3-D technology. Now, Modi has made fiction a reality and will make a bid for national prominence. As his ambitions propel him forward, he will force us to question assumptions about India. He has already challenged many earlier ones, broken many rules, smashed all opposition in his path, and prevailed.
We must, therefore, ask now if "Modi as PM" is just an outrageous, unrealistic proposition given national realities? Or is it an audacious plan by a man who has successfully executed many in the past? Even the prospect of Modi attempting it is significant and has become the single issue around which the politics of other players would be determined. Even if he were to remain the Man-Who-Could-Not-Be-PM, he will still make us stop in our tracks, watch the man make his attempt and wonder if he would stop and turn the history of the nation.
The attempt at the peak shall be a riveting drama as Modi has just about managed to smash his own glass ceiling in Gujarat. His national ambitions have never been secret. In his step-by-step scheme of things, the next hurdle would be his own party and ideological family. The win, despite its less than overwhelming nature, has certainly given him a handle against the opposition within. But perhaps not enough for his rivals in the national BJP and the high priests in Nagpur to just throw up their hands and let him walk all over them. They will bide their time and wait, perhaps for NDA ally JD(U) to resist Modi as PM candidate or for national circumstances unfavourable to him to develop. In the meantime, they will be careful not to make provocative statements about him. In fact, some known detractors will start talking about how he is a truly inspirational figure!
Under such circumstances, the middle ground could possibly entail:
Modi remaining Gujarat CM and engaging with India from this platform. The Vibrant Gujarat summit, usually held in January each year, will be even more high-profile this time; expect every big Indian businessman to attend.

Nitin Gadkari does not get a second term as BJP president. The RSS will look for someone else, possibly a non-controversial veteran or non-entity. But Modi will have the power of veto.

In the coming few months, Modi travels to various parts of India for events, functions, possibly byelections, and the RSS and BJP, which do have a functioning sangathan (organisation) structure, gauge the response of cadre and people.

The decision to project him as PM candidate or just a prominent campaigner in the next general election devolves on this assessment. It is at this stage that actions of a party like the JD(U) determine the BJP's course. For instance, if Nitish Kumar demands that the BJP clarifies its PM candidate and pushes the issue in order to break with the larger party, then both do so according to a political script.
Only after this can we ask the next question: presuming that Modi becomes the BJP's PM candidate, would he then go on to win the battle of attrition against the force that is India, manned by regional satraps and a declining empire of first party and family that Modi refers to as the Delhi Sultanate?
Just the prospect of Modi aiming for prime ministership will determine the politics of the other political players.

The easy answer is no. The logic of regional coalitions, strong state leaders minding Muslim votebanks higher than Gujarat's 10 per cent, could make it mission impossible for a figure like Modi. The journey from untouchability to acceptability the BJP failed to complete in 1996 (when a 13-day government collapsed for want of numbers) but did so in 1998-1999 was embarked upon under the leadership of Atal Behari Vajpayee, more acceptable than the party. Now Project Modi involves turning that model on its head. It involves placing a divisive figure at the helm in an age when the BJP (minus Modi) is quite acceptable as the opposite pole to the Congress for regional forces to converge.
But there are also arguments being made for the BJP to turn inward, and rebuild its core under a leader whom the cadres see as charismatic. At any BJP gathering Modi has, for years now, been the only one who seems to inspire the rank and file. Other CMs, like Shivraj Chauhan in Madhya Pradesh, Manohar Parrikar in Goa or Raman Singh in Chhattisgarh just don't have that carriage within the party. Modi, quite simply, is He-Who-Cannot-Be-Ignored.

Right hand forward Of late considered a Modi 'liability', Amit Shah proves his mettle
Those who support Project Modi also say he is the only one who can "fix" the RSS, cut it down to size, stop its meddling and backseat driving. Even before Gujarat voted, there was war over the BJP presidency of Nitin Gadkari, the pick of the Sangh leadership from Nagpur, a Maharashtrian Brahmin like them. It is also quite likely that within what passes for intellectual argument among right-wing Hindutva forces, Modi will be presented like a subaltern hero, the OBC with little time or patience for the machinations of the Brahmins, the man who disrupts the carefully ordered world of the traditional elites of the brotherhood (Sangh).
Modi already has an extraordinary history within the larger annals of the parivar. He is the pracharak (an RSS wholetimer) who crossed the rubicon of entering electoral politics and made a magnificent success of it. The process began in 2001 when he was sent to Gujarat as chief minister replacing Keshubhai Patel who seemed headed to take the BJP to a defeat in the elections. That changed dramatically after the 2002 bloodbath following which the extreme pitch of identity politics polarised the state.
Once Vajpayee was acceptable if BJP wasn't. Now BJP's an acceptable alternative, but Modi will be a divisive figure.

There has been no looking back ever since. In office, Modi's assiduously built the cult of personality, cleverly juxtaposing Gujarat's development with his own achievements. He worked on the concept of regional pride, at times positing the Gujarati genius against the obdurate Indian nation. He took complete control over the state apparatus, sharing power with no one, running the affairs of the state through the bureaucracy. In the process he also crushed and discarded many of his brothers and sisters in arms who were complicit in the 2002 riots. Most significantly, he presented himself as the wealth generator in a "vibrant" Gujarat, a leader committed to sadak, bijli, paani. A leader hailed as a visionary by the captains of industry. A man who means business, and makes business grow. This is the image Modi wants to project across India now, the intended bait or the Modi incantation in a post-liberalisation, increasingly urbanised, aspirational India.
Modi's application to any task has always always commendable. An army of human rights lawyers, activists, riot victims and those of police encounters and commissions of inquiry have been trying to get Modi in a legal loop, but have failed despite a central government hostile to the Gujarat CM. He has always remained one step ahead of the law, although close aides have been arrested. No Indian leader has faced the kind of censure Modi has in Europe and the West, and still built an international image as the great wealth generator of India. No chief minister has been so regularly snubbed by regional leaders, still continues to gain prominence as a national figure. For the reality today is that the US may not grant Modi a visa, but a section of India seems anxious to discuss the possibility of his becoming prime minister, or at least a hopeful in the primaries.