In A Bind
More US troops in Afghanistan will intensify the conflict there. Militants and refugees will pour into Pakistan.
The militants could join Pakistani jehadis in taking on the army
America sees the Afghan Taliban as a threat; Pakistan sees them as a potential ally in Kabul. This could prove a difficult balancing act.
***
Two days after US President Barack Obama announced his new Af-Pak policy, stoking worldwide hopes of stabilising Afghanistan, a group of militants sneaked into the mosque in Rawalpindi's Parade Lane, one of Pakistan's more secure areas. They tossed grenades and fired at random, compelling those who had gathered for Friday prayers to run helter-skelter. Among them was Maj Gen Bilal Omer, director general of the armoured corps, who had put on his shoes and was about to walk back home. He rushed to one of the assailants and grabbed his gun, prompting the militant to blow himself up. The country lost seven senior army officers in the attack, most of them of colonel rank and above.
Tears rolling down his cheeks, a retired army officer told Outlook, "We can't capture Hakimullah Mehsud even though there are hundreds of soldiers hunting for him. But in one single stroke, his men have taken out so many senior army officers. For how long will we suffer America's policies in the region?"
It's impossible to tell if there was a direct link between the attack on the mosque and Obama's decision to place 30,000 more troops in Afghanistan. Most analysts here, though, agree that the American surge in Afghanistan is bound to have a severe blowback in Pakistan. Considering the price Pakistan is doomed to pay over the next few months, its civilian leaders promptly asked Washington to share the fine print of the new Af-Pak policy.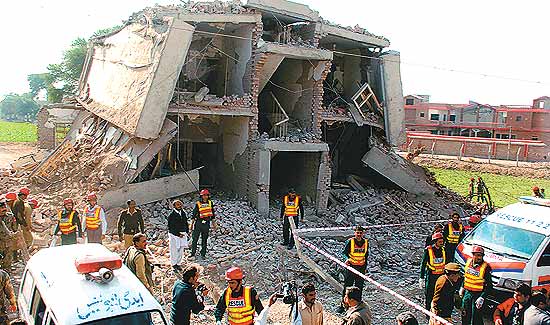 One of many A bombed site in Multan
Many here are aghast that Obama should bank solely on the surge, ignoring the importance of improving governance that falls in the 'civilian' category. Foreign office spokesperson Abdul Basit told Outlook, "There appears to be no mention of a civilian surge. Pakistan looks forward to engaging closely with the US in understanding the full import of the new strategy, including its possible negative implications for Pakistan. Certainly, there's need for clarity and coordination on all aspects of the implementation of the strategy. It also needs to be emphasised that exchange of views cannot be construed as convergence of views. What is more, the US claim about showing areas of fresh deployment of its troops to the Pakistan military is incorrect."
Though kept out of Obama's strategic review, Pakistan is working out all possible implications of his new Af-Pak policy. For one, more boots on the ground will intensify the conflict in Afghanistan, which has a porous border with Pakistan, through which militants, under pressure, are likely to spill in here, in search of shelter, arms and new recruits. These militants from Afghanistan are bound to pool their resources with their Pakistani comrades, complicating the military operation in South Waziristan.

As the war on terror gathers new momentum, Pakistan could also witness an influx of Afghan refugees. This will balloon the population of the two million Afghans who settled here during the jehad against the Soviet invasion of their country. Strains in social relations in urban centres and the malaise of drug-trafficking and gun-running are likely.
Instead of taking Pakistan into confidence, the Obama administration has brusquely threatened to launch drone attacks in Balochistan, and send its troops in Pakistan to hunt for the fugitives. The US wants Pakistan to target the Jalaluddin Haqqani network in North Waziristan and Taliban chief Mullah Omar and others, alleged to be hiding in Balochistan. These pronouncements evoked howls of protest here. For instance, The News wrote, "The very idea is unthinkable. Even though anger against the Taliban has been growing, feelings against the US continue to complicate the issue and add to the hurdles that hamper the effort to defeat the militants."
Should America execute its threats, Pakistan can scarcely oppose the world's sole superpower. As Balochistan governor Zulfiqar Magsi said, "Washington can do whatever it pleases because you cannot oppose someone who pays you money." But US attacks inside Pakistan, say analysts, could see the militants exploit the existing anti-America sentiments here to win the battle for hearts and minds.
Even as the army battles the Tehrik-e-Taliban Pakistan in Waziristan, Islamabad has desisted from targeting the Punjabi jehadis and the Afghan Taliban, wary as it is of opening too many new fronts for which it just doesn't have enough troops. After all, Pakistan must keep a watch on its border with India. Journalist Ahmed Rashid suggests, "If the US really hopes to change the Pakistan army's attitude, it must be willing to put pressure on India to restart its stalled dialogue with Pakistan and ease tensions between New Delhi and Islamabad. Pakistan justifies its policies in Afghanistan by citing the Indian threat, not only along its eastern border in Kashmir, but also in Afghanistan."
Pakistan isn't willing to target the Afghan Taliban because the security situation in Afghanistan is in a flux. Not only has America failed to deliver a decisive blow to the Taliban, there's incessant chatter about Washington's willingness to accommodate the "good Taliban"—defined as those willing to do a deal with the Americans. A large swathe of territory is under the Taliban's sway; America can't stabilise Afghanistan unless the Taliban are neutralised or won over. In addition, Obama wants his troops to return home mid-2011. With such a timeline and ground situation, there's every possibility of Kabul witnessing the return of the Afghan Taliban, whom Pakistan favours over the constituents of the Northern Alliance considered close to India. In other words, it doesn't make strategic sense for Pakistan to neutralise the Afghan Taliban responsible for harrying the international troops in Afghanistan.
Yet there's Uncle Sam breathing down Pakistan's neck, threatening dire consequences should it refuse to play ball. This is why defence analyst Dr Shireen Mazari says, "For Pakistan, the time has come to do a realistic assessment of its options within the Obama strategy. The US wants to shift the centre of the gravity of war to Pakistan and we need to extricate ourselves from this flawed alliance with the US."
Islamabad finds itself in a cleft stick—it cannot overtly defy the world's sole superpower and refuse to counter the Afghan Taliban. Simultaneously, it faces devastating attacks from the militants. For the moment, though, it has taken to requesting the clergy of all varieties to denounce suicide attacks as un-Islamic. Really, will Allah ever come to Pakistan's aid?