How Much It Takes To Create A New State
According to estimates, creating a new state would involve about Rs 1,500 crore. That's what it took to create Chhattisgarh.
Infrastructure will have to be developed to form a capital city
A legislative assembly and offices for the new chief minister and a secretariat will have to be constructed. Quarters will have to be built to house ministers, officials, other staff.
***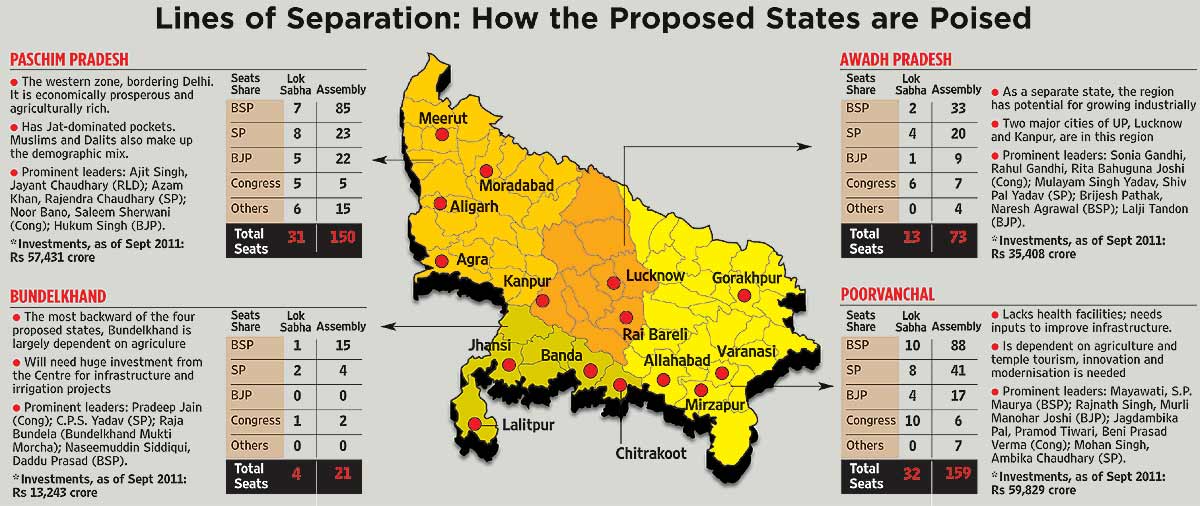 The road to New Delhi, so goes the cliche, passes through Uttar Pradesh, which sends as many as 80 MPs to the Lok Sabha, the most among the states in the country. But that route is likely to get complicated—and some day soon—for Uttar Pradesh chief minister Mayawati has proposed dividing the state into four. Her cabinet has already adopted a resolution on doing so and, as early as November 21, the state assembly is likely to follow suit, effectively putting in a bind the Congress-led UPA government at the Centre. The state goes to elections next year, and this sudden manoeuvre—her rival parties, which are trying to corner her on corruption and misgovernance, call it a diversionary tactic—is a challenge to the national parties, particularly the Congress. The Congress cannot be seen as opposing the move, but how can it swiftly clear the creation of four states when it hasn't been able to decide yet on Telangana, an issue dividing its MPs and MLAs from the region? And what of the demand for Vidarbha in Maharashtra? In Uttar Pradesh, there has been no consistent call for new states save for the 'Jat belt' in the west and Bundelkhand. (The latter, anyway, is complicated by the fact that locals see Bundelkhand as a region extending into neighbouring Madhya Pradesh too.)