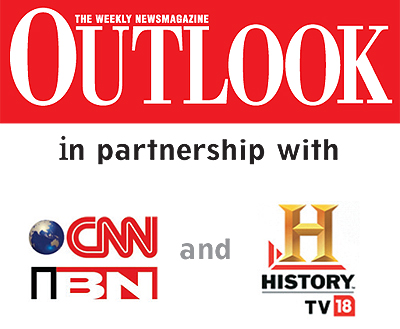 invites you to take part in the search for
The Greatest Indian After Gandhi

The Nominees
Atal Behari Vajpayee
Dr B.R. Ambedkar
Indira Gandhi
Jawaharlal Nehru
Jayaprakash Narayan
Kanshi Ram
Vallabhbhai Patel
Dr Rammanohar Lohia
C. Rajagopalachari
Baba Amte
Mother Teresa
Ela Bhatt
Vinoba Bhave
Kamaladevi Chattopadhyay
Pt Ravi Shankar
M.S. Subbulakshmi
M.F. Husain
Bismillah Khan
R.K. Narayan
R.K. Laxman
Amitabh Bachchan
Raj Kapoor
Rajinikanth
Satyajit Ray
Lata Mangeshkar
A.R. Rahman
Kishore Kumar
Dilip Kumar
Dev Anand
Mohammed Rafi
Homi Bhabha
Dhirubhai Ambani
Verghese Kurien
Ghanshyam Das Birla
J.R.D. Tata
N.R. Narayanamurthy
Vikram Sarabhai
M.S. Swaminathan
A.P.J. Abdul Kalam
Amartya Sen
Ramnath Goenka
Dr E. Sreedharan
Sachin Tendulkar
Kapil Dev
Sunil Gavaskar
Dhyan Chand
Viswanathan Anand
Milkha Singh
B.K.S. Iyengar
Sam Manekshaw
Our Jury
N. Ram
Nandan Nilekani
Shekhar Gupta
Michael Fereira
Mukul Kesavan
Ramachandra Guha
S.Y. Quraishi
Chetan Bhagat
Shubha Mudgal
Kiran Mazumdar Shaw
Raghav Bahl
Shashi Tharoor
Raju Hirani
Harsha Bhogle
Vinod Mehta
Girish Karnad
Yogendra Yadav
Inder Malhotra
Bishan Singh Bedi
Soli Sorabjee
Arun Jaitley
Swapan Dasgupta
Shabana Azmi
Harish Salve
Shobha De
Karan Thapar
Three ways in which you can vote
Our 26-member jury has finalised the 50 top nominees from a list of 100
From June 4, readers and viewers can vote online at thegreatestindian.in till June 25
From July 1 to 31, a nationwide opinion poll will be held to choose the top ten
The name of the Greatest Indian after Gandhi will be announced on August 15
The Frontrunners
While our jury has shortlisted 50 great Indians for the nationwide search for the greatest of them all, the following nominees are ahead after a week of polling
Atal Behari Vajpayee
08082891001
Dr B.R. Ambedkar
08082891002
Indira Gandhi
08082891003
Jawaharlal Nehru
08082891004
Kanshi Ram
08082891006
Vallabhbhai Patel
08082891007
Dr Rammanohar Lohia
08082891008
C. Rajagopalachari
08082891009
Give a missed call to the number below to register your vote for the personality concerned or visit thegreatestindian.in to vote for a nominee of your choice.
***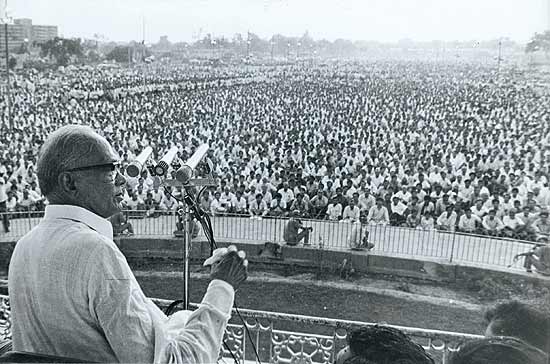 Jayaprakash Narayan: Failed Revolutionary or a Pathbreaker?
When most Indians travelled to England for higher studies, almost a century ago, Jayaprakash Narayan decided to study in the United States. Curiously, seven years in Berkeley, Wisconsin and Ohio, made him a 'Marxist'. On his way back, he stopped in London and succumbed to the influence of M.N. Roy and Rajani Palme Dutt. At Nehru's invitation, he joined the Indian National Congress in 1929 but went on to float a socialist group within the Congress.
Arrested during the Quit India Movement of 1942, JP and his accomplices created a sensation by breaking out of the high security prison at Hazaribagh. After Independence, a cabinet post was offered to him but he declined, opting for 'Lokniti' (people's politics) over 'Rajniti' (politics) and dedicated his life to the Sarvodaya Movement. Used to swimming against the tide, he embarrassed mainstream politicians in 1964 by calling for 'self-determination' by the people of J&K.
In 1974, he was recalled from retirement and persuaded to lead an anti-corruption movement, launched by students in Gujarat and Bihar. The 'JP Movement' caught the imagination of the people and spread across the country, with JP calling for the resignation of Prime Minister Indira Gandhi, asking men in uniform to disobey illegal orders and calling upon students to forgo their studies for a year and help in rebuilding the nation. The movement forced Indira to clamp Emergency in June 1975 and eventually led to the installation of the first non-Congress government in 1977. An old and ailing JP, hospitalised and forced to undergo dialysis, died in 1979.
So how will history remember JP?
To vote for JP as the greatest Indian, visit thegreatestindian.in or give a missed call to 0808291005
***
Readers' Writeback: Why is P.V. Narasimha Rao not among greatest?
Arun Maheshwari, Bangalore: Before Gandhi was the Buddha---a few thousand years in between. What is the rush, it's only been around 60 years since Gandhi. Too premature and early to come up with another 'greatest' Indian.
D.L. Narayan, Visakhapatnam: To single out just one Indian is an impossible task. To include artists, sportspersons, musicians and film stars is trivializing the whole issue. While they have made millions happy, they have not really contributed to the economic transformation of the nation.
Kiran, France: The Indian who had the most amount of influence on the present and future of India is P.V. Narasimha Rao, the former prime minister, who opened up India for global investment. His role is as important in India as the role of Deng Xiaoping is to China after Mao.
Ramesh, Canada: PVN changed the direction of the country from a Nehruvian India to modern India without the country feeling the pinch of such a massive structural change with great wisdom and farsightedness. Today's India is his creation.
Jitendra, Melbourne: What makes you think that Gandhi was the greatest Indian? I feel Sardar Patel, for uniting India, S.C. Bose, for standing up for principles against Gandhi's dictatorial attitude, Dhirubhai Ambani, for dreaming bigger than any Indian and PVN Rao, for opening up Indian economy—these are the greatest Indians.
S.S. Nagaraj, Bangalore: The list of nominees for the Greatest Indian after Gandhi appears to be skewed. It misses out on truly great people like Sir M Visvesvaraya, Sir C.V. Raman, Veer Savarkar and so on.