Picking up a film magazine and soaking in the glamorous photos of one's favourite stars is like having comfort food. Specially so for film-crazy Telugus; the Telugu film industry was once said to contribute to one per cent of the GDP. While not quite in the league of glossy Bollywood magazines and dwindling in circulation, Telugu film magazines wink at you from bookstore stands, bicycle baskets of newspaper delivery boys, in hair-cutting saloons, railway stations and very rarely, at the dentist's too.
At a time when the Telugu film industry primarily operated out of Chennai, then Madras, the first Telugu movie magazine named Chitrakala was established in 1938. Its editor, Inturi Venkateswara Rao, is popularly known as the father of Telugu film journalism and till this day, many in the field insist that the ethics he worked by inspired many a journalist. In the 1950s, a magazine named Kinima (said to be based on a rustic pronunciation of cinema) created a sensation because it would criticise movies which were boring or technically flawed. In its reviews, Kinima even panned classics such as Maya Bazaar, Gundamma Katha. Furious fans of N.T. Rama Rao and Akkineni Nageswara Rao would take up cudgels with the Kinima management for the unflattering reviews of their favourite actors.
Cinema magazines held sway for long; in fact, till as rec­ently as 2004. G. Venkata Ramana, popularly known as Jeevi, founder and editor of idlebrain.com, one of the most popular websites on Telugu cinema in India and abroad, says this was the time satellite TV arrived. "Telugu film magazines were always a primary source of entertainment, in addition to films themselves," he says. But after 2003-04, he explains, most cable TV channels began movie-related broadcasts and slowly people did not feel the need to buy magazines any more, as they were watching movie shoots, song sequences, trailer clips and interviews—all on TV. It took about two-three years for the print media to realise that TV and websites have instantaneous and greater reach. "In fact, these days, stars themselves make announcements on Twitter," says Jeevi. "So is it any wonder that readership for magazines is dwindling?" He recollects how, during his student days in Mumbai, he would go to shops in Thane and Dadar to buy Telugu movie mags.


Cameo & long shots Like the Tamils, Andhra people have a passion for films and politics. Telugu film magazines have always thrived off that energy.
Many editors of movie magazines in Telugu went on to become filmmakers. For example, Gutta Bapineedu Chowdhary, who was editor of a magazine named Vijaya, later went on to direct blockbusters like Gangleader and Khaidi No. 786. Such was the man's association with his magazine that he came to be known as 'Vijayabapineedu'. Bapineedu readied the first ever Telugu film barometer: he categorised films as super hit, hit, above average, average, below average, flop and utter flop.
Another movie magazine, Vijayachitra, edited by famous writer and dramatist Ravi Kondala Rao for 36 years, was one of the best-read journals over the years. Rao maintained that cinema was not simply entertainment but also culture.
So is it the end of the road for film magazines? Yes, say some insiders. "Earlier, film magazine journalists were treated with tremendous respect because they were the main vehicles of publicity for films and stars. Now, the same print mediapersons have to wait at the end of the queue for interviews," says Narayana, a local film journalist. No, says B.A. Raju, editor of Superhit, a weekly magazine priced at Rs 15. He says, "Superhit readers believe that what they read in our magazine is genuine news. We carry the latest news about films, interviews, collection figures and even large posters. I don't agree with cynics who say the magazine is dead. Print media has its own charm. Try smelling the pages of a freshly printed Superhit!"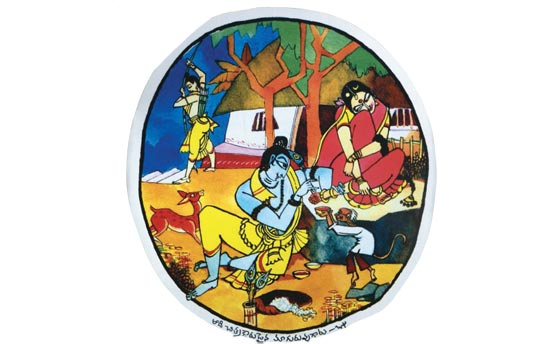 Raju, whose wife, B. Jaya, is a successful director in Tollywood, says that his magazine in fact has to reject advertisements at times. He talks about how since 1993, Superhit has printed exclusive photos of Mahesh Babu (when he was a child, his debut and till date); of NTR Jr; of Nagarjuna's son Akhil and Balakrishna's son Mokshagna. "When Nagarjuna was doing Annamayya, his fans were anxious to get a peek of the actor's look in his role as a sage and we brought out those photos," says Raju with pride. Santosham is another successful film magazine. Its editor Suresh Kondeti says they get exclusives all the time. "I once drove down Nagarjuna to Chiranjeevi's house and the two did a photo shoot for our magazine," he recollects. Kondeti says that cinema by itself makes for magical news, there's no need for gossip.
But some magazines have indeed died—like Cinema Patrika and Jyothi Chitra. Sitara, however, survives. It's one of the most popular among film magazines. "Jyothi Chitra used to have contests such as 'Meet your Favourite Star', quizzes, and of course, good interviews. But I don't think there are gossipy Telugu cine magazines in the market today," says Vemuri Radhakrishna, editor of Andhra Jyothi, which used to bring out Jyothi Chitra. L. Venugopal, a film publicist and journalist, misses the time magazines had dignity. "If Jyothi Chitra had a popularity polls of stars, Sivaran­jani had huge posters. Sitara even today is going strong, and is the most respected," he says.
In the late 1970s, Kagada, brought out by Kagada Sharma, would talk about relationships between stars, the underbelly of the film world and would not hesitate to expose the negative side of cinema. Sharma, based out of Chennai, came to be called controversial. Cine folklore has it that Jayamalini, who played vampish roles in many south Indian films, would even pay Sharma to write juicy items on her. Two other journals, Cine Detective and Tara Sitara, which were brought out from Vijayawada, earned a bad reputation for printing scandalous gossip about starry dalliances. While most appeared to be a wild run of the imagination, there were readers who lapped up the news anyway. However, the pizzazz of a Kagada Sharma is certainly missing today as most magazines stick to a safe route: praise and pamper the stars! Lest they ignore you.