Van Thanh Rudd is a leader of the Revolutionary Socialist Party, and also a nephew of
Australian prime minister Kevin Rudd. The 35-year-old created a stir this January 26, the Australian National Day, when he and his colleague, Sam King, walked into the Melbourne Park wearing the infamous Ku Klux Klan outfit. The reason: to mark his protest against "the tide of racism in Australia and attacks on Indian students". They were promptly picked up by the Victoria police and fined Australian $234 each for their novel mode of protest. The younger Rudd, however, remains feisty in his views on racism in Australia. Excerpts from an interview:

How do you see the attacks on Indians?
These attacks on Indians are racially motivated, I have no doubt in my mind about that. Australians are racist.
If they are racist, why does the government allow so many people and students, including a sizeable section from India, to come here?
It's a marriage of convenience. You need the students because you earn the revenue, and you need a lot of your work to be done by them. But you also want to treat them as refugees. You discriminate against them. You tell them, you can come here but you cannot speak in your language or pursue your culture or stay the way you want. You are almost using a different banner under which you want to keep them.
Why did you choose the Ku Klux Klan mask to lodge your protest?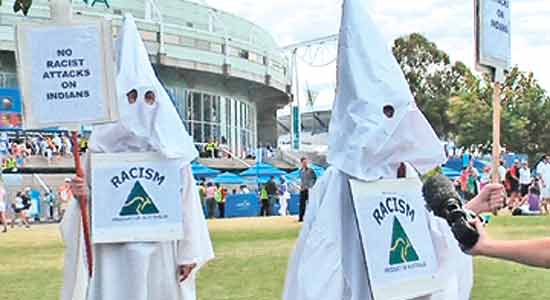 Aussie Ku Klux? Thanh Rudd and party colleague Sam King in the dreaded outfit at Melbourne Park
I was inspired to do that from a cartoon that appeared in an Indian newspaper. It was already in the public domain and I wanted to use it to drive the point home. I share the cartoonist's view that this was the most effective way of highlighting the fact that Indian students here are subject to racially motivated attacks. If it has shocked people, then I suppose it's good in a way. This means it has forced them to look at the issue of racism in Australia.
But do you think racism in Australia can be compared with the kkk of the United States and what they did?
In many ways the problem of racism is as serious in Australia as it is elsewhere. Look at what we have done to our indigenous people. Even now no real benefits are coming to them.
That may have been a thing of the past, the Kevin Rudd government began its term with an apology to what had happened to the Aborigines.
I think the Australian government and the people are in self-denial. If anything, that apology was only superficial. Nothing has changed after that apology. The policies are as bad as the previous government's, perhaps even more extreme. There has been no concrete policy to change things.
Is this racism limited to certain sections?
It's more widespread than we want to accept. There is a culture of racism that comes from our schools, our education system. The dominant culture in Australia is a racist culture. As a son of a Vietnamese mother, I too experienced racial abuse in school.