Portly and middle-aged Deepak is fishing for an appropriate non-geeky electronic gift for his teenage daughter's birthday. He walks into Vashi's first mall, Centre One, in suburban Mumbai and stops by at Croma Zip on a weekday evening and promises to return with the fussy daughter over the weekend. "Great place to look-see and shop," says the Vashi resident of 10-plus years. Deepak's wife and household help—both smart women who deftly manage their household budgets every month—shop at different places for the same stuff. His wife does not want to negotiate "the slush and noise in the wholesale market to save a couple of hundred rupees a month" while the maid says she is "scared to walk into the air-conditioned bada saab ka dukaan (hypermarket)" for her soaps because "that's not a place for people like me".
Vashi—its population still reads six lakh, still short of the magic one million—is home to all levels of wholesale and retail: the wholesale agricultural produce market (APMC) that is fed by farmers; wholesale shops that form the crucial link in the supply chain to small retailers; the ubiquitous kirana shop in all residential sectors, including the upmarket ones, and the hypermarkets and malls. At the end of this chain you have "typical" families like Deepak's, driven by one dictum: shop for the best deal possible. Looking at the brouhaha around the government's move to allow 51 per cent FDI in multi-brand retail, it seems this entire world will now change forever. Depending on which link in the chain you're talking about, it'll change for the better—or worse.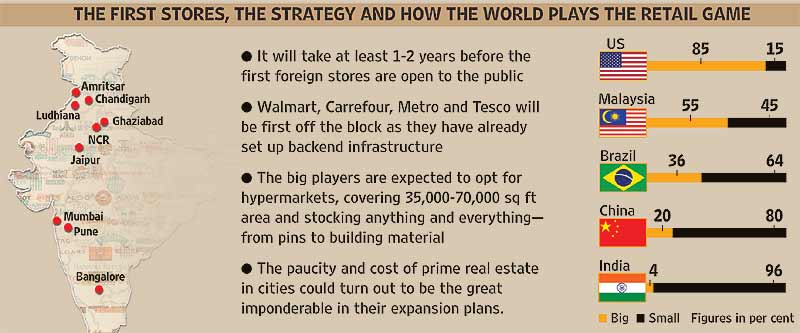 Manmohan Singh's decision to open up the fast-growing organised multi-brand retail sector to FDI will be one of the biggest game-changing reforms that will touch everyone's life: farmers, industries, traders, retailers, job-seekers and, not the least, millions of consumers. This change may take years, even decades, to play out to its full potential. That's why twin expressions of excitement and anxiety are greeting the prospect of having megastores like Walmart, with its voracious appetite for sourcing billions of dollars worth goods from across the globe, and selling anything from pins to building material under one roof.
"Unless government eases bottlenecks, FDI in retail will not help."


Dr Mathew Joseph Head of an ICRIER study on impact of organised retail on kirana shops
So, who's afraid of the foreign supermarket? Given the mixture of politics and rhetoric being played out now, it's difficult to flesh out clear answers to the multitude of anxieties being aired by affected segments. Some of this has to do with the fear of the unknown, of losing livelihood. Some of it has to do with suspicion; it doesn't help matters that a nervous government is seen to be making errors. Like when it had to "clarify" on sourcing from domestic small and medium enterprises—initially, the commerce ministry had included overseas entities.
Apart from the consumer—the large chains will definitely bring down prices of products—the farmer is seen to be the other beneficiary. However, apart from a few voices, he has been strangely subdued. As the policy spells out, backend infrastructure or supply chain management is expected to be a crucial focus in future. Still at a nascent stage, not many farmers have yet reaped any dividends from it, one reason for support for the opponents of FDI in multi-brand retail. "Unless government eases supply bottlenecks, opening up retail sector to FDI is not going to help," says Dr Mathew Joseph, who headed the first ICRIER study on the impact of organised retail on kirana shops.
Very few retailers—like Future Group, Spencer's and Reliance—have started to invest in this crucial aspect by setting up collection centres in rural areas and through contract farming. Prof Sudhir Panwar, president, Kisan Jagriti Manch, admits that while the collection centre model has reduced the middleman intervention to one point from the normal six, this is not enough. "Sometimes the farmer gets less than 14 per cent share of the shelf price. There is a need to safeguard the farmers' interest by ensuring that they get a fair share in the profits."
Expectations are that, over the next five years, around $3-4 billion FDI may flow in and help improve the backend logistics, sorting, trading, processing activities—important for improving retail margins while giving a fillip to both farm and industrial activities. The real impact is expected on food and grocery prices. It will also hurt the layers of middlemen—traders, farm aggregators, wholesalers, distributors and the like. These are the segments that stand to be bypassed by organised retail. While they will survive due to demand from the unorganised sector, their margins will surely be hit in the long term.
Linked to this is the fear of India being flooded by cheap imports from the global sourcing arms of the foreign players. Here, a visit to the crowded Sadar Bazaar, one of the wholesale hubs in the capital, is an eye-opener. Nearly every conceivable consumer product in this market, from crackers to electronic goods, has a cheaper counterpart from China or other nearby markets. Even as trader associations protest about inviting foreign retailers, there is no acknowledgement that they too have contributed to hundreds of cottage enterprises closing shop.
"The benefits will far outweigh any loss of jobs or marketshare in unorganised sector on account of FDI in retail."


K.T. Chacko Director, IIFT
"We're studying the impact this will have, but the research so far clearly indicates that Indian manufacturing does not have the capacity to stand up to imports from China," says Anil Bhardwaj, secretary general, FISME, the association of small and micro enterprises. Though the government has made local sourcing mandatory, Bhardwaj says that most Indian sme units just don't have the ability to supply the large quantities that a Walmart or Carrefour need. So, Indian units will have to club together and scale up to benefit from the mandatory sourcing.
Where does this leave the kirana stores? Well, they haven't exactly died out, as many predicted when organised retail first arrived on the scene more than a decade ago. Rather, they have—by and large—morphed and thrived. Studies by retail chains have revealed that while consumers may visit mega marts twice a month, they continue to pay over a dozen visits to neighbourhood stores. The home delivery and personalised service they offer—including credit sales without charging any interest—remain a major factor in their favour.
Of course, the allure of "special price offers" by big retailers is not to be scoffed at. As organised retail grows, corner stores are bound to get hurt. A recent survey reveals that job growth has been static in these stores, fed by uneducated migrant labour from rural India. On the other hand, organised retail will be a boon for educated youth in urban India, and could well turn out to be like the BPO rush of the last two decades. "Any loss of jobs or marketshare in the unorganised retail sector on account of FDI in retail will be far outweighed by the benefits," argues K.T. Chacko, director, Indian Institute of Foreign Trade.
That brings us to organised domestic retail. It's no secret that the Indian retail sector too has had its share of hits and misses. Business models have been tweaked several times over in the last couple of years as surefire winning formulas continue to prove elusive. "In such a low-margin business such as retail, it's not just capital that is crucial but also know-how," says Pinakiranjan Mishra from Ernst & Young. "Soft" foreign expertise will help a domestic industry that is still figuring it out.
In the next 5 years, $3-4 bn FDI may flow in and help improve backend logistics, sorting, trading, processing.

Given the changing market dynamics—with rentals having gone up, sales comparatively down and avenues for raising funds having dried up—there are expectations of many forging alliances or selling out. Bigger players will seek fresh funds "as this will give them more options", says Arvind Singhal, chairman, Technopak Advisors. "Seeking right partners at the right valuation may not be easy, particularly for listed companies," he adds. Hardly any among the domestic biggies are in safe waters. As Thomas Verghese, CEO of Aditya Birla Retail, put it, "We are running out of cash. How long can we sustain and burn a hole in our pocket?"
Having had time to establish a pan-India presence—including garnering prime real estate within city limits—domestic retailers are not unduly worried about the expected competition. "The high Indian real estate prices are the joker in the pack. For instance, Shopper's Stop picked up space in Delhi's Ansal Plaza at Rs 35/sq ft. Where do you get prices like that today?" asks Abhijit Bhaumik, director at boutique consultancy Opus Advisory. Bhaumik anticipates that there will be a logistical challenge initially for foreign players seeking entry into the market. But even if they complain, come in they will into the billion-plus Indian market, warts and all. For consumers and producers to really benefit, though, further reforms, carefully thought out, will have to be pushed through.
---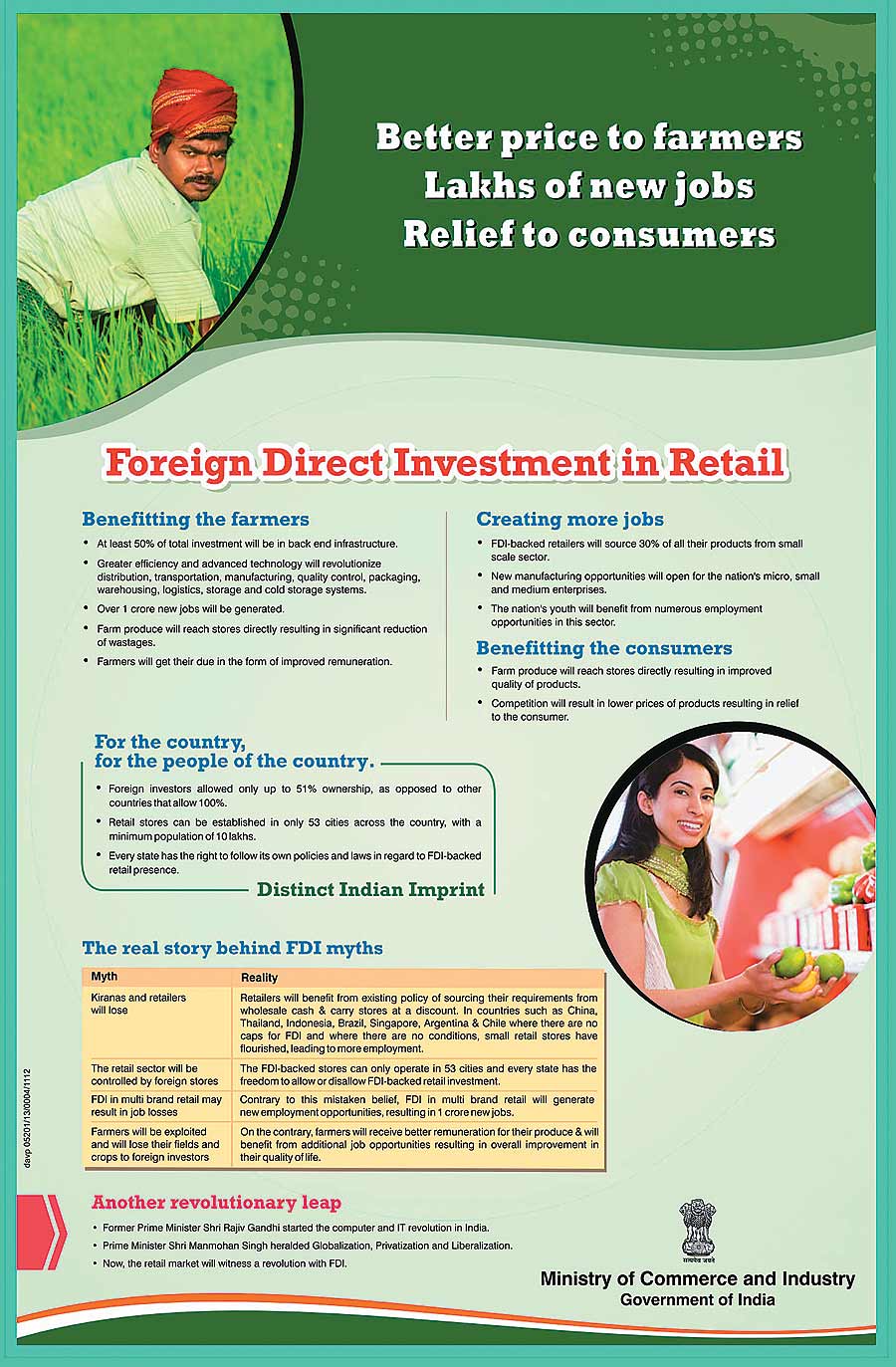 FDI in print UPA ad to build public opinion
Claims, Counterclaims And The FAQs On FDI
Jobs? Like the BPO boom, organised retail too will definitely open up job opportunities (with little training) for educated semi-urban youth. There will be some pain, though, for rural, semi-literate workers in kirana stores.
Farmers? Visible lack of support for the naysayers speaks volumes about the potential gains to farmers—provided legislative and other safeguards are quickly put in place (the predatory practices of big supermarkets are all too well-documented).
Consumers? The biggest beneficiaries: the growth of organised retail has already matched aspirations for choice, convenience and cost. They don't care about the politics but have displayed ease with different retail formats.
Ccorner stores? They've already survived the arrival of domestic chains—but the global players are definitely going to hurt some kirana stores. Personal service, easy reach, credit, more product choice should lead to peaceful coexistence.
Small enterprises? Though difficult to monitor, 30 per cent sourcing should benefit small enterprises, some of which could even throw up surprises. But remember: cheap imports will also hurt many of them.
The wholesaler? Clearly a negative for traditional intermediaries, whose margins will suffer as other options come into play. They have essayed a crucial role in providing credit to the system—but also brought lack of transparency and cartelisation, frequently pushing up prices.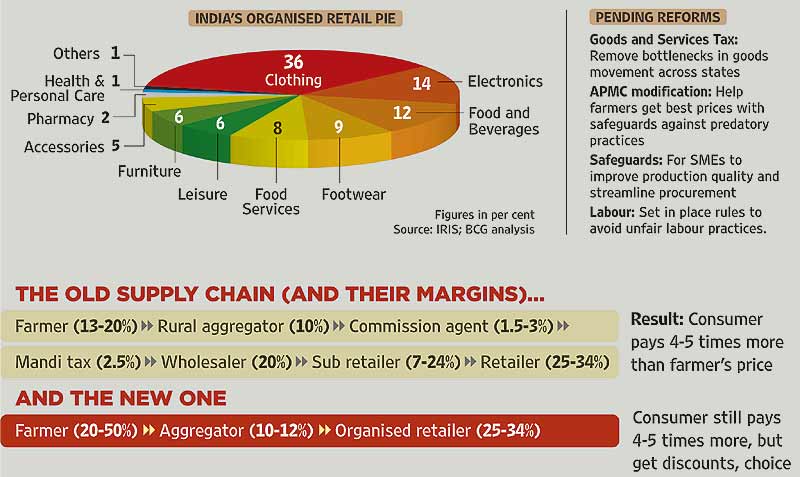 ---
By Lola Nayar with Arti Sharma, Smruti Koppikar and Pragya Singh