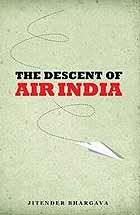 Banned book: The Descent of Air India Bloomsbury, 2013
Status: Book withdrawn because of defamation charges
The tragic diminution of Air India, first gradually in the decades of the '80s & '90s and then at an accelerated pace post-2004, warranted a book. With few parallels in corporate history of an iconic company being virtually grounded by the people entrusted to make it soar, the story deserved to be told; couldn't have gone unsaid.
Having worked for two decades during which the airline went into a tailspin, I often wondered as to how would people know what really happened, how Air India lost the sheen, how people failed their airline, how numerous injudicious decisions were taken to financially incapacitate it—how everyone from minister to an average employee contributed in some way or the other to its virtual destruction. The question I often asked: could it be me doing the narration, given the risks involved? If there were some who wanted me to fade away peacefully and not upset the big and mighty by putting facts in the public domain, there were others coaxing me to pen the sordid part of Air India's history.
To take a dispassionate view, I retreated to Sivananda ashram in Rishikesh in October 2011. After a 10-day sojourn in the quiet environs of the ashram, I convinced myself that I had to tell the unfortunate Air India story, exactly the way the events had unfolded, notwithstanding the risks involved. It was then that the task of writing The Descent of Air India in right earnest began though I had fleetingly made known my intention of writing a book even before I had superannuated from Air India in January 2010.
As the story involved the powerful and the mighty, I took my time. Self-censorship was deemed critical. Only those instances of corruption, nepotism, wrongdoings were included of which I had documentary evidence. Several instances, unethical, reflecting blatant political interference, causing harm to Air India, of which I did not have the requisite proof in my physical possession, were avoided. These included land in Air India control being given away to private airport operators in Delhi and Mumbai without adequately protecting AI's interests. Or the erstwhile Indian Airlines giving its new Airbus 321 fleet registration number as VT-PPA, VT-PPB...PP, of course, standing for Praful Patel. As I did not have clinching evidence as to whether Patel asked for it or a sycophant director offered to do this to please the minister, I made no reference to it in the book.
My book omitted instances I had no proof of. Like land in Air India's control being given to private operators. Or new airbuses having registration numbers bearing Praful Patel's initials.
The book faced obstruction from the day of its launch on October 11, 2013. If news channels were asked to black out the launch event and not do programmes on the book's contents, Delhi and Mumbai airports did not stock the book. Isn't it bizarre that an aviation-related book was missing at airport book stores? Someone's hidden hand was at play!
It was because of the caution exercised at the time of writing that I could, on being asked by the judge hearing Praful Patel's criminal defamatory complaint if I was pleading guilty, tell him that I will contest the complaint and prove everything written involving Patel in the book to be true. The publisher, Bloomsbury, apparently did not, however, have faith in the author. After first talking with my lawyers on a common approach to take on the legal case, Bloomsbury backtracked and informed me on the eve of the first court hearing that they had arrived at an understanding with Patel, that is, they will withdraw the books, destroy the stock and offer an apology. The least an author would have expected in such circumstances was to have been taken into confidence. No such luck for me!
The book generated enough interest and we were preparing for the third print run when Bloomsbury took this call. Such unilateral action damages the future prospects of the book too. There have been instances of publishers first evincing interest and then inserting rigid and unacceptable conditions. A Delhi-based company was all set to launch the e-book version but backed out after I refused to indemnify them against all legal costs. Why did they approach me in the first place when they knew the book background before contacting me?
While the withdrawal of my book, which I have often described as a document of misdeeds, misdemeanours and actions that killed Air India, did not create the uproar like some other books in the recent past have, I am glad that the instances of book withdrawals has assumed centrestage and the media is justifiably reacting. Hopefully, some publishers with enough spine will come forward and resist influence, strongarm tactics of the powerful and not withdraw books without prior approval of the author. Since publishers do undertake due diligence before accepting the manuscript, they are clearly guilty of leaving authors in the lurch.