The Gujarat assembly elections will be taking place in an environment in which as many as 25 police officers of various ranks languish in jails even as others run the risk of finding themselves there. Seven of them top IPS officers, the cops are in jail not for riots cases, but for those concerned with fake encounters. It has left the police force disenchanted with Modi. They say they flouted the rules to favour their political masters, but have got no "protection" in return. As for those who have dared to speak up against Modi, the pressure is of an altogether different kind, landing them somewhere between the devil and the deep sea.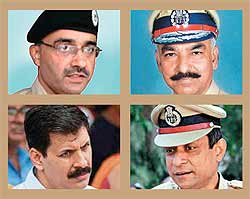 Hounded (clockwise) Rahul & Kuldeep Sharma, Satish Verma, Rajnish Rai
Former Gujarat DGP R.B. Sreekumar says that the police in Gujarat have been used as a 'police mafia'. "I have witnessed it myself. The system has been like that since 2002 and the fallout is very visible in the discontent. The way the police functions in Gujarat is unacceptable because elected members and the ruling party are supposed to work as per the Constitution. If they have reservations about it, then they should declare the state as a Hindu rashtra." Sreekumar says that honest officers desirous of working as per the law of the land have been systematically hounded.