"Kam se kam chaddhi to pehen lo (at least put on your underpants)." It is a reprimand Pradip Chanda* gets to hear often, and one that raises his hackles each time. Because Pradip is no impish schoolboy scooting off with bare essentials missing from his uniform. A thirtysomething father of two, he is a doctor in north Bengal. He is also a practising naturist.
In the naturist way of life, clothing is an impediment to being in harmony with nature; to feeling air, rain and sunlight on the naked skin; to realising that underneath designer labels, everyone is the same. It's a growing tribe in India—all regular folks like doctors, insurance professionals, bankers, teachers, abiding by the radical impulse to go nude. At this tentative stage of their fraternising, though, they can't escape the irony of having to live this al-fresco philosophy mostly behind closed doors.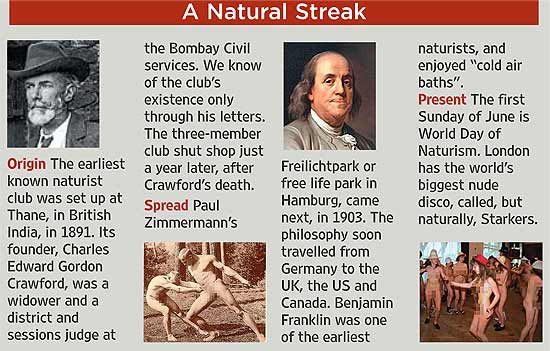 To be sure, Pradip's lifestyle choice of going without clothes whenever possible has taken him beyond the privacy of his home into forests and remote beaches, often alone, sometimes with fellow naturists. "Once, a few of us were on a little-known beach in Karnataka taking photographs. Suddenly, a group materialised out of nowhere and demanded to know if we were shooting a blue film!" says Pradip. Explanations don't work, as he has found out first-hand, and his wisest option in these situations is to yank on his pants and make himself scarce. "I tried a couple of times to make them understand we were doing nothing kinky or erotic, but they wouldn't listen. The problem is, in India, nudity is considered obscene." In fact, anyone who goes au naturel in public could find a case slapped against him under Section 294 of the Indian Penal Code, for committing an "obscene act in any public place". Deepak, a 68-year-old businessman from Mumbai, who warmed up to living in the buff 15 years ago, while in California, adds, "Public or social nudity is equated with lunacy or perversion here."
It is no wonder that India's experiment with being at one with nature is mostly conducted indoors. The lab, though, is expanding fast—from Delhi to Pondicherry, from Mumbai and Pune to Calcutta. Mamman Shaktimangalam was surprised to discover this when he formed the Indian Naturist Meetup Group a year-and-a-half ago. In the process, the Delhi-based insurance professional assigned to himself an unofficial headcount of fellow naturists. "I wanted to see how many of us were there in India," he says. "People are hesitant to move out of the shadows because of fear of social stigma, but an online platform would draw them out without revealing identities." He can never be sure if the authentic-sounding names and tell-tale photos are genuine, but he's not complaining—the number of members stands at 246 and counting. "Some promptly signed out when they realised naturism isn't about sex and orgies," he says, adding he screens each new application to keep the fakes out.
You accept people as they are. Naturism—sagging tummy, love handles and all—counters the blitz of unreal body images.
The Bengalee Nudist Group, started by Pradip, has attracted 60-odd members in seven months. Inhibitions, though, are harder to shed than clothes—few members actually turn up for nudist meetings, despite their garrulous exchanges in the virtual world. Fewer still are game for a nude getaway. Mamman recalls how plans for a naturist weekend at a resort in Haryana this summer fizzled out as all but two backed out. "The thought of being seen without a stitch on can be intimidating," concedes marketing professional Rajan*, who as a teenager, would shy away from being seen even in a vest. Stumbling upon an article on naturism in the West got him thinking. "We are born this way, why should we feel embarrassed? Look at the Digambar Jains and Naga sadhus," he says, a confident convert at 29. "Naturism has liberated me."
At naturist meets, that seems to be the rallying cry. "No one is conscious of their nakedness," says Vinu*, a 30-year-old graphics designer from Mumbai, who, having attended four closed-door naturist meets in his own city and Pune, is something of a veteran. He says, naturism—sagging tummy, love handles and all—challenges the blitz of unreal, sculpted bodies in the media, and helps people accept each other, and others, as they are. "Together, we eat, talk, sing, swim—do everything one would do at a regular social meet. The only difference is we do it without clothes," says Mamman.

Joie de vivre A Mumbai naturist at a farmhouse in Lonavla near Pune. (Photograph by Apoorva Salkade)
There is just one non-negotiable rule: no sexual relations between members. One would think this would reassure women to do more than nod approval from the sidelines. It hasn't, really. The moderator of the group Indian Naturist, a 40-plus engineer from Bangalore, lets us know that there are only 30 female members out of a total of 441. Many women members, reveals one nudist, are married, but hide their interest in naturism from their husbands for fear of being branded perverts or unsuitable as wives and mothers. It is this negligible participation from women, says Pradip, that had kept his wife, Mala*, away from naturist meets. "It is only recently that she agreed to be a part of a naturist get-together." It was at a meeting held clandestinely at a friend's empty flat in Calcutta last September, and Mala was the only woman. "I had stripped down only to my inners. Maybe over time I can overcome my hesitation, but until I see more women actively participating, I can't get comfortable in my skin alone," she says. Deepak's wife too joins him on naturist meets—he admits he is "extraordinarily lucky"—but only abroad. "No Indian lady who has grown up with the inhibited lifestyle of her generation would've found it possible to go nude in public. It couldn't have been easy for her, but she's done it, at least for my sake." He has never brought up the subject with his children, but he believes they do know.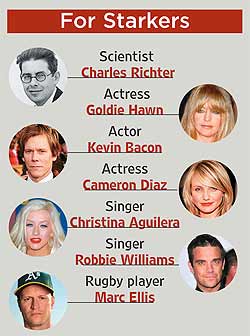 Families are naturally the first to know, unless it's consciously kept under wraps. Pradip, for one, discussing his naturist experiences on the phone, hangs up abruptly when his teenage son walks in. His daughter is 12. "They're too young to understand, and might take it the wrong way," he explains. "Had I been with them from the time they were born, I would have moulded them into naturists (the children are from his wife's previous marriage)." For Mamman, a friendly daughter-in-law insistent on making him a Facebook friend, had to be brought into the loop. "My Facebook profile reveals I am a naturist and I didn't want her to be shocked. So I told her myself. After all, it's my choice, and I'm not compelling anyone to do it," he says, sitting in his office cabin in a three-piece suit, hardly a naturist's coat of arms. For Rajan too, this "corporate attire" that he must don for official meetings is "stifling", though there's nothing he can do about it. "There's no telling how a client or boss might react if they come to know about our private lives," says Pradip. With the challenges that come their way, it is not surprising Rajan has plans to set up a naturist colony of sorts someday. For one, that would take care of unwitting spectators, like a jeweller who got a chance eyeful of a bare-bodied Deepak as he waited in his drawing room. For another, putting on that chaddhi—or not—would be nobody else's business but their own.
---
(*Some names have been changed.)