Today's Banarasi brocades don't just come off looms set in cluttered rooms embedded deep within India's oldest city—they flow in from China via a thriving 'impex' trade that sells what looks and feels like the real Banarasi. Similarly, leather handbag makers struggle to tell their customers how to discern the real thing made of genuine leather from the fake—leatherite, rexin and all that—that are raining down into India from China.
So voluminous are India's imports of everyday items that they flood streetcor­ners and high street alike. The Indian government may be tom-tomming a rosy 10 per cent future rate of growth in manufacturing, but Indian buyers have all but lost their grip on reality. "Fewer Indian shoppers can now tell real goods from imitations. We have to tell customers how to distinguish real leather from leatherite. Cheaper lookalike stuff is putting pressure on our margins, especially over the last three to five years," says Babu Lal, secretary of the Jawaja Leather Association in Rajasthan.
Few customers, Babu Lal finds, understand what goes into making a pro­duct from scratch. And so it is for Indian man­ufacturers. The rakhi and toothbrush makers are now rakhi and toothbrush importers, while the economic powerhouses next door and beyond sell Indians balloons, che­mistry sets, electronic goods, telecom gear, idols and toys, all for a lower price. You name it and its Chinese—or foreign at any rate—version has invaded the Indian market.
Indian customers don't seem to care and that puts a big question mark before the Modi-led 'Make in India' dream. This is the bad news for India's manufacturers—except in a few sectors, such as auto­mobiles, where the made-in-India flag still flies. It isn't just handicrafts or textile, the usual suspects when a looming manufacturing crisis finds mention. Take electronics of all shapes and sizes. By 2020, by present ratios, electronic items may cost India $300 billion in imports, up almost eightfold from $40 billion last year. "We have a problem and we are suffering as domestic manufacturers," says Electronics Industries Asso­cia­tion of India (ELCINA) secre­tary-­general Rajoo Goel.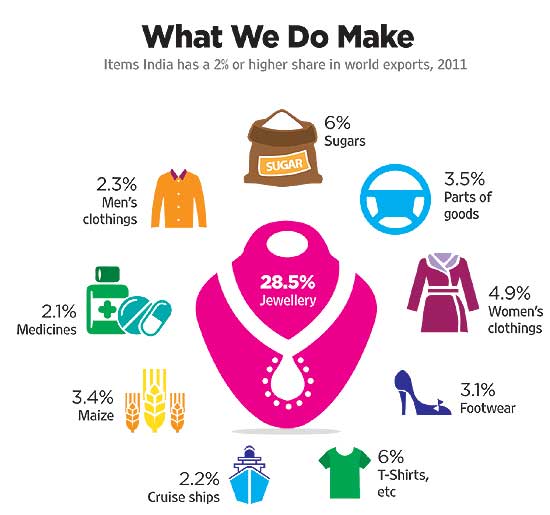 It is true, he says, that a bulk of the Indian consumer revolution rests on the shoulders of traders importing wares into the country, not manufacturers who build them from scratch. Until 1991, India was an up-and-coming man­ufacturer of air-conditioners, refri­gerators, other white goods and automobile components, for instance. Then, the government signed the ita agreement, which effectively put paid to visi­ons of making these goods in India.
It's kind of a terrible irony, but no sooner does a sunrise sector arrive on India's manufacturing horizon than its sunset clause kicks in. Take the solar energy sector, which has the potential to produce 100 GW power by 2030, and yet strangely remains a nascent industry in India. Even here, a July 2014 rep­ort prepared by the Indian Solar Associa­tion in collaboration with kpmg raised concerns of inexpensive imports crow­ding out local players. "If a sustainable domestic manufacturing industry is promoted, it can save $42 billion in equipment imports," it noted.
Similarly, in February 2012 India came up with a preference policy for Indian telecom manufacturers—30 per cent of all public sector purchases would be from domestic manufacturers and everyone would have to 'value-add' 25 per cent in India to their imports. The government dropped this policy in August 2013 for being 'trade-distorting'. In fact, behind that retraction is a simple equation—telecom equipment costs at least 20 per cent more to make than to import into India. Also, parts of telecom equipment, if imported and put together, are 10-15 per cent more expensive than if the final gear is impo­rted (at zero or low duties). Indian firms that design and manufacture original electronic goods garner a mere three per cent of India's annual Rs 50,000 crore telecom gear business.
If foreign companies with man­ufac­turing facilities located in India too are included, the share of 'Made-in-India' rises to around 12 per cent. Of course, where phones are being manufactured matters little to cellphone users, for instance, who only look for the best deals and latest models.
To turn around such a bleak scenario in almost every sector isn't easy, though many are hopeful, such as N.K. Goyal, pre­sident of the Comm­unications and Man­ufacturing Asso­cia­tion of India. "We find the government responsive to Indian manufacturers—it isn't like bef­ore. We'll surely see the trend cha­nge in favour of manufacturing," he says.