Some time in the middle of 1973, a young entrepreneur named Susheel Somani, owner of the G. Claridge printing press—one of the best in India­—­launched Debonair. It was floated as a monthly 'men's' magazine, which the promoters characterised as the Ind­ian Playboy. Rediffusion, run by Arun Nanda and the late Kersi Katrak, was the hottest advertising agency in town and they produced a series of mouth-watering 'teaser' ads. I don't know if there was any awards system at that time, but had there been one, the Debonair campaign would have won hands down. The ads naturally aroused huge expectations about the product, tinged with slight unease. Where were the indigenous 'centrespreads', ie semi-nude female models, going to be procured from?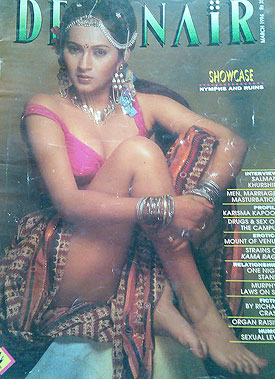 Early venture Vinod Mehta remodelled Debonair into an elegant magazine with great features, fiction and a clean design
Susheel Somani hired a self-styled and self-titled British journalist, Count Anthony Van Braband, to be the editor, and Ashok Row Kavi as his deputy. They didn't have any problems with the female models snag. Since both were practising hom­o­­sexuals (Ashok is today a prominent gay rights activist), the pictorial content of the magazine concentrated heavily on muscular, pretty, fair, semi-nude men in figure-enhancing briefs. One or two girls were strategically thrown in but their function was to add to the sweaty loveliness of the poofy males. A girlie magazine, then, was being edited by two active homosexuals! Count Braband's journalistic credentials were the source of some mystery, and rumour had it he had been recommended by a rich English widow living in Breach Candy who had a fondness for gin and experimental sex. Ashok Row Kavi's professional reputation was much more solid.