When Forbes magazine launched its first Billionaires' List 25 years ago, India had not one legitimate billionaire by its measure. So that India would be represented, I was asked to write a profile of JRD Tata. It was exhilarating to meet and interview this icon of Indian business. JRD knew Prime Minister Jawaharlal Nehru on a first-name basis, but refused to bow before his Fabian socialist ideology, at great cost to the Tata group he headed. JRD's management philosophy was one of laissez-faire. He chose strong chiefs for the group's principal companies, then let them manage. He believed, he told me then, that the values the Tata group had inculcated would keep the group united and strong.
His presumed successor, Ratan Tata, disagreed. At the end of our interviews he told me that the group stayed together out of respect and affection for JRD. Ratan said he had begged JRD "to step down in favour of a single person in order to hold it all together" but that JRD believed Tata's values were the binding glue. Values were important and ethics valued, Ratan agreed, but JRD's successor would have a much tougher time holding the group together than JRD did. That was why Ratan found his time at HBS important.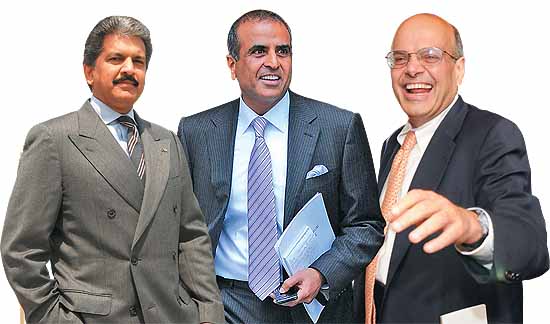 The H men Anand Mahindra, Sunil Mittal, Ajit Jain
The connection between HBS and India goes back over half a century. The Indian Institute of Management in Ahmedabad was founded in December 1961 in collaboration with HBS. IIM followed HBS's case method of study. There was a steady exchange of faculty between the two schools. In my first year, IIM's S.K. Bhattacharya taught control (as accounting was then called) to one of the first-year sections. He later left IIM to become India's leading management consultant.
Long before that, some Indians already recognised the value of a degree from HBS. Among the earliest was A.N. Haksar, later the chairman of ITC, who received his MBA in 1948. More than 50 years later, Ratan Tata put a capstone on the connection with a $50 million gift to HBS, the largest by an international donor in the school's cen­tury-old history. Tata Hall is expected to open later this year. Earlier this month, Nitin Nohria, HBS's India-born dean, was appointed to the board of Tata Sons.
Ratan Tata himself attended HBS's 13-week advanced mana­gement programme in 1975. The amp course is intended for executives on the track to becoming chief executive and crams much of the first-year MBA curriculum into that period. In the years since Ajit Haksar's time, HBS has educated well-known family heads like Rahul Bajaj, Anand Mahindra and Sunil Mittal, for whom money was no object. Others, like Ram Charan (widely considered the world's leading advisor to chief executives) and Ajit Jain (who may succeed Berkshire Hathaway's Warren Buffett) had tougher roads to HBS but have done superbly since. And, sadly, McKinsey's Rajat Gupta, who slipped.