President Hamid Ansari? The man is, of course, the quiet ex-diplomat who does not normally grace the covers of national magazines. But the current V-P is also the man most likely to make the move to Rashtrapati Bhavan, come July 25. Indeed, the moves to make him the 13th president of India and the counter moves to deny him is the story of the day. The great irony of the times is that with the prime ministerial office diminished, the ruling UPA feels it must redeem its dignity by anointing a president of its choice. Apparently, the Gandhis are in favour of Ansari. So to get him the job the Congress will reach out to the Left and possibly ignore Mamata Banerjee's objections. If that happens, as some Congress leaders are indicating, it'll indicate a subtle political realignment.
Although a ceremonial post, the next president will decide whom to invite to form a government in 2014. That would be the moment of great power for the new Rashtrapati. So on July 25, when the new president is sworn in, will it be the current vice-president who takes on the exalted mantle? He would have had a relatively easier ride to the high office but for the events of December 29 when, as chairman of the Rajya Sabha, he adjourned the House at midnight and marked the end of the winter session of Parliament before voting on the contentious Lokpal bill. He lost many friends that day, particularly among the smaller parties. The BJP members still insist he acted on behalf of the ruling party. They say they will not be happy with a Hamid Ansari candidacy.

Photograph by Sanjay Rawat
Hamid Ansari, Vice-President
USP Suave, secular scholar-diplomat from an Ansari family in UP with powerful friends in politics, business and the world stage.
Backers Congress first choice but has fallen foul of the BJP and even the Left after an RS session on Lokpal debate. Yet the Left will back him and that makes him suspect in Mamata Banerjee's eyes.
The vote for Ansari in the prez polls could see a "larger realignment", TMC out, Left in.

But the more worrying opposition comes from within the UPA. Mamata sees Ansari as "a friend" of the Communists because the Left parties had backed him for vice-president during UPA-I. Since the Bengal CM sees red conspiracies everywhere, she had some months ago suggested to the Congress leadership in Delhi—why not former president A.P.J. Abdul Kalam again, in place of Ansari? The logic she offered was one Muslim makes way for another.
Since then, the presidential plot has thickened as another Bengali has thrown his hat in, creating a dilemma for the Congress. Well-placed sources reveal that Union finance minister Pranab Mukherjee has told Sonia Gandhi that he would like to "be relieved" of political work. It's no secret that he would like to be elevated to the office of president. Pranab is the Congress candidate on whom a consensus could be built as he has good relations across the political spectrum. But in 2007 too, before Pratibha Patil's name came in out of the blue, a Left leader had asked the Congress: "why not Pranabda?". Sonia Gandhi had then answered, "if we let him go, who will run the government?"

Photograph by Jitender Gupta
Mulayam S. Yadav, SP chief
USP The regional satrap sees himself as a big national player
Backers Putting up APJ Kalam was his idea and he is floating the name again, though could back Ansari. If Congress gets into a corner, could offer him vice-presidency. But the Yadav may play a less visible game of extraction. Son Akhilesh Yadav does need central funds in UP.
Mulayam has his own schemes...at this point no one knows whether he'll go for PM, prez or veep.

That question has still not been answered. It is Pranabda who manages the chaos during Parliament and the one to be sent to handle most cross-party crises. At a time when the PM is pulverised, home minister P. Chidambaram friendless and in and out of controversy and defence minister A.K. Antony also having taken an image hit, can the Congress afford to let the man from Bengal disappear from the hurly-burly of the political scene and retreat to a ceremonial office behind the thick walls of Rashtrapati Bhavan? Besides, it is said that the Gandhis trust quieter, more placid personality types like Manmohan Singh, Antony and speaker Meira Kumar. Pranab, the seasoned warhorse, is very much his own man. The result is that he's denied the prime ministership and, according to party sources, 10 Janpath may not be inclined to make him president either.
The plan that has been put into motion is to see how much support Hamid Ansari can garner, as Sonia is believed to be impressed by the erudite vice-president. It's early days yet but the arithmetic done by Congress managers itself holds up very interesting scenarios—it excludes the Trinamool Congress but includes the votes of the Left parties. A Congress leader poses the question: "Don't you think the presidential election provides the format for a larger realignment?" Sources in the Left have also indicated to Outlook that since they supported Ansari as vice-president, they would back him if his name is proposed for president.
Pranab Mukherjee, FM
USP Hugely experienced in political affairs and knowledgeable about constitutional mechanisms and managing coalitions
Backers With friends across parties, including BJP, Pranab has the numbers but crisis-ridden UPA is overly dependent on his trouble-shooting skills. Distrusted by ally Trinamool after Dinesh Trivedi episode.
Pranab has told Sonia that he'd like to "be relieved" of political work. It's no secret he would like to be elevated to the office of president.

This naturally leads to the question: is the Congress ready to sacrifice Mamata as a UPA ally? There is an assessment that she should be hung out to dry for a while as she blocks too many policies and has currently also painted herself into a corner by her irrational actions in West Bengal. The Congress also believes she has nowhere else to go—she can't have an arrangement again with the BJP, as she once did as member of the Vajpayee-led NDA. As a Congress leader puts it, "The small parties may flex their muscles but each has only a small vote. Add it all up and they still can't have a president of their own without the support of the Congress or BJP."
Quite true. But the Congress has not been in a good place for over a year and alienating an ally could be risky. Hence the other plan in operation. The thinking here is that there are two parties who cannot be seen to be playing to a regional plan that ultimately benefits the BJP. These are the SP, TMC and perhaps even the BSP. So this plan operates on the principle that Mulayam Singh Yadav, who has the largest chunk of votes after the Congress and BJP, should be the one to get Mamata around. Sources in both the Congress and Left parties believe that Mulayam too cannot say no to the candidacy of Ansari as he's from a well-known Uttar Pradesh family. They also hope that he can get Mamata to see that Ansari is not a Communist agent.

Photograph by Narendra Bisht
Jaswant Singh, BJP
USP Sophisticated Thakur who could come in handy if 2014 polls give a hung verdict.
Backers NDA doesn't have the numbers but neither does UPA. Faced with the prospect of propping up SAD's Parkash Singh Badal, BJP might give the Thakur a half-hearted look-see. But Bhairon Singh Shekhawat fiasco is still in mind.
One joke is that Jaswant should be given the job since "he looks and acts presidential".

But political manoeuvres in such times involve bluff and double bluff. It cannot be forgotten that Mulayam's ultimate aim is to consolidate himself at the cost of the Congress. Hence sources from his party have also been floating the name of A.P.J. Abdul Kalam. Mulayam and Kalam have a history. In 2002, Mulayam had suggested Kalam's name to Vajpayee and has always been pleased with the fact that his choice got in. In 2007, Mulayam had again suggested another term for Kalam, but by then it was known that Sonia did not want it. Besides, Kalam himself said that he would agree to run only if a consensus is built on his name.
Now Kalam could get another go at the presidency only through a bloc of regional parties insisting that the "people's president" get another chance (the Tamil Nadu parties would be on board). The BJP will back him as he was in any case an NDA nominee. The idea then would be to bulldoze the Congress into accepting Kalam. The real purpose of such a manoeuvre would be to humiliate the Congress. It remains within the realm of possibility only if Kalam himself were to agree to play along.
But then, as a powerful NDA ally says: "On an issue like the presidential nomination, it's better to have a consensus." Still, it's known that the BJP is spoiling for a fight but they can only give one if the pawns on the chessboard fall into place. Since between Congress plans and BJP hopes there is now a chunk of regional forces, the moves can be complex and the game can change suddenly. The BJD, for instance, would like to go with a regional consensus but they are aware it may not evolve. Sources also reveal this nugget that Hamid Ansari had visited Orissa over a month back and had an excellent interaction with CM Naveen Patnaik. The other big party in any political calculation is the BSP but till now it has not joined any regional front or revealed its hand. Yet it could go along with Ansari because of the UP link and the need for a working arrangement with the Congress.
A.P.J. Abdul Kalam, Ex-Prez
USP Been there, done that, still quite the "people's president".
Backers The ex-president has given no indication that he's interested in a second stint, but TMC sees a chance to poop UPA's party and Mulayam keeps sending mixed signals. Never quite a Congress favourite, UPA still grateful for his role in defusing Koodankulam protests.
APJ Kalam could get another go only if a bloc of regional players pull for the 'people's prez'.

There are similar reasons for Mulayam to go along with the Congress plans but he has his own schemes. At this point no one can decide whether he plans to be PM, settle for vice-president—or indeed, run for president? There is a calculation that if things get tight for the Congress, then Mulayam could be offered the vice-presidentship that is to be decided on August 10, two weeks after the president is sworn in. But this would be a disaster for the Congress as they do not have the numbers in the Upper House over which the vice-president presides, hence they would be literally under Mulayam's thumb. And this would also infuriate the BSP, also important in the Rajya Sabha. Since Mayawati plans to be personally active in Parliament, she surely also has plans.
The Congress will first try for both posts and if the Left plays along, they could manage it. But only if the invisible forces that move deals and arrangements lend a generous helping hand. Besides Ansari and Pranab, there are other names doing the rounds in the Congress too, such as Meira Kumar and Assam chief minister Tarun Gogoi. The back story for the Gogoi candidature is that he's been CM for so long that now he's ready for other things. If things go wrong with Ansari and Pranab, then the plan apparently is to mollify Mamata and Naveen Patnaik with a candidate from eastern India. From the east there's also the balloon of former speaker P.A. Sangma, and the two evergreen presidential candidates—Dr Karan Singh and Farooq Abdullah.
Short of numbers they may be, but the BJP is not short of names. There are many presidential balloons floating around, starting with Punjab CM Parkash Singh Badal, Ram Jethmalani and Jaswant Singh. One joke is that Jaswant should be given the job "because he looks and acts presidential". The other one is that since L.K. Advani could not become PM perhaps the party should back him for president. Hopes do run high when it's the season of the Rashtrapati.
---
The Great Indian Presidential Poll Waltz
The Voters President is elected indirectly by electoral college comprising the 543 MPs of Lok Sabha, 233 elected members of Rajya Sabha, and 4,120 MLAs in the 28 States. In 2007 poll (winner: Pratibha Patil), the number of electors was 4,896. In the first poll in 1952 (winner: Rajendra Prasad), that number was 4,056.
The MP's Value An MP's vote is calculated by dividing the total number of votes assigned to constituent MLAs by the total number of elected members in both Houses of Parliament (776). In 2007, the value of each MP's vote was 708. In 1952, it was worth 494. In 2012, the total value of all 776 MPs: 5,49,408.
The MLA's Value The value of each MLA's vote varies from one state to another depending on population. An MLA's vote is calculated by total population of state as per 1971 census, divided by the number arrived at by multiplying the number of elected seats in assembly with 1,000.
For example: West Bengal. In 2007, the population of Bengal divided by 294 x 1,000 pegged each Bengal MLA's vote at 151, giving the state a total of 44,394 votes. In 2007, each Uttar Pradesh MLA's vote was worth 208 (total 83,824). In 1952, each UP MLA's vote was worth 143. In 2012, the total value of all 4,120 MLAs: 5,49,474.
The Voting The election is held by secret ballot. Ballot papers, not EVMs, are used for the election and each ballot paper carries two columns. The first column carries the names of candidates and the second column the elector's order of preference. In 2007, the total value of votes was 10,98,882. In 1952, it was 6,05,380.
UPA Gameplan
Congress backroom boys have pencilled 17 parties including CPI and CPI(M)—but excluding Trinamool—as likely to support its candidate. These parties in all have 296 seats in the Lok Sabha. But with 5,28,211 votes, UPA will still be 21,230 votes short of the halfway mark of 5,49,441.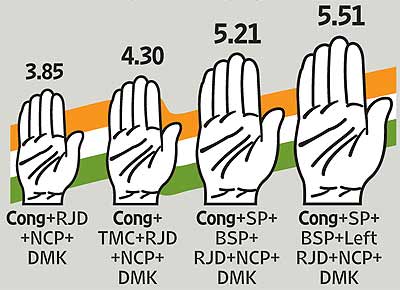 Five Scenarios
UPA, NDA and Left parties join hands to come up with a consensus candidate in "national interest".
UPA allies stick together, Left come on board to support "secular" candidate.
TMC leaves. UPA, Left receive support from SP, BSP for a common candidate.
NDA throws up a new candidate who elicits support from sections of the UPA and other regional parties
SP, Trinamool come up with a fresh face who attracts votes from UPA and NDA allies and other regional parties
NDA Gameplan
Despite Congress non-show in recent elections, NDA is behind UPA in numbers. With traditional allies JD(U), Shiromani Akali Dal, and Shiv Sena, and possibly AIADMK support, NDA will be able to mobilise 3.32 lakh votes. Even if Trinamool backs NDA candidate, it will fall short.