Small Car, Big Rush
The small-car market is slated to grow by 15 to 18 per cent in a subdued market, will retain overall 75 per cent market share
New car buyers are looking largely at small cars, though not necessarily the entry level variants
Large-car makers are launching small cars in India. Ford, Renault are creating new platforms to bring large formats in small packages.
The micro-car segment is expected to heat up next as Maruti has plans to relaunch models akin to the M800 and Nano will launch a diesel version
New small cars are technologically superior and meet automakers' need for volumes from this growing segment
***
Desperate times call for (small doses of) desperate measures. Pushed into a corner by a six-month period of dismal growth, carmakers are returning to a time-tested strategy that has always worked in the Indian market. Across the automotive spectrum, manufacturers, even those that specialise in large and luxury cars, are going 'small' and customising offerings to suit the small car buyer in India.
In the last six months, the performance of the automotive sector has been dismal, with passenger cars posting a negative growth of above 20 per cent in October. With November and December giving some positive signals, global carmakers are re-strategising to attack the small-car pie. This segment currently makes up more than 75 per cent of the market and is slated to grow further in the coming years, even as other categories seem to stagnate. Says Kaushal Maroo, VP, institutional research, Religare Capital Markets: "India will remain a small-car market and going forward, most cars would be introduced in this segment. A growth of 15-18 per cent is possible here."
Over the past two years, as income levels grew in India, there was a gradual move towards sedans and mid-segment cars. This prompted large-car manufacturers to expand their exposure in these categories. While initial sales were good, the trend has reversed in the last 10 months, thanks to mounting interest rates and fuel costs. "Most companies need volumes to survive. This can come only through small cars. But many companies did not have a small or sub-compact car," says Arvind Saxena of Hyundai Motors India. "In the last 18 months, every company has created cars in this segment."
Of late, manufacturers are trying all the tricks in the book to offer something new within the small-car segment. Of course, smaller cars have been launched, with features that are typically found in large or luxury vehicles. More recently, some manufacturers are launching compact versions of models that are normally available in larger formats. What is encouraging for companies is that first-time car-buyers are buying further up the value chain and not necessarily from the cheapest category. This is borne out by some recent successful launches like Nissan's Micra, the Ford Figo and the Volkswagen Polo.

Buggy Bajaj Auto's RE60. (Photograph by Sanjay Rawat)
While the tougher economic climes have influenced buying decisions, the preference for the small car has also been fuelled by the lack of proper infrastructure, such as roads, in India. Says Hormazd Sorabjee, editor Autocar India: "Indian car owners are cost-conscious. They will look at the running cost of a car—and increasing fuel costs have not helped. On top of that, Indian roads are bad and congested, making it difficult to run larger cars. Many companies are looking at this option now."
On January 4, Ford Motors unveiled a compact sports utility vehicle (SUV), EcoSport, powered by a small 1,000 cc engine to feed small-car owners' aspiration to own a SUV (normally, an expensive buy). Says Nigel E. Wark, ED, marketing, sales and services, Ford India: "Traditionally, people go to larger and larger cars globally. In India, we see something different. There is an aspiration to drive and enjoy a good product without going to a big car. So you will get the technology, the driving experience, the positioning and prestige of a big car in a smaller car."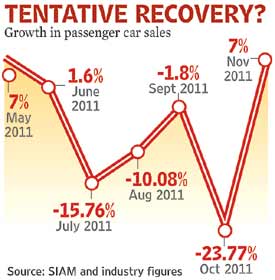 India's largest carmaker, Maruti Suzuki, also showcased a model that may go into production in 2012. The company unveiled the XA Alpha SUV concept, built on the new Swift platform. The company also has the multi-purpose vehicle Ertiga, which would fall into this category. Another strategy employed by carmakers has been to keep the length of their cars to within four metres to qualify as a small car and keep the excise and price tag low and affordable for Indian customers looking for a good deal in a small package.
But will these newly rolled out wheels perk up the sagging Indian market? Carmakers are pinning their hopes on 2012 and believe (as always) that even in a depressed market, new models boost numbers. And if the new models are small cars, that helps. Hence, even large carmakers are getting into that space. Renault, for instance, announced their compact hatchback Pulse in October last year. The company's strategic move into the small-car segment is based on the platform jointly developed by Renault and Nissan and uses a 1.2 litre engine. The car will be officially launched at the Auto Expo in Delhi, which will see 30 cars being launched. A majority of them will be small.
Some companies have even pre-empted this rush and launched their models late last year. This includes Hyundai's Eon, in competition with Maruti Suzuki's largest selling small car, the Alto, and Honda's Brio. Others, like Nissan, are firming up their small-car models and, according to sources, there is even a plan to revive India's favourite small car, the Maruti 800, in some new form.
That leaves the question of the micro-car segment created by the Nano. Beyond the initial euphoria, response to the Nano has been lukewarm. In the last few months, sales have picked up thanks to the attractive financing schemes pushed by Tata Motors and the low booking amount of just Rs 15,000. But that might be a short-term gain. Says Religare's Maroo: "Nano serves a category of customers looking to upgrade from a two-wheeler. While the response to Nano is improving, it cannot surpass that of an Alto. There will be a small market for it." Today, thanks to discounts, the price difference between the base versions of other small cars and the Nano has narrowed.
On the positive side, though, the Nano's technical achievements were highlighted (albeit obliquely) by the launch of a challenger by Bajaj Auto. While expectations have been high, it is clear that the final product suffered once the tie-up with Renault-Nissan had been called off. The 200cc RE60 unveiled last week is, at most, a replacement to the three-wheeler. But then, worded differently, it is also a small passenger vehicle. That is the formula for the Indian market.