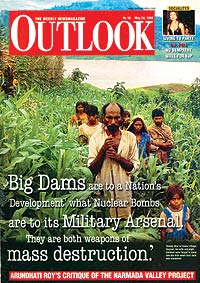 "The last person I met in the valley was Bhaiji Bhai. He is a Tadvi tribal from Undava, one of the first villages where the government began to acquire land for the Wonder Canal and its 75,000-kilometre network. Bhaiji Bhai lost 17 of his 19 acres to the Wonder Canal. It crashes through his land, 700 feet wide, including its walkways and steep, sloping embankments, like a velodrome for giant bicyclists.
The canal network affects more than 2,00,000 families. 1,00,000 people, will be, like Bhaiji Bhai, seriously affected. They don't count as 'Project Affected' and are not entitled to rehabilitation.
Like his neighbours in Kevadia Colony, Bhaiji Bhai became a pauper overnight.
Bhaiji Bhai and his people, forced to smile for photographs on government calendars. Bhaiji Bhai and his people, denied the...