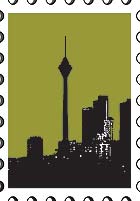 City slicker than most
The Imam Khomeini International Airport will remind you of any modern airport in Asia. Beware having an Israeli visa in your passport; it's like a red rag to a bull. And if you do have one, you'll need a year's cool-off period to get past immigration. Tehran last month did not resemble a metropolis under siege of decades of sanctions. Its 15 million people look none the worse for it. Instead, Tehran holds a mirror for New Delhi to emulate its Swachh Iran reality: no garbage, no beggars, no stray animals on the streets. So fastidious is the municipality about cleanliness that horse-drawn carriages in some areas have contraptions attached to collect horseshit. But you will encounter enormous traffic jams along the most modern road network accompanied by an elaborate system of flyovers and a metro. Leafy pathways along expressways are flanked by houses both old and new with a distinct Parisian style, overlooked by only a few highrise buildings. Most homes carry pictorial depictions of ancient love stories, bedecked with colourful flowers. New Tehran straddles the slopes of a 5,000 feet hill range which in June still has traces of winter snow while the local temperature is 42° Celsius. Arid and barren land has been reclaimed with green cover and abundant foliage. Tehran, they say, is not a patch on other cities in Iran, all served with excellent highways and Persian hospitality. Welcome to the post-Revolution Iran.
---
Nose hounds
The 28-floor Parsian Azaadi Int­ernational Hotel is about the tallest and smartest five-star hotel in Tehran. It is truly international as Chinese, American, British, Indian, Scandinavian and African delegations are assembled to sign up contracts, with Tehran anticipating sanctions getting lifted and Iran becoming a normal country to do business with. The Iranian economy has been whittled down by sanctions. Till two years ago, GDP growth was negative and has picked up to between 1 and 2 per cent. The GDP contracted from $568 billion to $406 billion and inflation declined from 40 to 20 per cent. Tehran Times, the only English daily, had Iranian leaders talking tough about not surrendering to the West over the nuclear deal. The Iranian English Press TV channel is not only disabusing notions of a sellout but also sniping at Saudi Arabia over its intervention in Yemen. Iranians in the lounge didn't seem bothe­red about politics; they were relaxed, drinking tea and smoking. Someone I met said he actually managed to get a beer from housekeeping, except that the lad who arranged it said he'd lose his job and the recipient go to jail if they found out. I chose to sweat it out instead. The luxurious gym in the hotel has strict timings. In the morning, it is for ladies only—and after 5 pm for gentlemen. We spot a young maiden with her nose bandaged and wonder whom she's had a fight with. Soon we discover at least half-a-dozen similarly bandaged ladies accompanied by their mothers and aunts. These are no female pugilists but women recuperating post a nose job.
---
Souk it in
A swirl around Tehran combating its traffic snarls is quite an experience, given that almost one out of every three persons owns a car and is zipping away as petrol is the equivalent of Rs 14 a litre. The 14,000 feet high Miladh Tower restaurant, which doubles as a transmission hub, is Tehran's elite landmark. The world's most expensive and intricate night-flying kites are sailing in the sky as we rotate surrounded by kites almost halfway up to Mount Everest, savouring an unending menu of kababs and eye-watering non-veg dishes. We visit the Grand Bazaar which is Sarojini Nagar, Lajpat Nagar and Janpath markets all put together. The Imam Khomeini Square is another famous landmark. The National Museum designed by French architect Andre Goddard traces the history of Iran back 12,000 years. The Persian empire once extended from Greece to parts of India, besides Egypt. A shop calling itself Tehran Fries is close by but could not be investigated as we had to return to the Institute for Political and International Studies which is affiliated to our own Institute of Defence Studies and Analyses in New Delhi.
---
India in Iran
At many places, locals took us to be Iranians. Our local guide told us that 50,000 Sikhs had crossed over from Balochistan after Partition to Iranian Balochistan and settled at Zehdan where there is an Indian consulate now. Just 5,000 Sikhs remain, though there is a thriving Indian community at Bandar Abbas, Iran's main port city. Although we did not come across many mosques, about 800 Indian students are enrolled in Shia seminaries. Lifting of sanctions will hugely benefit India in its relations with Iran, given that connectivity problems will be diminished once the Chabahar port becomes operational.
---
On a decline...
..are the Sikh Standard Time jokes. This is because the Sikh population in Zehdan is declining, our Indian guide tells us, tongue firmly in cheek.
---
Delhi-based Ashok K. Mehta is a retired major-general in the Indian army; E-mail your diarist: mehtaashokk [AT] yahoo [DOT] co [DOT] in