Of Lessons Unlearnt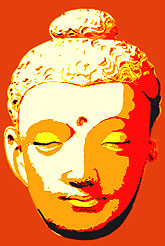 A visit to Taxila last week was moving for more than one reason. The many archaeological sites of Takshashila, as it is known in Sanskrit texts, are spectacular. They are well maintained by the Pakistan government, with clear signages and explanations. Our guides were well-informed and—unusual for the species—coherent. Their Urdu was easy and lucid, suitable for a Hindiwali! The on-site museum is excellent. The tourist office personnel were passionate about their sites and sold beautifully illustrated books. The manager was ecstatic when I showed him my copy of Ahmad Hassan Dani's book on Taxila. Dani, a reputed Pakistani scholar who passed away two months ago, is obviously an idol for them.
Earlier that week, I had visited Lahore museum. Though laden with rich treasures, it is in a pathetic condition. The heritage building has dark, dingy interiors—the paint is peeling off, display cases are dusty, artifacts are lumped together with barely adequate labels. Even the first floor gallery, with photographs on 'Pakistan's freedom movement', is in a dog-eared condition. And, naturally, except for one small photograph of Gandhi and Jinnah together, Indian leaders are nowhere. It is as though two separate freedom movements had taken place. Harappa, in Sahiwal district of Punjab, also bears a somewhat neglected air, as if the archaeologists have done their stuff and left, and the government could not be bothered about visitors. The on-site museum is not bad, but still below par. Yet, Mohenjodaro, in Larkana district in Sindh, is maintained in fine fettle, I was told. Historian Uma Chakravarti says this has to do with Sindhi nationalism and pride in heritage! For over a millennium—from pre-Buddhist to Gupta times—Taxila was visited or ruled by as many as seven peoples: Persians, Greeks, Mauryans, Sakas, Parthians, Bactrians and Kushanas. It is a world heritage site, and till recently a site of big-time international tourism. That, however, has suffered much. Taxila is not far away from the volatile situation in Swat valley and within easy reach of the Taliban, who sometimes appear to be poised for control almost like an eighth dynasty! So is it tourism, unesco recognition or pride in heritage that accounts for the differences in upkeep? The answer is not so clear.
---
The Sufi Said: Thou Shalt Shirk
Locals—at least ordinary, unlettered folk—visit historical sites and enjoy the sights unselfconsciously. This we also saw at Baba Farid Shakarganj's mazar in Pakpattan. The atmosphere in the Sufi saint's tomb was emotionally charged. But the Saudi-educated Pakistani friend who accompanied us was wary, saying that such effervescent expression is not part of Islam outside the subcontinent.
---
The Night Has Eyes
We drove north-west towards Taxila from Lahore on the smooth motorway, using the plush Daewoo bus service. I counted seven different ads for cooking oils on TV, including one named 'Kashmir'. The landscape gradually turned mountainous. We were approaching Pathan country. The elaborate decorations on the trucks here should be seen to be believed. The fronts, backs and sides of trucks are painted in intricate detail in glorious colours, speckled with shards of steel and mirror work, shimmering seductively at night. Designs creatively combine traditional motifs and pop art. They are a signature of the flamboyant Pathans, who are as much of a curiosity for other Pakistanis as for Indians. "Convincing a Pathan to see your point of view is like getting a camel into an autorickshaw," quipped our taxi driver, who regaled us with several unprintable Pathan stories.
---
A Pathan Courtyard
I have my own Pathan story. At Dharmarajika stupa, the last halt before leaving Taxila, I needed a break. The open landscape provided no cover. Just one makeshift roadside hut and children playing. I asked for their mother and explained my need to the light-eyed young woman, obviously poor, a refugee from Peshawar. She said in broken Pushtu-Urdu: "Just wait, I will send my man out". She shooed him away and took me in—a drab, bare courtyard, five children running around, a small enclosure 4 ft high made of bricks, and a clean, dry space. She offered me roti and tea too. It was a moving moment. The concept of a guest, mehman, has deep roots.
---
Imperfect Homecoming
We crossed back into India via the Wagah border 'on foot', and this required prior clearance from the mea. As it happened, 300 Sindhi followers of Guru Nanak who had a 45-day visa were also entering India. I believe pilgrims from both sides have a somewhat easier time getting visas. The Indian authorities were totally unprepared to handle the big group, numerous pieces of luggage and swarming indigo-clad porters. In the chaos, my husband broke his spectacles and I had to be escorted out by a kind customs officer. I don't know how they had managed it on the Pakistani side, as the group had passed that hurdle before we did!