The Worm Turns
Cowering under low revenues, firms say they had no choice
No reaction from government, but consumer groups protest
Tariff hikes may be announced on a pan-India basis soon
New telcos not raising tariffs, fear they will lose subscribers
***
The mobile phone user in India has only seen tariffs fall, and then plummet even further. That honeymoon appears to be over. Last fortnight, Bharti Airtel, India's largest telecom operator, raised tariffs by 20 per cent for its pre-paid customers. Two other biggies—Vodafone and Idea Cellular—followed suit(a month ago, Tata Teleservices had also raised tariffs). Is this "bold" move then the beginning of a new era for mobile phone service subscribers, where they would have to pay more "realistic" rates for telecom services?
Given the general brouhaha about inflation, telecom firms are testing the water cautiously. They know that in times of mobile number portability, an adverse move could see an exodus of customers. They also argue the increase is unlikely to affect customers in any substantial way. Bharti increased its pre-paid tariff in six circles while Vodafone did so in four. As these are circles where the firms are strong performers, there doesn't appear to be any adverse impact. But then, these are early days.
"Airtel, Vodafone and Idea together control majority of the market. This is cartelisation. Let's see what the others do."
As of now, the government has not reacted to the move, which essentially goes against its own avowed policy of making telephone services affordable for the man on the street. Though no official statement has been made, the government is learnt to be of the opinion that while Indians should get the service at the cheapest rates, companies should also make some profits. The telecom regulator has however, written to the companies seeking details about the hikes and the reasons for doing so. TRAI chairman J.S. Sarma could not be reached for his comments.
Despite the low quantum of increase in tariffs, consumer groups are already up in arms. Several NGOs and consumer advocacy groups have written to the TRAI, challenging the move. Says Ashim Sanyal, COO, Consumer Voice, a voluntary organisation working in consumers' interest: "We have to handle it strongly and control it right now. This is totally anti-consumer. If firms had losses, they should have discussed it with TRAI." He feels it will open the way for companies to arbitrarily hike tariffs in the future if TRAI doesn't step in now.
Consumer groups argue that the 20 per cent hike will affect the poor, manual workers depending on the phone for work. In the western region, consumer groups registered their opposition in a meeting between TRAI, consumer advocacy groups and service providers on August 1. Says Achintya Mukherjee, of the Bombay Telephone Users' Association: "This is cartelisation as Airtel, Vodafone and Idea control the majority of the market. The question is when and how other service providers will react." The consumer groups threaten court action if their voice is not heard.
What do the companies have to say? It is obvious they are under tremendous pressure to offer services with tariffs at levels unheard of anywhere in the world—starting around 0.5-1 paise per second. With revenues constantly falling, this was telling on the companies' bottomlines. Investors and bankers have been asking tough questions. Says an official from Vodafone, on the condition of anonymity, "This tariff movement comes after almost two years, as there is margin pressure on all operators. Everybody has realised that you cannot run a sustainable business on this model."
"On voice call business, we've reached the bottom...with growth slowing down, investors are asking questions."
Indeed, leading telecom companies are seeing a fall in quarterly profits. For some, like Bharti—which took over Africa's Zain Telecom for $10.7 billion last year—operating and capital expenditure and debt have increased without commensurate returns. On top of that, firms have taken a huge exposure to 3G. Bharti's profit declined by 28 per cent in the latest quarterly results, and it announced there won't be an increase in the salary of CMD Sunil Mittal. Says an Airtel spokesperson: "Continuously declining margins, high 3G and BWA auction prices, constrained spectrum and rural roll-out aspirations leave us with little choice but to make some price corrections."
Till recently, the key performance indicator for firms was to bring in new subscribers, both to be competitive and get additional spectrum (given the government's earlier subscriber-linked formula for spectrum). But with changes in spectrum policy, that is not so crucial. Telecom expert Mahesh Uppal says: "The likely auction of spectrum in future has removed the perverse incentive to add customers at any cost. The players will carefully watch how the market responds to this tariff increase."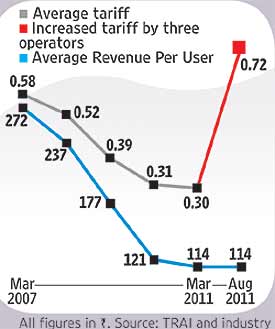 Today, new subscribers rarely add to firms' revenues. This is because over 90 per cent of India's subscribers are in the pre-paid segment, which mostly has low-volume, low-revenue users. The average revenue per user (ARPU) in this segment is abysmally low at around Rs 125 a month, according to latest estimates. For post-paid users, not touched by the current hike, ARPU is still at around Rs 1,000, but that's a small portion of the pie. The tariff hikes have cheered investors. Within days, share prices of Bharti and Idea galloped to a 52-week high.
The new players are worse off—they are in the process of acquiring a critical mass of subscribers and cannot risk losing them by increasing tariffs. An official from a new telecom company says, "We see this as an opportunity as subscribers may shift from these companies to us." To cash in, new companies like MTS and Uninor have embarked upon aggressive campaigns in the last two weeks.
In general, be prepared to shell out more for talking. While companies are unlikely to touch their more "loyal" post-paid subscribers for now, there will be more surprises in the pre-paid segment as companies desperately try to justify their investments and returns. Uppal feels that the present price hike is unlikely to cause the more lucrative customers to exit. This will embolden the companies to go for further, more realistic tariffs within the voice space. Unless, of course, the government and TRAI step in to stop the steeper rates.