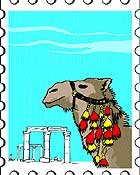 The Real al-Hindi
I and three other Indian journalists were standing amid the 2nd century Roman ruins of red stone in Palmyra, about 200 km northeast of Damascus. A dark-skinned man emerged from the shadows of the ruins and said, "Are you from India?" We told him we were. "No. You are not Indians," said the man, who spoke fluent English, unlike most Syrians. "I am the Indian. Look at the colour of my skin. My name is Mohammed Ali al-Hindi. My ancestors came to Syria 200 years ago from Calcutta. We were Buddhists then. I am now a Muslim. But I don't know about the future." That was our introduction to Syria's Indian connection. Anybody who has the sobriquet of al-Hindi or al-Hindawi in the Arab world is a person of Indian ancestry. There are a few thousand al-Hindi or al-Hindawi families in Syria. And there are probably a few families of Indian ancestry in the city of Palmyra (the city of palms) which was ruled by the Persian and Roman empires until the 6th century, when the country was conquered by Muslims. The city flourished during the Roman rule and became an important link in the ancient Silk Road that crisscrossed its way from China to the Mediterranean. Palmyra is an oasis in the desert and trading caravans halted here before proceeding east to India and China or west to the ports on the Mediterranean.
---
Palate Central
Syria has a legitimate claim to being the world's oldest civilisation, dating back 6,000 years. Damascus is considered the world's oldest continuously inhabited city. The first alphabet was invented in Ugarit, north of Damascus, near the Mediterranean coast. It eventually became the basis of all alphabets in the world. Wherever you go in Syria, you can touch and feel history. It was famously said that every man has two nationalities: his own and Syrian. India's connection with Syria is close and very direct. Many non-vegetarian Indian delicacies like kababs and tikkas came from Syria. Shami kababs are patently Syrian (sham means Syria). Wherever I went in Syria, meals included chicken tikkas and shami kababs, although, for reasons I do not know, shami kababs were called kabab-e-Hind. If you are roaming the streets of Damascus, you might mistake some of the bazaars for Chandni Chowk. The streets are narrow, lanes narrower and galis wide enough only for a small car or rickshaw to go through. There are numerous sweet shops, and Syrian sweets are like barfis and Karachi halwa. You might even find a vendor frying fresh jalebis. That should not come as a surprise, because jalebis came from Syria, which had been known the world over for centuries for producing and exporting its remarkable cuisine. In Syria, jalebis are called zalebis.
---
Heavenly Crucible
The architecture in Damascus is like that in any city in India. Most houses have a balcony projecting out from the first floor. Over the centuries, Greeks, Assyrians, Persians and Romans repeatedly attacked the country and occupied it. Syria became a melting pot of diverse cultures and Damascus was the rulers' capital because it was regarded as a beautiful city. On one side of Damascus is a brown hill which gradually merges into the plains. It is said that Prophet Mohammed once stood on the hill overlooking Damascus, but refused to step into the city, saying he wanted to go to heaven only once—after his death. Here, I would have to seriously join issues with the Prophet Mohammed, because my own vote goes to Latakia, the seaside town some 175 km northwest of Damascus. Latakia's weather is cool, soothing and in its air is an all-pervasive serenity. The streets are wide, the traffic disciplined and people go about their business in a leisurely fashion. It is a modern city and has been an important trading port for centuries. Because of its beauty, many expatriates have settled here. Latakia welcomes foreign visitors and those who have settled there. You might come across some signs in Greek or Russian as a tribute to frequent visitors. The white beaches are unpolluted and the part of the Mediterranean it faces is blue, beautiful, gentle.
---
A Happy Equivalence
I took to Latakia for another reason too. Leaving Delhi airport at 3.30 in the morning, I was in no mood to buy a bottle of whisky. But I did buy one at Doha airport, thinking I will buy another at Damascus airport, where I could not find a shop on arrival. Other journalists accompanying me did not buy any. On the first two days, my room became the bar in the evening. We reached Latakia on the third day and by then there was no whisky. Without much difficulty we found a shop in Latakia which sold liquor. To my surprise, the prices there were the same as in duty-free shops. A litre bottle of Johnny Walker Red Label was just 1,000 Syrian liras or 1,000 Indian rupees. The Syrian lira and the Indian rupee are at par. I was surprised and delighted, and so were my friends. It was only after that that my room ceased to be a bar.
---
(The writer, a former correspondent with Reuters and Bloomberg, is now a Delhi-based freelance journalist.)