"Gopal Goyal is a fraud. In the name of relationships, trust, God, he cheats people and harasses. He always lies. He lies to his family, kids, people around, everyone. My biggest mistake was I trusted him, which is now costing my life." This was the anguished voice of former air hostess Geetika Sharma on May 4, three months before she committed suicide and named Haryana minister of state for home Gopal Goyal Kanda as the man who drove her to it. Kanda, also the owner of MDLR Group, has since been absconding and apparently a high-profile police hunt is on for him. Geetika's suicide note, written in uneven, delicate handwriting on the back of the May 4 letter, read: "I am ending myself today because I am shattered inside." Two days later, Fiza, the deserted second wife of former Haryana deputy chief minister Chandra Mohan, was found dead in her Mohali house.
When two women turn up dead because of the dalliances of Haryana's politicians, it certainly makes for news. But it is nothing new. There have been many before Geetika and Fiza who have paid with their lives for their fatal attraction and subsequent relationship with a politician. The brutal exercise of power and muscle extends even to romance, especially when such a relationship turns inconvenient. Retribution for a spurned advance, suspected infidelity, an unwanted pregnancy, overpossessiveness, blackmail...any one of these can make for a deadly cocktail of love and murder. We are still shocked by stories like Fiza's and Geetika's, but they perhaps do not invoke the kind of horror the murder of Naina Sahni did in July 1995. We can still probably recall the details of how the 29-year-old wife of Delhi Congressman Sushil Sharma was killed and burnt in the tandoor of a restaurant at the Ashok Yatri Niwas, because he wanted their marriage to remain a secret and suspected her of having an affair with his friend Matloob Karim. While convicting Sushil and his friend Keshav, the owner of the restaurant, additional sessions judge G.P. Thareja had written in the judgement, "By burning the dead body, the accused intended that Naina Sahni should go unwept, unsung and unheard."
Perhaps Mahipal Maderna, former minister in the Rajasthan government, and Malkhan Bishnoi, another Congress legislator, intended the same for Bhanwari Devi, the auxiliary nurse-cum-midwife. The two men are charged with murdering her and disposing her body in a Rajasthan canal last year. Bhanwari died unwept and unheard, because she had the temerity to record her sexual encounters with the duo on a CD and blackmail them on its basis. But few remember how Bhanwari first met Malkhan Singh, an MLA from Luni constituency, to stop her transfer away from home. That was the beginning of her sexual exploitation. Says MP and women's rights activist Brinda Karat, "The circumstances of Bhanwari's encounters with the MLA can only be conjecture, but clearly she was the supplicant and he the power centre. Are there special rules that enable ministers and MLAs to have the freedom to sexually use as many women as they choose and get away in the name of adult consent?" More importantly, whatever she did, did it justify her murder? Or, as in Geetika's case, was death the only available exit out of a dominant-supplicant relationship she had apparently ended up in with Kanda?
Richa Tanwar, director, Women's Studies Centre, Kurukshetra University, explains, "Most such relationships are unequal ones in which the politician uses his power to exploit and control the affair. The SC guidelines about sexual harassment at the workplace say that in a hierarchical situation if the woman complains about harassment, then the onus lies on the powerful person in authority to prove his innocence. Till the time it is consensual, one cannot complain, but as is evident in the case of Geetika, she wanted to opt out for whatever reason, and Kanda was clearly misusing his position to coerce her to stay with him." (See Geetika's May 4 note, below.)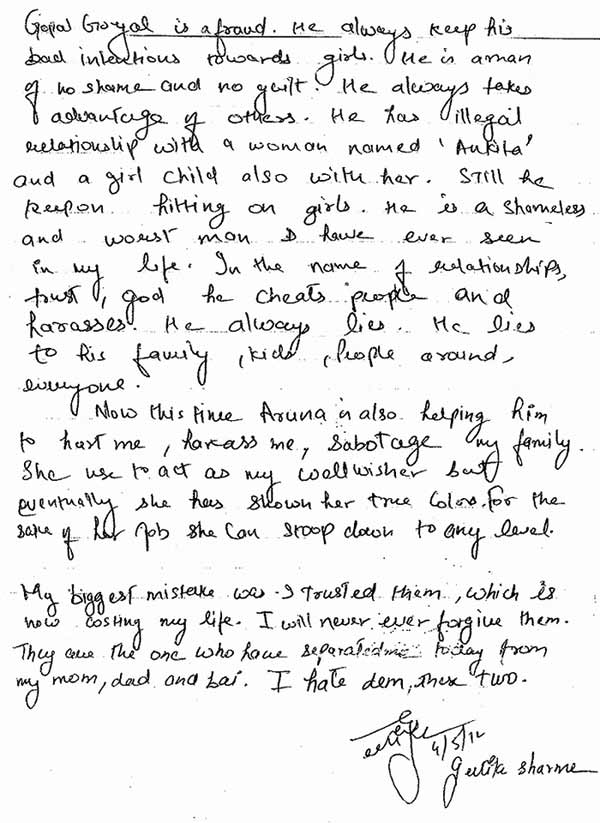 The exact cause of 39-year-old Fiza's death is still to be determined. But it is clear that she met a lonely end, the empty liquor bottles and drugs on her bedside table a testimony to the desperation she felt after Chandra Mohan left her within 40 days of them converting to Islam to marry each other in 2009.
Like many women who strike up liaisons with politicians to further their own ambitions, Fiza, or Anuradha Bali as she was called before she converted, too harboured aspirations, according to her close friend Rohit Mahajan. "She enjoyed the power and money that came with a relationship with Chandra Mohan (elder son of former Haryana chief minister Bhajan Lal) and developed political ambitions during that phase," says Mahajan. "Soon after the two married, they held a rally in Panchkula where it was announced that she would contest elections in future. But but after the break-up, she formed Fiza-e-Hind, a political party of sorts that she intended to use as a vehicle to enter Parliament. She wanted to live life kingsize." But even if Fiza was a victim of her ambitions, many ask what was wrong with her being ambitious? Says Kavita Srivastava, national secretary, pucl, "If high expectations are built up in such relationships, why not? If she is in a relationship, it is natural to have expectations, but it is always the woman who is at the receiving end of moralising and blamed for getting involved."
The fall from the pedestal where a powerful man can place his woman can be hard. Power as aphrodisiac is equally addictive for the women who choose to involve themselves with those who wield it. As the Geetika and Fiza cases remind us, the withdrawal symptoms can be fatal. In the case of Bhopal RTI activist Shehla Masood, it was the 'other woman' syndrome that cost her dear. She was apparently engaged with BJP MLA Dhruv Narayan Singh, son of former MP chief minister and Bihar governor Govind Narayan Singh. But so was another woman called Zahida Pervez. Singh had extended both contracts and favours which advanced their respective businesses. A jealous Zahida allegedly paid a contract killer Rs 3 lakh to kill Shehla last year.
In another case of a very public political romance gone wrong, the beautiful and ambitious poetess Madhumita Shukla was gunned down in her two-room apartment in Lucknow on May 9, 2003. Six months pregnant at the time of her murder, a DNA test confirmed that she was carrying the child of criminal-turned-politician Amarmani Tripathi. The 21-year-old was killed for flaunting her relationship, apparently on the instructions of both Amarmani and his wife, both of whom are now serving life sentences in jail.
Echoes of the Madhumita case rang again in UP five years later, when former minister Anandsen Yadav was convicted for his role in the kidnapping and murder of Shashi, a young Dalit girl from his hometown Faizabad. Shashi had often accompanied Yadav on his outstation tours and their relationship was no secret. Shashi's body was never found and her sister Anita alleges that relations between the two soured "only after she got pregnant and asked the minister to marry her".
However, if Indian politics is littered with such horror stories of romances turning sour and culminating in a messy end, there are also enough relationships that have endured through the years, possibly as the bond transcends just the sexual/romantic. UP's two-time chief minister, Kalyan Singh, promoted small-time party worker Kusum Rai to the state legislative council and eventually to the Rajya Sabha, where she continues to be a member. A power centre during Kalyan's second stint as CM, the very charming and shrewd Kusum has been accorded a dignified position in Kalyan's life. In Karnataka, the close bond between a former CM and a current minister has led to problems in the BJP, despite the fact that the lady has a standing of her own. The state, in fact, has several politicians across the ideological spectrum who have had liaisons, including the current one between a prominent politician and a cine star he has reportedly made his "second wife".
The south, it appears, is more accepting of its politicians' amorous adventures. Relationships therefore survive better and seldom culminate in a gory end for the women. The concept of 'chinna veedu' (literally, 'small house' but actually a euphemism for a second wife), though technically illegal, has social sanction in Tamil Nadu, even if the nudge-nudge, wink-wink reference is reserved for the women, not the men. K. Karunanidhi's wives need no introduction. Rajathiammal, his third wife (the first died decades ago, the second is Dayalu Ammal, who has three sons and a daughter), is the mother of Rajya Sabha MP Kanimozhi. The measure of her acceptance can be seen from the fact that Pranab Mukherjee, during his campaign for the presidential polls, met Karunanidhi at the house he shares with Rajathiammal. The DMK patriarch had put an end to all gossip in 1969 when Kanimozhi was born and there was an uproar in the assembly over his liaison with Rajathiammal. He had famously told the House: "She (Rajathiammal) is the mother of my daughter Kanimozhi."
Karunanidhi had the strength of character to stand by a woman he loved. As did an ex-prime minister whose companion was often by his side. Some powerful and skilled women, in fact, made a successful entry into politics on the back of long-time companionships with charismatic mass leaders or strategists. Powerful men, prime ministers, men of ideas, political thinkers, all have had relationships, often outside norms—some endured, some not. It's a fairly universal phenomenon; politicians are certainly not immune to human failings. But it takes a certain kind of cold-blooded man to ruthlessly kill a woman he once desired or drive her to a desperate end. He is to be universally condemned.
***
The Neta Chandra Mohan
The State Haryana
The Party Haryana Janhit Congress
The Woman Anuradha Nali alias Fiza
The Neta Gopal Goyal Kanda
The State Haryana
The Party Independent
The woman Geetika Sharma

---

The Neta Mahipal Maderna
The State Rajasthan
The Party Congress
The Woman Bhanwari Devi

The Neta Amarmani Tripathi
The State UP
The Party Congress
The Woman Madhumita Shukla
---

The Neta Sushil Sharma
The State Delhi
The Party Congress
The Woman Naina Sahni
***
A Deadly Roster...

Fiza or Anuradha Bali, 39, former assistant advocate general of Haryana, was found dead on August 6, two years after the already-married Chandra Mohan, former deputy chief minister of Haryana, married and divorced her in 2009. The two had converted to Islam to enable Chandra Mohan to have two wives. The very public desertion left Fiza depressed and seething with revenge. Her decomposed body was found four days after death in her Mohali house.

Geetika Sharma, an airhostess who rose to become a director of an aviation company owned by Gopal Kanda, Haryana's sacked minister of state for home, committed suicide on August 4 this year. She left behind a note blaming Kanda and his associate Aruna Chadha for harassing her to death. Investigations have brought out sordid details, like a contract that required her to stay the evenings, a reluctant abortion and such like.

Shehla Masood, the 38-year-old RTI activist was shot dead outside her house in Bhopal on August 16, 2011. Investigations point to a crime of passion involving her, influential BJP MLA Dhruv Narayan Singh and Zahida Parvez, an interior designer. Zahida has been arrested for plotting and hiring goons to carry out Shehla's murder.

aaaaaaaaaaaaaaaaaaaaaaaaaaaaaa

Bhanwari Devi, a 36-year-old scheduled caste auxiliary nurse and midwife in Jodhpur, went missing in September 2011. She was allegedly killed and her body dumped in a Rajasthan canal because she was blackmailing the state's Congress minister Mahipal Maderna with a CD of her sexual encounters with him. He and MLA Malkhan Singh, her original political contact, have been charged with her murder.aaaaaaaaaaaaaaaaaaaaaaaaaaaaaaaaaaaaaaaaaaaaaaaaaaaaaa

Fiery poetess Madhumita Shukla was gunned down in her two-room apartment in Lucknow in 2003. Six months pregnant at the time of her death, a DNA test revealed the father to be UP minister Amarmani Tripathi who was sentenced to life imprisonment for her murder. In another case five years later, young Dalit girl Shashi was killed and dumped in a river when she became pregnant with UP minister Anand Sen Yadav's child. Her body wasn't found.

Among the most horrific such incidents, 29-year-old Naina Sahni, wife of Congressman Sushil Sharma, was shot dead in 1995 and her body burnt in an open air tandoor of the Baghiya restaurant in Delhi's Ashok Yatri Niwas. She was killed because her husband wanted their marriage to be a secret and suspected Naina of having an affair with his friend Matloob Karim. An alert Delhi policeman discovered her burning body.
---
By Chander Suta Dogra with Pushpa Iyengar in Chennai, Sharat Pradhan in UP and Madhavi Tata in Hyderabad