Helping, Listening...
What causes stammering?
Experts are still debating this. Most say it's largely psychological. Latest brain-mapping research, however, points to a partly neurological basis, programmed by genes. In 50 per cent of cases, it runs in the family; it afflicts three times more men than women.
Who to contact for treatment/advice?
An audiology and speech therapist. Also, TISA runs self-help groups in many cities (www.indiastammering.com). The All-India Institute of Speech and Hearing, Mysore, is the premier research centre for communication disorders.
How to behave with stammerers:
Maintain eye contact. Looking away makes the stammerer feel you find his speech unpleasant.
Wait for the stutterer to finish sentences. Don't do it for him.
Slow down your speech. Talking fast puts pressure on stammerers.
Avoid giving simplistic advice like "Don't be nervous" or "Just relax". Don't laugh nervously.
***
Even before The King's Speech dived head-first into Oscar glory last week, small groups of people gathering in cities like Ahmedabad, Chennai and Delhi had already declared it a winner. Some brought laptops along to these meetings, others went as far as procuring projectors and sound systems. The groups were gathering for one express purpose: to watch the film. And by the time the announcement came at a glittering ceremony in Los Angeles that The King's Speech had picked up four statuettes, including Best Picture, these groups, belonging to a little-known fraternity called 'People Who Stammer', or pws, were already setting e-groups, blogs, message boards and chat rooms abuzz with their comments.
For 22-year-old Abhijeet Sudhakar Yeole from Ahmedabad, long resigned to the jokey lampooning of stammerers by Indian filmmakers (see box), the film's handling of the speech impediment he suffers from was a revelation. It deeply moved him, he said, to see his own daily struggles mirrored in those of a stuttering British king. For V. Manimaran, a 53-year-old civil engineer from Chennai, who screened the film for a self-help group he runs for stammerers, it was a redemptive experience. "We all felt a little less ashamed about our condition...like it mattered less," he said. On message boards, others spoke about how the queen in the film, played by Helena Bonham Carter, reminded them of a sister, mother, spouse or friend who had helped them through their worst moments.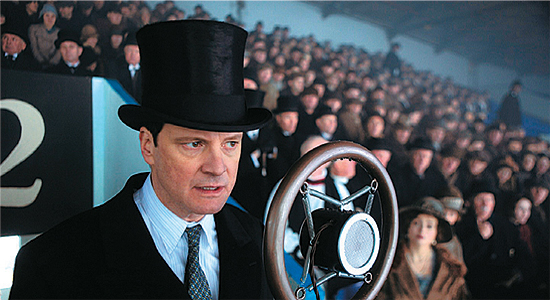 Winning stroke Colin Firth in The King's Speech
From the first reels, in which the nervous King George VI, or 'Bertie', played by Colin Firth, stutters and collapses into frustrated, helpless silence in a stadium full of people, to the sometimes hilarious, sometimes dramatic sessions with his eccentric speech therapist, Lionel Logue, who pushes the king to sing, dance, curse and rage his way into fluency, to the final triumphant denouement of a near-flawless radio broadcast, the film captures a struggle every Indian pws knows as his own. No wonder then, many of them are abbreviating its name to TKS on message boards, an affectionate practice usually reserved for the most popular Hindi films. "The film has mainstreamed stammering," explains Dr Sachin Srivastava of The Indian Stammering Association (TISA). It is a rare place in the limelight for a disability denied, in India, even the legal status of one, leaving stammerers with no avenues to fight discrimination, especially in employment.
For stammerers searching for an Indian context for their struggles, there has been only one real-life hero, really; one who has, to his credit, repeatedly and frankly spoken about his struggle with stammering on televised chat shows: Hrithik Roshan. The Bollywood star's most soul-baring interview came on Farah Khan's show in 2009, in which he spoke about how he practised for an hour every day to stay stutter-free, and described in heart-melting detail how he once practised for 36 hours just so he could tell his cook what he wanted to eat. On the show, he remarked, "Unfortunately, it's one of those handicaps that is made fun of. Especially kids—you can't blame them, but they end up being mean because it looks funny! So the childhood of a person suffering from a problem like this is pure hell."
It is a hell that Raza Murad, the screen villain with the famous baritone, knows only too well. "I stammered so badly as a kid," he told Outlook in an interview, "that the superintendent of my school told me not to come on days an inspector was visiting. He was afraid I'd be called to answer a question!" Teased by classmates and ridiculed by teachers, Raza Murad recalls how tongue-tied he felt outside the protective walls of his home. Filled with a profound rage against his tormentors, he dreamed only of "showing them all" what he was really about. "It was a bitter period of my life," says the actor. Fuelled by the desire to prove himself, the young Raza started doing pranayam and constructed original tongue-twisters that he would practise relentlessly in private to "sharpen" his tongue. As he speaks about his speech impediment, he quickly whips out two elaborate tongue-twisters in pure Hindi, each a page long, that would make even good orators sweat. No wonder he now gives voice and diction classes at Pune's FTII.


Vengsarkar, Hrithik and E.M.S. Namboodiripad

If for Raza, the turning point came when his voice broke after puberty, suddenly sounding "so rich and deep" that it gave him the confidence to get a job with AIR, Bhopal, and later study acting at FTII, for Dilip Vengsarkar cricket made all the difference. "I used to have a mild stammer," he says, "but since I was good at cricket, I was never teased." However, when he began speaking on TV and at cricket academies, he did feel inadequate, Vengsarkar admits, especially since he was in the company of some of the best commentators in the world. "I had this burning need to match up," he says. What followed was rigorous sessions of diction and breathing exercises, especially pranayam. "It took some time, but because I was confident, I adapted fairly quickly to public speaking."
Asked if he stammered always, veteran Kerala leader Namboodiripad had famously replied, 'No, only when I speak.'
This ability to think beyond the stammer was possibly best exemplified by the late E.M.S. Namboodiripad, who literally stammered his way to power, forming the first-ever Communist government in the world to be voted to office, in Kerala. "The fact is, he never saw it as a personal infirmity. In his early days, some of his diehard well-wishers would be moved to tears, seeing his struggle to deliver at public meetings," reminisced his daughter E. Radha, who works with the party newspaper, Deshabhimani, in an interview with Outlook. When asked if he stammered always, he famously replied, "No, only when I speak."
It is the confidence and self-acceptance shown by these celebrities that Dr Srivastava wants other stammerers to imbibe. It helps greatly, he says, when a Hrithik or a Vengsarkar speaks about his struggles, but there are few celebrities willing to do so. The stigma clearly lingers. Dr Ramesh K. Oza, a consultant audiologist who treated Hrithik in his final year of college, says parents often have a lot to answer for. "They think their child will never make it in the competitive world and continuously 'correct' her, inadvertently making the stammering worse."
One positive trend, though, in recent years, is that self-help groups run by TISA have been helping pws overcome their inhibitions through 'Voluntary Stutter' days. On these days, stammerers deliberately accost strangers and speak to them. "Once they see that most people react compassionately, they get over their fear and shame," explains Dr Srivastava. For the stammerer, such acts help foster a voluntary acceptance of his own condition, paradoxically the first step to gaining the confidence that helps many pws reclaim their voices. "They give us the courage to demand the right to be heard, despite speaking differently," says Srivastava, who himself has a history of stammering.
It's a sentiment echoed by David Seidler, the screenplay writer of The King's Speech, who himself overcame a debilitating stutter. Raising his statuette triumphantly at the Oscars, he proclaimed, "W? h??? a voice, w? h??? b??n heard."
---
By Smita Mitra with John Mary in Thiruvananthapuram