The first team the Central Bureau of Investigation (CBI) constituted in 2008 gave the Talwars a clean chit. At a press conference, CBI SP Arun Kumar had said a simulation test had been carried out with air-conditioners switched on in the rooms of both Aarushi and her parents around midnight to test if any sound from the girl's bedroom could reach the parents' bedroom.
Experts from both CFSL and AIIMS sat in the rooms and testified that no sound of the door opening or any muffled cry or scuffle reached the Talwars' bedroom.
The dentist couple was also subjected to psychological mapping, lie-detector and narco-analysis tests by the court's orders. No irregularity or deception was found, the SP said.
However, one of Dr Rajesh Talwar's assistants—Krishna—had failed both the polygraph and narco tests. Psychological tests conducted on him concluded that he was aggressive, manipulative, disloyal and prone to deception. He confessed to the crime and was arrested by the CBI.
Krishna told the investigators that Hemraj had called them late at night after finishing work. He was the first to arrive, followed by Raj Kumar and Vijay Mandal. They consumed alcohol and discussed Aarushi.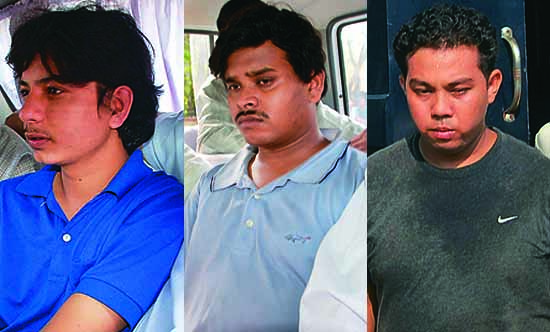 (L- R) Raj Kumar, Vijay Mandal and Krishna
After some time, he walked into Aarushi's bedroom and tried to molest her. When she woke up and tried to scream, he first gagged her and then killed her. Others panicked and an upset Hemraj went to the terrace, where they had an altercation. Scared that Hemraj would take their names, Krishna killed Hemraj, went back to Aarushi's room and then fled.
It was Krishna, said Kumar, who had misled the UP Police with the story of Talwars' alleged sexual behaviour and the alleged affair between the girl and Hemraj. There was no evidence against Dr Rajesh Talwar, who during his interrogation had claimed that on the Tuesday preceding the tragedy, he had pulled up Krishna for a mistake in his clinic and that the latter had been sulking since then.
Dr Nupur Talwar, said Kumar, had called Hemraj's mobile number when the maid rang twice or thrice in the morning and Hemraj failed to open the door. Her call, she told the CBI, was disconnected. The agency tracked the tower and found that the mobile was still in use and in Jal Vayu Vihar. Krishna, said Kumar, lived in a room in the same complex.
The CBI constituted a second team and this team also told the court that Hemraj's mobile was found to be active in Punjab. But inexplicably, the agency did not follow it up and no investigation was done to find out how it reached Punjab and how the user had obtained it.