Vayu, Krishi, Udyog and Shastri Bhavans: Along the edge of what was conceived as a grand boulevard that swept down the incline of Raisina Hill from Rashtrapati Bhavan, past Vijay Chowk and towards India Gate, these incongruous bhavans punctured a pristine, low lying skyscape. The unappealing 'highrise', box-like structures, with squiggles of cement concrete as embellishment, announced a new, strange aesthetic.

DDA housing. (Photograph by Tribhuvan Tiwari)
DDA Housing: Influenced by the forbidding, severe and non-tactile Corbusier style, DDA Hous­ing damaged the aesthetic of both Shah­jahanbad and colonial New Delhi. It pockmar­ked two 'garden' cities, earlier avatars of Dilli, with its dismal grey reinforced concrete residential blocks, ugly and restrictive, killing all sense and sensibility of 'community'.
Statesman House: This building looks incomplete, bereft and forlorn and in sharp contrast to the iconic, pillared shopping arcade, Connaught Place, that sits with its back to this odd edifice.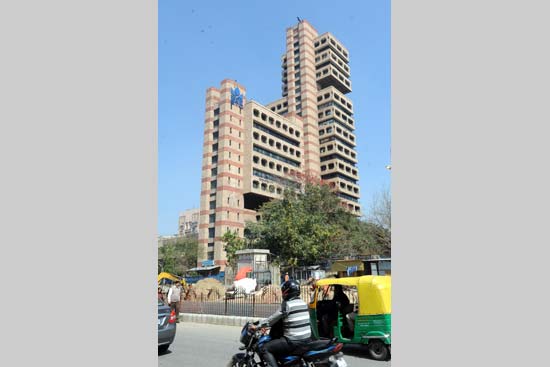 STC Building. (Photograph by Tribhuvan Tiwari)
STC building: The weird structure that it is with its lego-like look, it towers over the delicacy and clear 'style' of its neighbours—Imp­erial Hotel, Eastern and Western Courts, unable to make an architectural statement, or an aesthetic and design impact.
The others: The horror of offensive water towers; frightful overhead walkways; sterile, unimaginative metro stations; plain, unatt­ractive bus stops; and the daunting facades of the many grizzly grey flyovers, with no attempt to 'culturalise them', to make them say something to the city, about the city, have all come together to leave a post=1947 stamp on this city that it does not deserve.
---
Malavika Singh Journalist, publisher and Delhi resident is part of the new imprint Limited Edition