How times have changed. You can now have a mango in December and get an orange in June. But strangely, even if it keeps the doctor away, consumers aren't biting away at abundant apples in October—its peak season. The sheer choice of fruits, especially off-season and imported varieties, is posing a big challenge for apple growers. Moreover, the market is smothered under the weight of yet another bumper crop, which is leading to a rather unnatural see-saw in apple prices.
This has the apple-growers shooting off missives to the Centre and states, begging for relief. "Prices have dropped, picked up, and then nearly halved again over the course of just the last month-and-a-half, in local markets of Himachal Pradesh as well as in big-city mandis," says Ravinder Chauhan, who heads the Apple Growers Association of India. The farmers want fewer imports, of course, but they admit the solution really lies in a big mid-course correction in how the fruit markets are managed.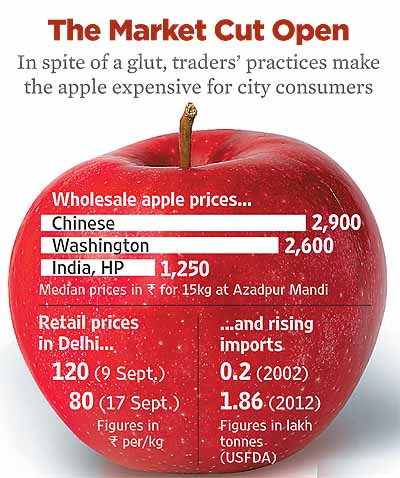 Apple imports now equal domestic production, but India cannot impose a higher import duty—in fact, another large consignment from Asia was rece­ntly cleared. "Legally, we can't tax imported apples higher than 100 per cent duty, which we're already doing," says Chauhan. So, farmers with truck-loads of apple who showed up at New Delhi's Azadpur wholesale fruit-and-vegetable market over the last month found no room for their produce. "Mangoes, pomegranate, oranges, papaya—these fruits should be on their way out by September, but you'll still find them in the mandi. Ironically, there's no room for apples," says Chauhan.
To make it easier for Himachal apple- growers to sell their produce locally, the state facilitated smaller markets close to orchards. At these markets, farmers have started accepting lower prices from traders, hoping to get quick payment. "The payments that come later, though higher, often come after months. And even here, the traders claim the 'maal' was faulty, or yielded no profit," says Mahendra Upadhyay, who heads the ass­ociation of apple-growers in Kullu.
As a result, apples are strewn across the state, or are trundling into Delhi and other markets at an alarming pace, further depressing prices for growers. To top it, state checkposts are also 'taxing' transporters ferrying apples, putting pressure on apple-growers to further cut prices. There's a larger design to this: traders who visit local mandis in states pick up apples in large quantities and transport it to places that nowadays have cold storage. "They store apples for months together and sell at high prices in late winter or summer, long after the season. The cheaper they buy from farmers, the longer they can store it, the more they profit," says Upadhyay.
Apple is an autumn fruit. It ripens in August in the lower reaches, and by September or October in higher mountains. By October or early November, when the Kinnaur apples—smaller, rosier and sweeter—will arrive, what's not eaten today will be locked in storage.
Ironically, in the cities, the situation with the humble apple is similar to onion and potatoes—there's a glut, yet the fruit is expensive. It isn't that dem­and has slowed, say apple farmers, or that pockets aren't deep enough to bite into a prized apple. At just one Godrej-owned Nature's Basket supermarket in Lajpat Nagar, Delhi, 45 kg of Indian apple was sold over the last ten days for Rs 4,800. By contrast, 59 kg of the imp­orted variety went for a cool Rs 15,000.
The apple farmer, on the other hand, is selling for a fraction of that. As low as Rs 30 a kilo—eat this apple, freshly tha­wed, in January. Meanwhile, the frost will prepare apple-growing states for yet another bumper crop.