Kapil Sibal ko gussa kyon aata hai? Butt of online jokes: Politicians in 'tweaked' cinematic avatars.
Out of the frying pan and into the fire. The UPA government has made it something of a fine art. Hardly had the ruckus over the decision to open up the retail sector to FDI died down than IT and communications minister Kapil Sibal unleashed another storm. A New York Times blogpost last fortnight revealed that the Indian government has been trying for some time now to get representatives of firms like Google and Facebook to remove "offensive" content from their sites.
It relates to material, the government says, that could be exploited to foment religious riots. "We are seeking their cooperation, and if somebody is not willing to cooperate on incendiary material, it is the duty of government to think of steps that we need to take," Sibal said at a press conference called hurriedly on December 6, the morning after the revelations.
"There are serious independent Left voices online expressing dissent to govt policy: they are the real target."
Incensed at attempts to control free speech online, many immediately questioned the timing of Sibal's actions since these "offensive" images have been online for years and are not a recent creation. Sibal's move, it is being alleged, arises out of the government's apprehension of what online mobilisation can achieve—think the Anna Hazare campaign or the Arab Spring. And Hazare has already threatened a further round of fast later this month. Sibal, of course, denies this has anything to do with the anti-corruption campaign or with censorship. His aim, he says, is to ensure that "insulting material" is not uploaded and religious sentiments not hurt. Screening, not censorship, is the government's intent, he says.
Gulshan Rai, director general of CERT-In, India's key internet monitor, voices another 'official' view. Companies like Google and Facebook, he thinks, are just using the freedom of expression clause as a ruse. "They remove links related to child pornography and pre-natal sex selection, don't they? The real reason they are refusing to take such content off is because they generate hits and revenue," he says. The government's suggestion is just an attempt to get these firms to self-regulate. "They aren't doing so currently," says Rai. He claims he receives several complaints but has no time to trawl through hundreds of millions of pages on the net.
Few, though, are buying the government's argument that content on social media is about to incite communal violence in any real sense. Nivedita Menon, a professor at Delhi's Jawaharlal Nehru University and an active commentator on the blog Kafila, doesn't hold back her punches. "The Congress always uses the cover of communal violence when it actually wants to consolidate its fragmented support," she says. "There are some serious independent Left voices online that express dissent to government policy, such as Sanhati, Kafila et al—that voice is the real target."
"I can't file an FIR against verbal abuse. When we can't censor people in the real world, why try to censor online."
When Outlook reached Sibal's residence on December 8 evening, two sets of "offensive" material—religious and political—were being put together. Meant to bolster the government's rationale to censor online content, the religious set was being distributed openly—even to the media. But the political set was secured for private circulation. One of the politically "offensive" pictures, which Outlook caught a glimpse of, had morphed pictures of Sonia Gandhi and Manmohan Singh dancing to a hit from the film Dabangg with the lyrics reworked. A Delhi newspaper also printed some of these offensive pictures on December 7, including one showing Manmohan holding a baby Sibal. And not just Sonia and Manmohan, other Indian politicians too have been lampooned online.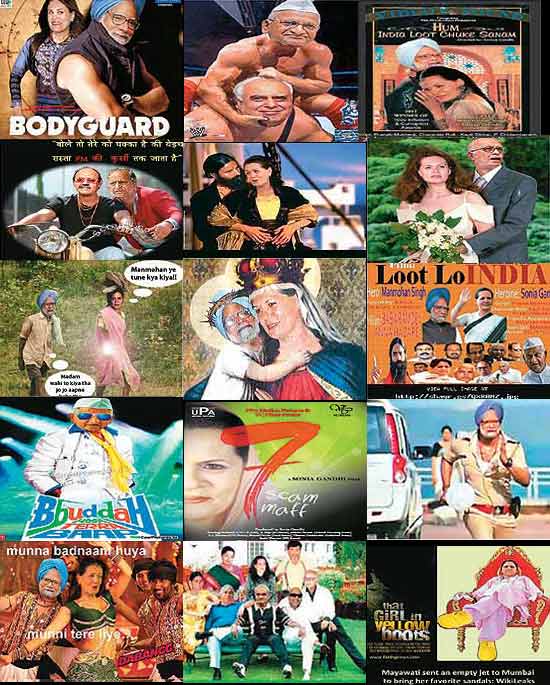 That political criticism, indeed even puerile cartoons, is what has got the government's goat is evident from Google's transparency report, a periodic list of censorship requests from governments. Between January and June this year, when Anna's campaign was gathering online steam, the Indian government asked Google to snip as many as 358 items from its sites. Of these, 255 requests fell not under hate speech or defamation, but under Google's "government criticism" category. Would the government still have us believe that its attempt to regulate online content is an attempt to stem religious riots?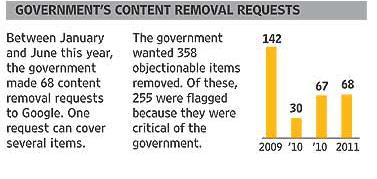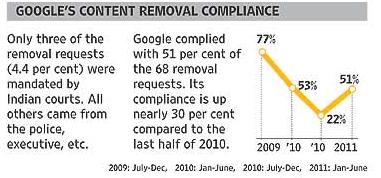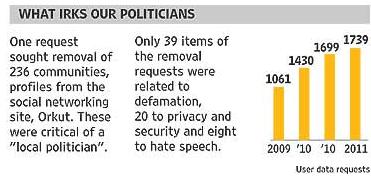 Many who use the open, liberal space of the internet are warning how India could find itself on a slippery undemocratic slope if varying offended constituencies are appeased one after another. "Offensive and abusive are very vague terms," says Rahul Roushan, founder-cum-editor, Faking News, a leading satire site in India. "I can't file an FIR against a person who abuses me verbally. When we can't censor people in the real world, why are we losing sleep over trying to censor online content?"
"Sibal is trying to create a culture of pre-censorship to make post-censorship under the IT Act acceptable."
Nikhil Pahwa, editor, Medianama, an online digital monitoring blog, suspects this is a precursor to the proposed revisions to the IT Act, 2000, that will permit real-time online monitoring, provisions that are due for a review in Parliament. "Sibal is currently trying to create a culture of pre-censorship to make post-censorship under the IT Act acceptable," he says. Pahwa sees the recent controversy as part of a continuum emerging over the last 18 months, whereby the Indian government, paranoid over its lack of control over the digital space, has been trying to monitor digital communication. He lists three other recent developments that indicate a government clampdown: limiting the number of SMSes one can send daily, tracking people through the UID and added verification of mobile numbers and attempts to gain access to Blackberry's servers.
***
Pre-Screen This: Sibal Rants About Online Abuse
2011: BJP leader Uma Bharati declaring last month that she would burn down the first Walmart store that opens in India
2011: Congress leaders Jitin Prasada, R.P.N. Singh, Pramod Tiwari kicking a Samajwadi Party protester at a Rahul Gandhi rally
2011: DMDK leader Vijaykanth slapping a party worker on camera
2011: Sarpanch slaps teacher who goes to present a memorandum
What About Offline Violence On Our Screens?
2009: BJP leader Varun Gandhi threatening to cut off the hands of those who attack Hindus at a March 2009 rally in Pilibhit
2005: PMK party cadres reacting violently to protest Tamil actress Khushboo's comment on premarital sex in November 2005
2004: Sharad Pawar's NCP backed Sambhaji Brigade attacking and desecrating Pune's Bhandarkar Oriental Research Institute
***
While many are concerned about the impending censorship, an equal number think any shot at effectively regulating cyberspace is doomed to fail. What if an offensive site is hosted on a server located outside India, something that exempts it from Indian legal jurisdiction? Any attempt at blocking the IP address of a savvy enough site will inevitably result in mirror sites or clones, set up on different IP addresses. This was best demonstrated by those who helped Wikileaks survive despite coordinated attempts, including by the US government, to bring it down. Besides, any blogger persecuted by the state is likely to become a hero, like Razan Ghazzawi did in Syria. Such censorship will also end up placing India in an embarrassing league of internet predators like China and Iran.

Lage raho, Munnabhai! Protests outside Sibal's residence. (Photograph by AFP, From Outlook, December 19, 2011)
"If you get rid of sites that say bad things about you today, tomorrow there will be another 100 sites saying bad things about you. This is not because they want to but simply because you shut down the ones that said it in the first place," says a well-known parodist who writes under the pseudonym of Fake Jhunjhunwala. And what pre-empts riots from breaking out if some loony American pastor posts blasphemous stuff on a little known site? In fact, it was foreigners who had posted most of the pictures included in the government's offensive religious set. Ironically, these kind of images are now likely to find even more viewership as more people post them—and are drawn to them—because of the sudden attention cast on them.
"The government would need to set aside another NREGA budget (`39,000 crore) to pay for this kind of censorship."
Sibal's suggestion that human censors could regulate social media sites has also caused much consternation. Critics have humorously referred to it as a new Congress welfare measure, a sort of national urban employment guarantee scheme that would require skilled manpower in lakhs. Ashok Hegde, who runs a firm that provides moderation services to a very popular Indian website, thinks the scale at which social network sites operate (Facebook, for instance, logged over 28 million user updates from India every day in June this year) makes it impractical for any human intervention. The site employs a bad word filter, an algorithm to point out potentially offensive contexts and four staffers to screen about one-fourth of the 10,000 daily posts that are reported to them as offensive by the site's users. Yet, about 40 per cent of these posts slip though the checks. "The government would need to set aside another NREGA budget (Rs 39,000 crore) just to pay for this kind of censorship," he adds. And it would still have its hands full with offensive material that will pass through its filters.
With free space already limited, the internet is a refuge for many who see it as the only, even if somewhat controlled, healthy space for dissent and critique. Some will further argue that the net is also more democratic when compared to the print and electronic media, a medium that allows opposing views to naturally balance each other out. "For every Rama Sene supporter, there is a Pink Chaddi campaigner," says Menon. As for every site of ultra-nationalist outpouring, there is a left-wing blog. On the other hand, Roushan feels that Indians are still getting used to the internet. "Give it time. Users will mature; so will those currently losing sleep over online content," he says.
"The real reason Google, Facebook) are refusing to remove such content is because they generate hits and revenue."
The Bangalore-based Centre for Internet and Society (CIS) says the IT Act, 2000, including proposed changes in April this year that give a site only 36 hours to remove offensive material after being asked by a complainant and if it goes uncontested, is already having a "chilling" effect on speech online. A soon-to-be-published study by them has found that a major unnamed intermediary (Facebook, for example) is "erring on the side of caution" to avoid any run-in with the Indian government and law by deleting even remotely controversial posts. In one instance, it took off a well-reasoned argument on the creation of a Telangana state just because it questioned if a Reddy or a Rao would accept a Dalit as the CM of Telangana. This happened after a researcher from CIS sent a test complaint about the post being "racially and ethnically objectionable".
Sibal has already burnt his fingers with statements like the controversial one on there being "zero loss" to the exchequer due to 2G or his airport tryst with Baba Ramdev. Soon after he plunged into the latest row, people began putting up "Sibal is an idiot" status messages on Facebook in reaction to a protest call by a blogger on Kafila. Karthika Nair, a poet and dance producer, went a step ahead, posting: "Kapil Sibal is an idiot with power, which is what makes him so dangerous." Like it or not, new media gives a lot of leeway to personalised critique. The best response to it, perhaps, is not to offer reasons for it.