Movies and filmstars, if anyone were to randomly do a poll in India, these would anyday be the most talked about subjects. We Indians love simply talking about Bollywood. I have personally seen friends coming to blows on whether Shahrukh Khan can act or whether Kaminey is a waste of time. It's strange. Movies or actors are like vegetables. I may like cabbage, you may love beans. How can one be better than the other?
Having spent seven years in Bollywood, I am puzzled by how Bollywood works or is perceived by outsiders. For instance, most of us always want to know if a film is a hit or a flop. When you eat at a restaurant, would you want to know if the owner has made a profit or loss? Or would you be more concerned about whether the food is good or bad?
I am convinced that most of these common 'misjudged' perceptions have been created by Bollywood and our media. If you don't believe me, check out these top 10 lies that we often swallow as truth.
Content is king
Every project gets greenlit in Bollywood in the following order of priority. Star cast. Banner. Director. And finally, Story. If you have the stars, everyone'll want to produce your film, eg Blue.
If it's a big banner, say Yashraj or Dharma, everybody'll want to act in it, eg Tashan.
If you have a star director, say Priyadarshan or Imtiaz Ali, every corporate house/actor will want to be part of it, eg De Dana Dan.
Producers and actors are bullshitting when they say script is the most important thing. If it was, why did most of the big flicks turn out to be such big duds?

Bollywood goes global
The only way we are going global is that we are shooting in global locations instead of Ramoji Studios or Lokhandwala. If NRIs watching films make Bollywood global, then MTR pickles is a global brand too.
Bollywood will go global the day one of its films grosses more than $100 million in the international markets. Like Crouching Tiger, Hidden Dragon did.
All those who think we are global because Sylvester Stallone and Kylie Minogue are part of our films, please spare me your popcorn. These stars came because they were paid. You can get Denzel Washington and Angelina Jolie too, provided you are willing to dole out $15-20 million.
And let's not even discuss that gasbag India-is-a-billion-people theory and hence it's only a matter of time before we are acknowledged as global giants. Roland Emmerich's 2012 has earned more than all of Bollywood's films put together this year.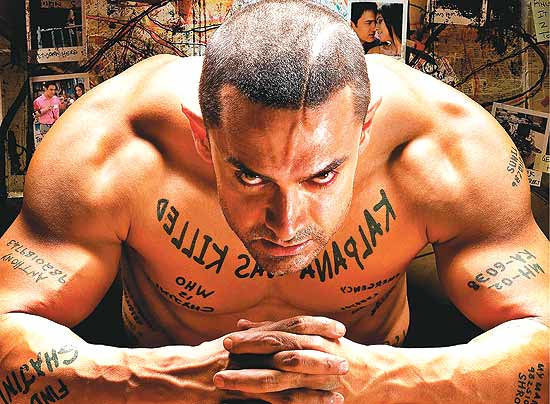 Aamir does intense in Ghajini
I am busy reading scripts
The simple truth is most actors can't read beyond an SMS, leave alone a 100-page script. Narration, which is the art of story-telling while making all kinds of funny noises, is what most actors listen to. They ask for a script (a) to make sure that you are serious and (b) because they can pass it off to someone else to read for them. Conversely, listening to a narration is a safer option: you can always claim later that the story idea was yours. When an actor says I am busy reading scripts these days, it's safe to deduce that he or she has no work. The exceptions include Aamir Khan, Shahrukh, Amitabh Bachchan and Paresh Rawal. They read.

It's a Rs 100 crore hit!
It's a gross lie, these box office figures. Most of them are manufactured much before the release of the film. Editors are required to tag the line 'Running Successfully' on all TV promos appearing post-release. The thumb rule is that one actually earns only one-third of the gross amount. So when a print ad claims that a film has grossed Rs 60 crore in two weeks, all it means is that the distributor has earned 20 crore. Now if he bought the film for 10 crore, the film is a hit. If he had paid 30 crore, he would be navel-gazing. If you don't believe me, ask the chaps who bought Blue, Kambakht Ishq, London Dreams, Kurbaan or De Dana Dan.

Corporates encourage new talent
Which are the recent memorable films helmed by new talent? Khosla ka Ghosla, A Wednesday, Bheja Fry. Were they commissioned by corporates? No. They were made by some enterprising producer and director and were picked up by corporates in a distress sale. To back new talent, the producer needs to have the mentality of an angel investor. Corporates, including the recent Hollywood studios that have opened shop here, have the mentality of traders. They don't want to risk anything— which is why you see them doing deals with established directors and actors. And no, they are not going to learn from disasters such as Chandni Chowk to China and Aladin. The hope for new talent is not corporations but established directors who are now turning producers. utv Spotboy is an exception though.

She looks awesome/ I have a six-pack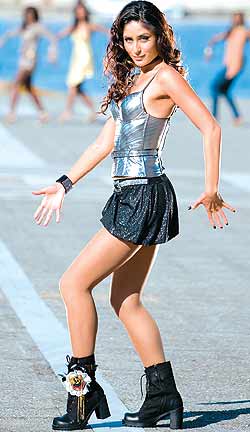 Tashan Kareena wings it
Always remember: when an actor's look and the film's style or sets are being talked about (except when it is a period film), it almost always means that there is no story. Be it Big B's Johnny Depp-inspired look in Jhoom Barabar Jhoom, Akshay Kumar's tattoo in Blue, Kareena's size-zero figure in Tashan or the style of any Sanjay Gupta film. Such marketing ploys hide one fact—the story sucks. That's why most of these big films give more billing to the costume designer, stylist or physical trainer than the writer. Just like you have vanity vans, these are vanity films, made primarily to make the actor look good and keep him happy.

Bollywood is Indian cinema
If you are looking at revenues from film content, the southern film industry generated about Rs 1,700 crore last year; Bollywood did less than Rs 600 crore! And if you are looking at sheer numbers, there were all of 230 films in Telugu alone last year, much more than Bollywood. More Bengali and Malayalam than Hindi films have won awards abroad at prestigious film festivals. Films that are most likely to be called 'world movies' from India are not those from the Hindi film industry but rather Marathi. Some of the best technical crew in the country works in the south, not in Mumbai's Film City. So isn't it time Bollywood got off its high horse?
Talent matters
The best chance of making it in Bollywood is if you have a successful relative working there. Do you seriously believe Tusshar Kapoor, Zayed Khan, Fardeen Khan, Ajay Devgan, Abhishek Bachchan, Imran Khan, Sohail Khan or Jacky Bhagnani would have had a chance in Bollywood if they had not come from a "filmy" family? These days, even if you want to be an assistant director it pays to be either a sibling or a child of a Bollywood personality—just check out the crew of Sanjay Leela Bhansali, Karan Johar or any Yashraj film. But don't lose heart. Some outsiders make it. Remember Shahrukh Khan?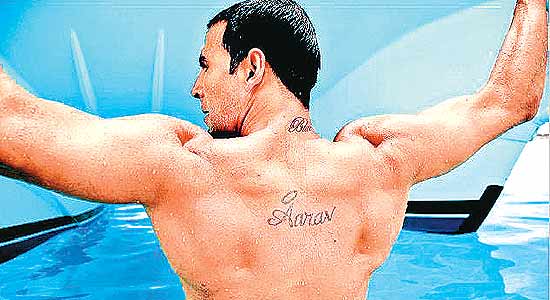 Akki's tattoo in Blue
It's different
The next time you hear this, spit it out. The fact is no star will play a different role because they simply don't want to risk it. srk will play srk in all his films—he tried something different in Swades, it flopped, he tried something else in Chak De—luckily, it worked! Salman Khan, Akshay Kumar, Sanjay Dutt, Rani Mukherjee, Kareena Kapoor, Katrina Kaif... you can jumble up any of their movies but they will never look or act different. At the other end of the spectrum is Aamir Khan, who has been experimenting so much with his look/roles so that itself has become his USP. And, of course, there is Amitabh Bachchan who dons different roles and looks because there is nothing more for him to risk.

It's a mindblowing song
Bollywood suffers irritatingly from the Anu Malik syndrome—every time he plays a song for you he announces, "It's a classic!" Considering you forget the tune the moment you leave, we need to redefine the word classic. At the end of the year, there's only a handful of songs you remember that these world-class music directors have churned out. Producers brag about how they spent Rs 3-6 crore on a single song picturisation. They don't realise, it's not the money that makes a memorable song/tune. It's just talent.
---
(Mahesh Nair is the director of Accident on Hill Road. The film releases on December 18. )