Lights, Make-Up
Smaller parties have begun to take ad campaigns seriously. Earlier it was only the BJP and Congress that hired PR and ad professionals.
Mumbai-based production house Arkash is doing the Samajwadi Party campaign
The BSP has hired event managers to film Mayawati's rallies and distribute them to news channels and screen them at functions
The SAD has hired Brand Curry from New Delhi for its campaign in Punjab
***
About two years ago, while releasing the manifesto for the 2009 parliamentary elections, Mulayam Singh Yadav of the Samajwadi Party (SP) had promised to banish "unemployment-generating" computers, whenever and wherever he could. Today, as his party prepares to challenge Mayawati's hold over Uttar Pradesh, he flips through visuals of his party's slick ad campaign on an iPad. There's little he can do, it seems, but embrace technology and professionalism as the SP—like other political parties in the fray—take to private publicists to effectively carry their message to more voters.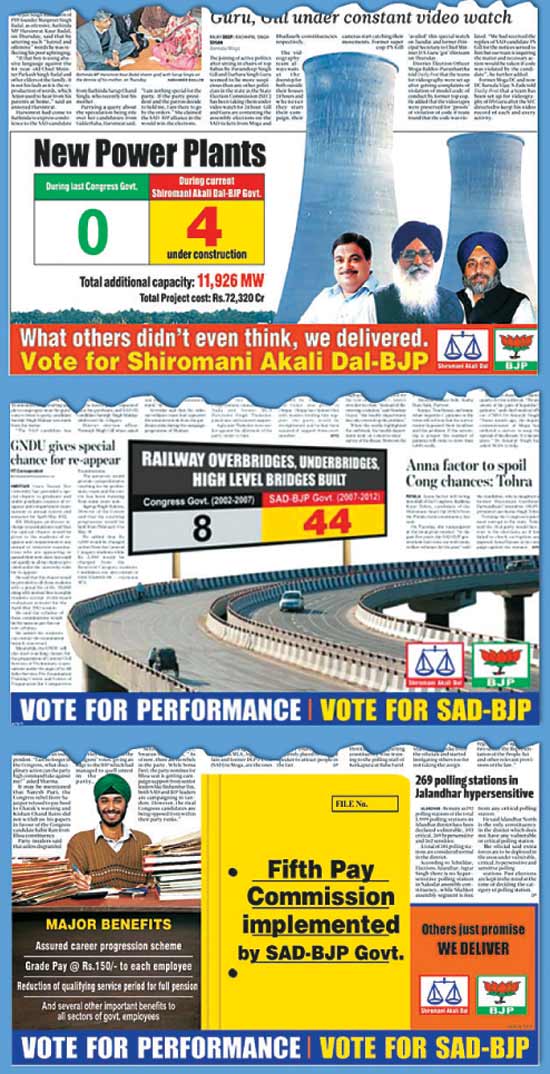 The 'editorial' ads, by Brand Curry for the SAD-BJP
in Punjab
While the Congress and the BJP have for long hired them, including big names like J. Walter Thompson, Crayons Advertising, PerceptH and The Hive, smaller parties like the SP and the Shiromani Akali Dal are now doing it too. The BSP, meanwhile, has also begun using professional event management firms to cover Mayawati's rallies and share the footage with TV networks. These visuals are also shown on Jan Sandesh, a channel said to have close links with the BSP. While Lintas India has denied recent reports that it has been hired by the BSP, there are strong rumours the party is working on an image makeover plan.
Asked to do the 2012 assembly elections campaign for SP, Arjun Sablok, creative head for the Arkash production house in Mumbai, decided he needed to put something on the table that was "modern-yet-traditional and a blend of both the rural and urban". The campaign package for the SP includes a memorable video ad that features an elephant ambling along in a rural landscape, only to be overtaken by a beaming man riding a bicycle. Less than 20 seconds long, the film made smart use of the party symbols, the BSP's elephant and the SP's bicycle. Other video ads for the party feature a Muslim zardozi worker whose sweaty working conditions (the power is rarely on) hamper his work and a Hindu farmer lamenting the non-existent water supply.
If it has reached out to rural voters with campaigns that focus on essentials like water and electricity, the party has also made attempts to flirt with city voters with promises of better urban infrastructure. A front-page ad published in a leading English daily in Lucknow on January 15 showed feelgood visuals of some of the urban infrastructure developed during previous SP reigns. These include the Lohia Park and Dr Ram Manohar Lohia Law University in Lucknow and the stadium in Saifai in Etawah district. "When I showed these pictures to my friends, they could not believe they were shot in UP," says Sablok. The print ad has been turned into a filmed advertisement with a voiceover in English—a language Mulayam thought was best sidelined—and will be released soon.
"So far, not a day has gone by without at least one story on Jeeta and Jaggi...and none of them are planted."
Elsewhere in Punjab, Crayons Advertising, which is in charge of the Congress campaign, sought to break the mould of political sparring through ads. "The usual thing for opposition parties to do in their ads is pick holes—find out what promises the government made but did not keep. But people take this with a pinch of salt," says Ranjan Bargotra, the firm's president. This is where Jeeta and Jaggi, two amiable, folksy Punjabi characters, step in with their exchanges on common woes in a Punjab governed by the SAD-BJP combine. The two speak in common street lingo and stay away from explicit political content. The agency created the two characters to give people a break from the political claims and counter-claims and to make the message more people-friendly. And it's been a runaway success, even appearing on the official national BSP website under Google's AdSense programme! "So far not a single day has gone by without at least one story on them and none of them are planted," he adds. The Facebook page for Jeeta and Jaggi has over 23,000 likes.
Not to be outdone, the SAD has hired Brand Curry from New Delhi for its campaign in Punjab. The firm has chosen to stay away from pure advertisements to make their campaigns look more "editorial". "People tend to ignore simple advertisements as propaganda but read editorial content," says MD Subrata Chakraborty. So you have the chimneys of a power plant or the water from a supply pipe in their ads eating into news columns.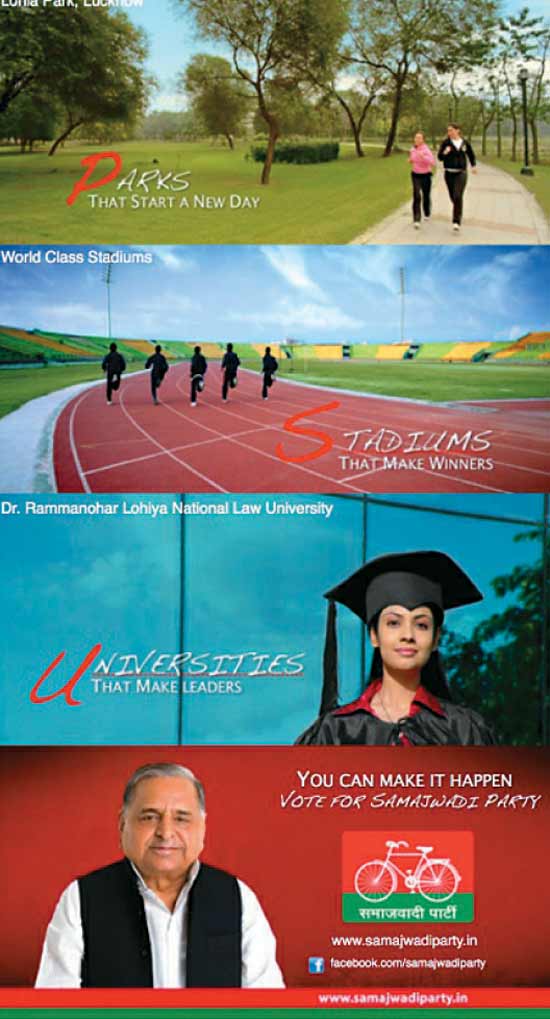 But isn't selling a political party different from selling a product? Sablok argues the former is more about getting the message across about "real people with real stories". "One really needs to research well on what the voters need and desire. It's not about a copywriter sitting in an office," he says. Ajay Chopra of Crayons Advertising, which has also handled briefs for the BJP, says political pitches need a lot of common sense and not just creative sense. "One needs to connect with the grassroots and have a choice of words and artwork that connect with all. Because each voter, whether it's someone rich or poor, is equal," he adds.
One of the main reasons why professional agencies have stayed away from smaller parties so far, according to one insider who wished to stay anonymous, is that they pay in cash, and it's often black money. But even these parties now realise the importance of professional and effective communication and are adapting to their needs. This is partly because more young people are now voting and awareness has increased. "There is also so much information overload. Add to that the fact that politics is increasingly, even if slowly, moving away from politics that is caste-based to one that is centred on development. That is why the SAD wanted to focus on the good work they have done in the past five years...they felt the need to go to a professional," Chakraborty adds. Also, party cadres have realised they cannot always match the demands of an increasingly professional media environment.
Well-known image guru Dilip Cherian says this change has come about because the voter today has to be won over with "better quality visual seduction" since he is habituated to high-quality visuals in his everyday life. "In such an environment, if they see either a grainy ad or one that is old-fashioned, it won't attract eyeballs," he says. This trend of smaller parties choosing to hire professional publicists has been on the rise only in the past few years. "This is also because these regional parties are no longer just regional. Also, they often happen to be financially better endowed than some national parties to be able to hire these firms," he adds.