The Narendra Modi government is expected to deliver on its "one rank, one pension" (OROP) promise, a promise the prime minister himself made to armed forces veterans when he kicked off his election campaign in Rewari, a southern district of Haryana with a strong tradition of sending men into the armed forces. According to a source, defence minister Manohar Parrikar has approved the policy and payments are to be made with arrears, which will altogether cost the government Rs 8,000 crore.
The pension payment would be linked to an ex-serviceman's last salary drawn and the government has promised to put a previously retired veteran's pension at par with that of a freshly retired ex-serviceman of the same rank and years of service. This will partly assuage a 40-year-old grievance of officers and ranks from the three forces.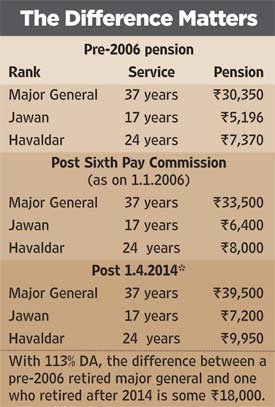 The government is...