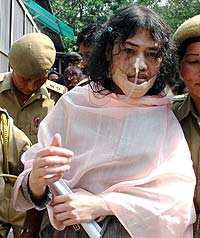 Manipur
MHA Again At Work
The next time you may want to interview Irom Sharmila, who has been fasting since November 2000 for the repeal of the Armed Forces Special Powers Act in the state, you will need to give a month's not­ice. This is following an advisory from the Union home ministry. Visitors are also required to deposit an amount which could go up to Rs 1 lakh. The sum can be forfeited if the visitor's req­u­est is denied or if he or she fails to turn up. While the states are required to make the rules, the advisory is meant to deny access to undertrials, who number over 25 lakh and who are mostly poor, illiterate and from remote areas. The draconian rule is yet to catch the attention of civil rights activists.
---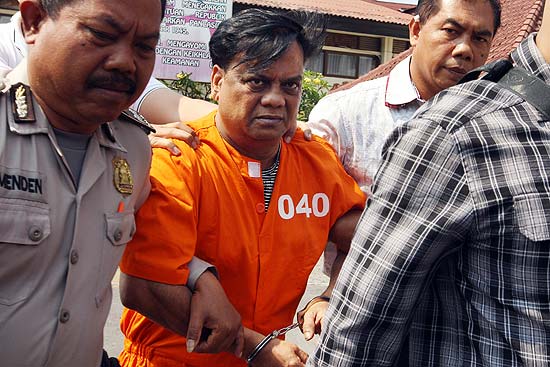 Maharashtra
Big Bro, Small Brother
'Dreaded underworld don' Chhota Rajan set the cat among the pigeons when he accused the Mumbai police of still being in cahoots with Dawood Ibrahim and Chhota Shakeel. The cops in turn annou­nced a bloodbath is imminent in the city because both gangs retained financial and underworld networks for extortion.
---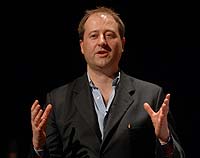 Goa
Menu Change
Realising at the inaugural session of the India Ideas Conclave, organised in collaboration with the Goa government, that preaching to the conver­ted yields little or no dividend, Delhi-based India Founda­tion, which boasts of Union ministers Suresh Prabhu, Jayant Sinha and Nirmala Sitharaman in its board of directors, has invited historian-writer Patrick French and Jamaat-Ulema-e-Hind's Maulana Madani to speak at the second edition. Dadri lynching and #Awardwapsi are on the menu.
---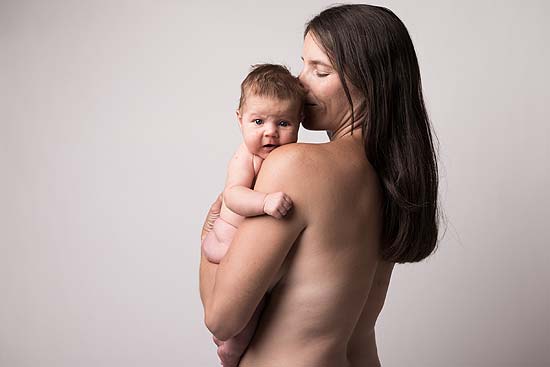 Tamil Nadu
The Cross Women Bear
The Beautiful Body Project, curated by American photographer American photographer Jade Beall, was a visual tribute to women. Photographed by lenswomen from seven countries, young mothers across the world agr­eed to be photographed au naturel, stretch marks, out of shape bodies, sagging breasts and all. Now, however, some 20 Indian publications and websites are facing prosecution over unauthorised use of pictures showing South Indian actress Kasth­uri with her baby . The now US-based actress, who is married to a doctor and has two children, is aghast at descriptions that she posed 'topless' and 'semi-nude'. Bodies of Indian deities, saints and monks, she told a news portal, are depicted in their full glory. At some point, it seems, Indians forgot how to differentiate between beauty and titillation.
---
Delhi
Anti-National JNU?
Rumours of Subramanian Swamy getting the job have been officially and firmly denied, but is the ground being readied for an RSS ideologue to head the Jawaharlal Nehru University (JNU)? Accusing JNU of misuse of public funds, the RSS's Hindi mouthpiece Panchajanya has launched a full frontal attack, calling it a hub of anti-national, anti-social and anti-Hindu activities. While students and faculty of JNU said they were outraged, the periodical cited the arrest of Delhi University professor G.N. Saibaba and JNU research scholar Hem Mishra for their alleged Maoist links to make the point. Is it the turn of the Aligarh Muslim University (AMU) next?
---
Tamil Nadu
Courting Trouble
What started with two Madurai lawyers refusing to put on helmets and the bar instigating other lawyers to follow has turned into a farce. The Madras High Court sought CISF protection since it did not trust the police. The state government rushed to the SC, pleading that the move would demoralise the police. But no action against the lawyers seems possible, and the HC, with a sancti­oned strength of 75 but an effective one of 37 judges, is spinning out of control.
---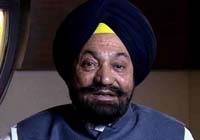 Uttar Pradesh
Fishing For Ministers
The state, which would be the world's fifth-largest nation by population were it a country, set a precedent of sorts by inducting a Sikh from Pun­jab as a minis­ter. The ruling Samajwadi Party said it became necessary to induct former Akali MP and SAD vice-presid­ent Balwant Singh Ramoo­walia as there wasn't a single Sikh minister in the northern states of Him­achal Pradesh, Uttarakhand, Rajasthan, Delhi, Haryana.