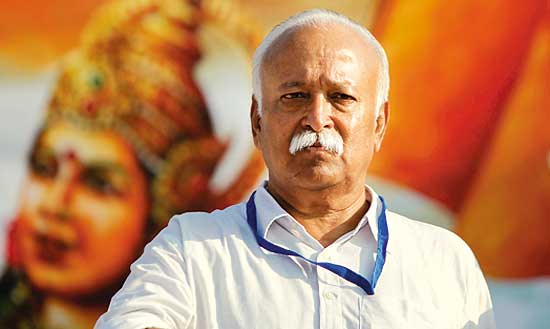 Maharashtra
Saffron Salute
Was there an extra swagger this year as sarsanghchalak Mohan Bhagwat accepted the guard of honour on I-Day? The RSS's growing clout and changing colours were evident in the smartly turned out 'volunteers' wearing trousers (begone khaki knickers), caps and holding firearms (unless it was those toy rifles). The 'cultural' organisation's Delhi unit also preened that while till recently on an average only 200 people registered online a month to join up, June saw a surge with 17,000-plus signing on.
---
Bihar
Got A Girlfriend
When CM Jitan Ram Manjhi's son took a fancy to a new hotel for his extra-marital dalliances, the owners didn't know how to deal with him. Till last week—when he landed up with a lady police constable (also married), and the hotel staff locked them up and called the police and the media. An elated BJP demanded Manjhi's head while the CM commented that "anybody can have a girlfriend". It's true, an ex-Gaya MP was actually caught travelling with his in a parliamentary delegation.
---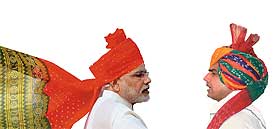 Rajasthan
Straight Header
A turban is a style statement, but a power statement too. While the world was raving about PM Narendra Modi's custom-made one for August 15, Rajasthan Congress chief Sachin Pilot was taking the unusual stand that he wouldn't wear one till he revives the party's fortunes in the state. Snide comments that if that be the case, it'll be a long time before Mr Pilot is seen wearing a turban again were quick to follow.
---
Assam
One Horn Please
Kaziranga, the national park known for its one-horned rhinos, lost 84 sq kms of land due to soil erosion between 1914 and 2012, the high court was informed by the state government. While the park does get flooded every year, officials say it is a boon as it helps in regeneration of the grassland and also to clear weeds from the water bodies. Indeed, speeding vehicles on NH-37 pose a greater danger to the protected animals and hence the court was informed of a proposal to build six flyovers and underpasses besides installing radars and interceptors to check overspeeding.
---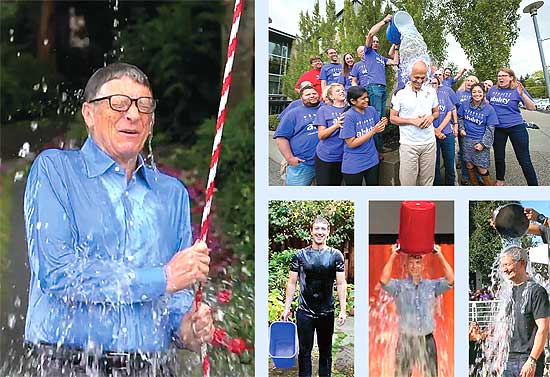 Across The World
Water Of Life
Unless you were completely off-line, the phrase 'Ice Bucket Challenge' poured into every inbox last week. Responding to an appeal by 29-year-old American baseball player Pete Fraete who can no longer speak and is likely to die in a few years due to a neuro-degenerative disease called ALS (amyotrophic lateral sclerosis), celebrities from Bill Gates to Tim Cook to Jeff Bezos to our very own Satya Nadella doused watery fun with greenbacks philanthropy, and challenged three others to do the same in the next 24 hours. Last heard, ALS had raised $13 million. When will Indians fall in, perhaps for a 'Swachch Bharat'? A public bath for a public loo?
---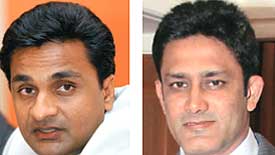 Karnataka
A Late Cut
Rs 100 crore for a clubhouse or for promoting cricket? Ostensibly the question which led Anil Kumble and Srinath to walk out of a meeting of the Karnataka State Cricket Association. Kumble, an ex-KSCA president, blames a coterie led by former cricketer Brijesh Patel and its vested interests. Patel, in turn, blames Kumble for killing a "Rs 50 crore property" in the abandoned Karnataka Premier League. Cricketers as administrators, anyone?
---
West Bengal
Spuds Galore
When India's second largest producer of potatoes decided to place a ban on potatoes going out of the state, it was inviting trouble. Mamata didi's government was forced to roll back the ban partially when traders in Orissa stopped truckloads of fish and egg from going to Bengal. Other states were equally incensed, Maharashtra threatened to stop supplying onions. The WB govt tied itself up in knots by promising the tuber at lower prices, confiscating truckloads and letting it rot before scrambling to arrange cold storage.