Danger In The Valley
The hanging of Afzal Guru, a local Kashmiri, has convinced many youngsters in J&K that the Indian state is ready to trample on their rights. There is open talk of rebellion on the internet. "Guru is martyred. Welcome to another 30 years of war," says a Facebook post.
This is especi­ally because of the perception that Afzal was not given a fair trial and executed by the Congress to appeal to Hindutva votes in 2014.
Scores of Kashmiris are in jails or in hiding after the 2010 'street intifada'. Silence over 125 civilian deaths due to police and CRPF action hasn't helped. Police has filed FIRs in only 20 cases, while even minors have been punished in stone-pelting incidents.
At the political level, things are not moving forward. The New Delhi-Srinagar dialogue remains stalled for the past many years. Afzal's hanging now ensures Hurriyat will stay away from talks at least for a couple of years. Polls due in Kashmir late next year.
Despite statements and promises, AFSPA continues to remain in force across the Valley and there seems little hope that the army will agree to any withdrawal, even partial. A complete withdrawal would have been a big confidence-booster.
The rise of Hindu terrorism and Hindutva across the country makes many Kashmiris sceptical about a safe future with and in India.
***
Kashmir has now got its second empty martyr's grave. And somehow, the mere fact of it being empty gives it more resonance—as if an echo chamber has been added to that other one lying vacant, that of Maqbool Bhat. The one reason why Mohammed Afzal Guru's body was not handed to his family was the fear that his grave would become a rallying point for anti-India sentiments in the Valley. That effect is all the more palpable in absentia—with his body lying secured and quarantined in a grave in Delhi's Tihar jail. The hasty, early morning hanging of Afzal Guru has become a new inflection point in the Kashmir story—its violent history of estrangement and anger.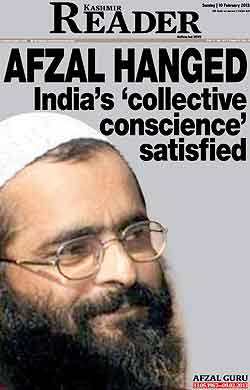 Censored Police seized all copies of this Srinagar daily
A little over a year away from assembly elections in the state, Kashmiris are glorifying Afzal as "a martyr of the nation". Three days after his execution, they have dug him a grave next to Bhat's at the Martyrs' Graveyard Eidgah in Srinagar. And placed an epitaph similar to the one on Bhat's: "Shaheed-e-Watan Mohammed Afzal Guru: His remains are lying with the Indian government as a trust of Kashmiri nation, and we await its return." The Jammu and Kashmir Liberation Front founder too had been executed in Tihar—on February 11, 1984—and it's next to him that Afzal now lies buried. Bhat's hanging had marked a watershed in the history of Kashmir as a full-blown insurgency had broken out in the region five years later, with thousands of youth idolising him.
In Srinagar, so paranoid was the state machinery of history repeating itself that it tried to forestall it. The police removed his epitaph on Tuesday night, only to replace it a day later, fearing wider protests. On February 9, the day of the hanging, funeral prayers were held for Afzal across the Valley despite a strict curfew. Anti-India protests have not dimmed even five days after the event—a grim remin­der of the 2010 agitation. An indefinite curfew in place since Afzal's hanging has not quelled it. Three young men have already lost their lives.
How this climate of anger will play out is a big question for the state government. In the long run, it's the spectre of a spurt in militancy that will haunt J&K chief minister Omar Abdullah and most Kashmiris. Many are apprehensive that Afzal's controversial hanging will reinforce the feeling of alienation among Kashmiris, with another generation turning towards militancy and pushing the Valley back into its recurrent nightmare.
"You don't hang people because the society demands it. You hang people because the law demands it."


Omar Abdullah, J&K Chief Minister
Even Omar, despite his patchy record in handling mass psychology in Kashmir, seems to instinctively sense something is horribly wrong this time. "Like it or not, this has reinforced the point that there is no justice," Omar had said in the aftermath of the hanging. "We will have to deal with how we can change that sort of alienation." And then, also, that the immediate fallout was security-related and "far less challenging than the long-term effects".
The nervy state's worst-ever three-day censorship on local media hasn't helped things either. Newspapers (about 50 hit the stands in Srinagar every day) suspended publication, citing orders from the authorities despite no written order being produced. And a population of seven million, cooped up indoors, remained virtually disconnected, with cable as well as mobile network and internet blocked.
It didn't stop social networking sites from being flooded with talk of rebellion. At the forefront are young, educated, tech-savvy Kashmiris who have grown up amidst conflict, nurse a deep sense of alienation and bear a grudge against the Indian State.
"Afzal Guru is martyred. Welcome to another 30 years of war," said Omar, a young doctor, in his Facebook post. "It was February then (when Bhat was hanged). It is February now. This is not the time to whip up passions, because the seeds for a fresh revolution have perhaps been sown by the oppressor itself," said another post. These youngsters have replaced their profile pictures with slogans like 'I am Afzal, hang me', the background black, as a mark of protest.

The betrayed Kashmiri Muslim students at AMU protest Afzal's hanging in Aligarh
Mohammed Altaf Khan, 63-year-old former schoolteacher and one of Bhat's close aides, better known by his nom de guerre Azam Inqilabi (the great revolutionary), says he has "not even an iota of doubt" that Afzal's hanging would incite a new generation of Kashmiris to pick up arms.
"Thousands of young Kashmiris came out on the streets during the 2008 and 2010 agitations," he says. "They were convinced that non-violence would force India to find a permanent solution for Kashmir. But by hanging Afzal, Indians have sent a clear message that they are rash and brash in their decisions when it comes to Kashmir. India has literally instigated one more of our generations to become mujahideen. It will not happen tomorrow, but I can say without any fear of contradiction that Afzal's hanging has sown the seeds of another armed revolution."
For many in Delhi, Inqilabi's statement may appear as rhetoric, an exaggeration, but there are plenty of signs on the ground that evoke a sense of foreboding. For instance, scores of Kashmiris, in their teens and 20s, are either in jails, or in hiding or making rounds of police stations after the 2010 'street intifada'. Fuelling the anger is the Omar Abdullah government's inexplicable silence over the cases of 125 civilian deaths in police and crpf action during the agitation. The police has till date filed firs only in 20 cases despite court intervention, while even minors have been punished for participating in stone-pelting. Since the new year, the government has also been reopening old cases against former militants in its bid to control the dissent.
"Denying his family a last mandatory meeting with him has made Gandhi's India look like a banana republic."


Mufti Mohammad Sayeed, Former J&K chief minister
Police sources say that after the 2010 agitation, at least two dozen young men joined militant groups, particularly the Lashkar-e-Toiba. "The actual number could be much more," a senior Kashmir police officer told Outlook on condition of anonymity. "Unlike the '90s, things are shrouded in secrecy. At times, even the families are caught unawares. Militancy may no longer be an option with the new generation of Kashmiris, but yes, Afzal's hanging is likely to heighten the Kashmiri alienation. The implications would not be immediate, as some tend to believe, but they will be there. We can only keep our fingers crossed."
Kashmir's former director-general of tourism and prominent political commentator Mohammed Ashraf too says a Kashmiri "takes his own time to react". "Maqbool Bhat was hanged in 1984. Kashmiri boys started crossing LoC for arms and training from 1987 onwards, and we then had 1990. Similarly, this hanging too will have a long-term impact and we may see another eruption after a couple of years."
Indeed, PDP chief spokesperson Naeem Akhtar thinks the very fact that Kashmir hasn't erupted on expected lines is wor­rying: "Kashmir has been a place which would erupt even on minor issues. Afzal's hanging has delivered a sense of defeat among Kashmiris, more dangerous in the long run."

Pushed to unity Yasin Malik sharing platform with Hafiz Saeed in Islamabad
Back in Afzal's native village Seer Jagir in Sopore, soldiers of 22 Rashtriya Rifles guard the only entrance—a wide steel gate. Near the gate, an instruction board lists the dos and don'ts of passing through the small village. Some years ago, on the roof of the Sadbhavana school built by the army in the village, soldiers had written in bold letters: "We love humanity." A few metres ahead, though, another had this chilling warning: "One bullet, one terrorist." So much for goodwill.
Born into an affluent family of apple merchants, Afzal would have been a doctor by this time, perhaps living comfortably and in prosperous obscurity somewhere in West Asia, like many Kashmiri doctors, rather than making it to the headlines if things hadn't gone awry. As someone who once crossed over the LoC to fight the Indian State but who later also surrendered, it proved difficult for authorities to believe he had come entirely clean.
"Afzal wanted to live quietly with his family, but the STF (the notorious counter-insurgency wing of the Kashmir police) would not allow him," his wife Tabassum wrote in her appeal to the Indian government in 2004. "Afzal was to leave his home, family and settle in Delhi again. He struggled hard to earn a living and he had decided to bring me and Ghalib to Delhi. Like any other family, we dreamed of living together peacefully and bringing up our children, giving them a good education and seeing them grow up to be good human beings. That dream was cut short when (Afzal was arrested in the Parliament attack case)." This dream will now never be. It was cut short in a way Tabassum, like many others, could never have imagined—coming to know of her husband's exe­cution on television news, being denied even the grace of a last meeting.
"Now that he has been executed, I am sure the collective conscience of Indian society is satisfied."


Parvez Imroz, Kashmiri human rights campaigner
The family had been persecuted even after Afzal's arrest and subsequent conviction. Police and army raided their home countless times, forcing them to abandon it for almost one year. "For one year we were not allowed to see Afzal. We handed over his surrender certificate given by the BSF to a Supreme Court lawyer who later denied receiving it," Tabassum had said. "Will you speak out at the injustice my husband has faced? Will you speak out on my behalf? I am, of course, fighting for my husband's life, for the life of my son's father. But I also speak as a Kashmiri woman who is losing faith in Indian democracy and its ability to be fair to Kashmiri Muslims."
Tabassum had visited Afzal in Tihar in November last year. "The meeting was a routine one. Afzal gave no indication that his days were numbered. His only worry was the future of (his 14-year-old son) Ghalib whom he wan­ted to become a writer," Afzal's cousin Yasin Guru told Outlook. He pours scorn on Union home minister Sushil­kumar Shinde's statement that Afzal's family was info­r­med about his execution via speed post­—the missive reaching them two days after the hanging. "I wonder how a country that boasts about its democratic credentials can be so stone-hearted," says Yasin.
There's across-the-board sympathy for Afzal largely because of the belief that his conviction rested solely on circumstantial evidence. Says Lalit Magazine, a Jaipur-based Kashmiri Pandit, "Whatever little faith I had in India's justice, I have lost it completely (after Afzal's hanging). I am sad and shocked. Votebank politics has prevailed over justice and fair play."
There are lots of other voices questioning the timing of Afzal's execution. The timing is symbolic—it took place two days before Bhat's death anniversary. "The choice of date of Afzal's hanging was deliberate," Abir Bashir Bazaz, a US-based Kashmiri academic, told Outlook. "Like every year, pro-freedom groups had already called for a black day on Bhat's anniversary. The Indian government could not have been ignorant of it. I think Indians wanted to send a clear message to Kash­miris: 'We don't care for your sensitivities. You are a helpless people, unwilling to accept your defeat.'" Afzal's family, meanwhile, is asking only one question: "Didn't he deserve the right to see his family before his execution?"
---
By Showkat A. Motta in Srinagar