In 1959, when Andre Beteille, later to become one of India's leading sociologists, began contributing the occasional piece to the edit page of a newspaper, his peers were critical: what was a young scholar doing writing in the plebeian columns of a mass circulation daily? It was into this prim world, five decades away from one in which professorial wisdom would flow freely on prime-time TV, that Raj and Romesh Thapar's Seminar was born.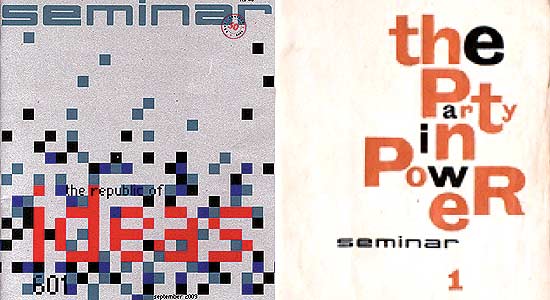 The current issue (left) and Seminar's first issue (right)
"It was an experiment," says former West Bengal finance minister Ashok Mitra, a close friend of the Thapars, "one that succeeded wonderfully well." Seminar became a meeting ground for imagination and intellectual rigour and a much-needed bridge between academia and a wider world at, in Mitra's words, "an exciting moment in India's socio-economic history". The idea—Romesh's—was to devote each monthly issue of the journal to exploring facets of a single theme, through a set of essays written around a carefully framed poser ("the problem"). The Thapars' shimmering network of talented, well-connected friends, able to recommend writers from every sphere, and their own catholicism (they were left-liberals who had broken free from the claustrophobic embrace of the Communist Party of India) ensured two essential ingredients: a variety of views and a strong list of contributors. Nirad Chaudhuri and K.N. Raj wrote for Seminar's first issue, Amartya Sen for its third. An early one, on Tribal India, carrying essays by anthropologists Nirmal Kumar Bose and Verrier Elwin and sociologists A.R. Desai and Beteille, among others, turned out to be so worthwhile that it later became incorporated into undergraduate textbooks.
Bringing out Seminar was always—and still is—a family enterprise. Mitra has vivid memories of the Thapars' children, Malvika and Valmik, carrying stacks of fresh copies of the journal up and down the stairs of their Bombay apartment building in the '60s. Raj, who called Seminar her "third child", writes in her memoir, All These Years, of learning the difficult art of editing the writings of intellectuals without damaging their egos, and dispatching bookshop packets with her own hands.
The idea was to devote each monthly issue to exploring facets of a single theme through essays.

But the heart of the enterprise was, undoubtedly, Romesh. Sitting on his tranquil Delhi verandah, Beteille recalls the man in a few well-chosen phrases. Impatient, a hard taskmaster who had "no compunction" about turning down poor quality work, yet endowed with a "great capacity" to bring people together and make them work for him, and quite impervious to distinctions of age, rank and seniority. "He was not himself an intellectual," says Beteille, using the word more carefully than we tend to these days, "but he was fascinated by the world of ideas". Like several other young scholars, Beteille became the beneficiary of Romesh's knack for picking out talent and giving it a platform. "He saw it as his obligation," says Beteille.
As Seminar moved from Bombay to Delhi in the early '60s and the Thapars' fortunes fluctuated, from their being members of the left-liberal set around Indira Gandhi to falling out with her decisively and irrevocably during the Emergency, Seminar became considerably bigger than the sum of its 80-odd pages. The two high-ceilinged, tastefully furnished rooms in Malhotra Building in Connaught Place, which remain its office to this day, became an intellectual salon-cum-lunchroom and later an adda for a disparate anti-Emergency crowd. Though much of the media, in L.K. Advani's memorable words, "crawled" during the Emergency when it was only asked to "bend", Seminar kept its back straight, opting to cease publication for a few months rather than submit to censorship.
Through all of this, there was always, recalls Nandita Haksar, who dropped in regularly at Malhotra Building as a college student and later as a human rights lawyer, a ready audience for young people who had something to say. "They were my father's friends, but I had an independent relationship with them. It was the time of Naxalism, the Bangladesh war and later the Emergency. I thought I could change the world, and they never told me I could not. We talked as equals, there was no condescension and later there would be a phone call from Romesh, saying, 'I want this from you tomorrow. Write!'"
it still has its 50-year-old layouts, its typographical covers as well as its original editorial plan.

On September 1, Raj Thapar's "third child" notched up half-a-century, strangely unmarked, in many ways, by the passage of time. In a media world addicted to ritual redesign, it keeps faith with its typographical covers, its 50-year-old page layouts and its original editorial plan of arranging divergent views around a single theme (except in its year-end annual issue, which looks back on the past year). While marauding ads have invaded editorial space in much of the print world, the faithful clutch of long-time advertisers who help keep Seminar afloat stay content to have their offerings decorously arranged, as before, at the beginning and end of an issue. The office still doubles up as an adda, and on the first of every month, Malvika brings out the journal with clockwork punctuality, along with husband Tejbir and consulting editor Harsh Sethi.
For those who witnessed Seminar's birth pangs and tracked its journey in a brave new post-Independence India, its heyday perhaps lies in the past. Mitra, for instance, though he commends the new team for keeping faith with Seminar's founding principle ("you pose the problem but you stay detached"), believes that the journal's most exciting days were in the early '60s. Beteille remarks that Romesh, who died in 1987, "flagged" towards the end and Seminar became a little "routinised". "It is easier," he remarks, "to use your imagination at the beginning of a life cycle." Today, he does not "keep up" with Seminar, but he does still write for it, from time to time.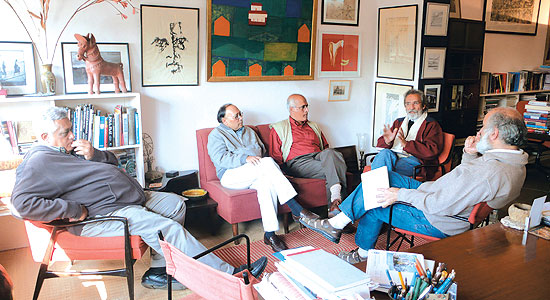 A Seminar adda: Shiv Visvanathan (left), consulting editor Harsh Sethi with others
So, interestingly, does a new generation of prominent writers. The country's leading intellectuals—Ashis Nandy, Sunil Khilnani, Ramachandra Guha, Pratap Bhanu Mehta, to name just a few—are to be found in the pages of Seminar, despite its modest circulation of 4,000 (the readership is several times that, maintains Malvika, because many copies go to libraries), at an unprincely contributor's fee of Rs 500 per shot. The goodwill and legitimacy that still attach itself to the journal, the luxury of space it provides seems to have a lot to do with that, as does Malvika's own network of contacts ("an invisible college of friends and admirers of Seminar," Guha calls them), and some good, old-fashioned chip-of-the-old-blockish persistence. Asked why he writes for Seminar regularly, Business Standard editor T.N. Ninan replies, "Simple. Mala will kill me if I don't." In a more serious vein, he says that "Seminar fills a space in Indian journalism; it's not a large space, but it is relevant, current and stimulating, and therefore it is a worthwhile enterprise." Says Guha, "It is a matter for quiet celebration that a small journal, brought out on a modest budget, has sustained its independence and catholicism for a long time." Nandita Haksar will vouch for that. When she took up the case of S.A.R. Geelani, the lecturer later found to be wrongly accused and sentenced to death for being part of the conspiracy to attack Parliament in 2001, the mainstream media for a long time the campaign in his defence. It was Seminar that gave Nandita her first platform for writing about it. Romesh would have been proud.
---
By Anjali Puri with Dola Mitra