In 1959, when Andre Beteille, later to become one of India's leading sociologists, began contributing the occasional piece to the edit page of a newspaper, his peers were critical: what was a young scholar doing writing in the plebeian columns of a mass circulation daily? It was into this prim world, five decades away from one in which professorial wisdom would flow freely on prime-time TV, that Raj and Romesh Thapar's Seminar was born.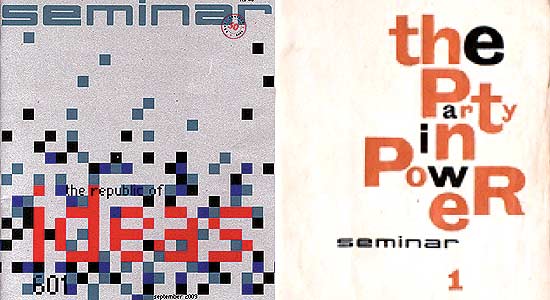 The current issue (left) and Seminar's first issue (right)
"It was an experiment," says former West Bengal finance minister Ashok Mitra, a close friend of the Thapars, "one that succeeded wonderfully well." Seminar became a meeting ground for imagination and intellectual rigour and a much-needed bridge between academia and a wider world at, in Mitra's words, "an exciting moment in India's socio-economic history". The idea—Romesh's—was to devote each monthly issue of the journal to exploring facets of a single theme, through a set of essays written around a carefully framed poser ("the problem"). The Thapars' shimmering network of talented, well-connected friends, able to recommend writers from every sphere, and their own catholicism (they were left-liberals who had broken free from the claustrophobic embrace of the Communist Party of India) ensured two essential ingredients: a variety of views and a strong list of contributors. Nirad Chaudhuri and K.N. Raj wrote for Seminar's first issue, Amartya Sen for its third. An early one, on Tribal India, carrying essays by anthropologists Nirmal Kumar Bose and Verrier Elwin and sociologists A.R. Desai and Beteille, among others, turned out to be so worthwhile that it later became incorporated into undergraduate textbooks.