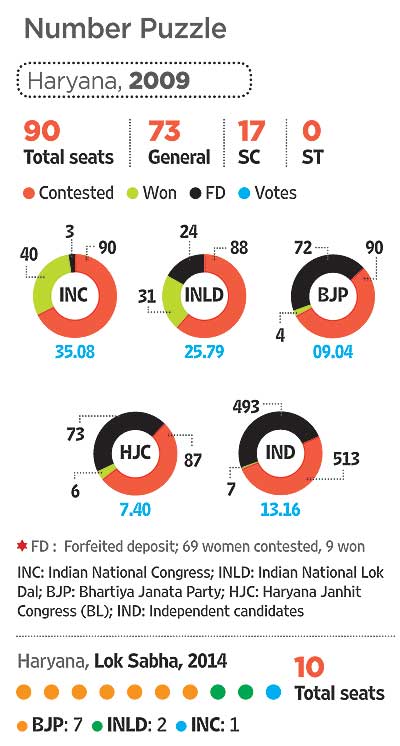 This is the land where the epic Mahabharata is fabled to have been fought thousands of years ago. The electoral battle unfolding here today—Haryana goes to the polls on October 15—promises to be of equal fervour. Is there talk of a Modi wave that will pull the BJP through? The opponents are not without the region's famed combative spirit. If Prime Minister Narendra Modi addressed a BJP rally at the Theme Park here on October 6, the very next day, Om Prakash Chautala, president of the Indian National Lok Dal (INLD) was there, with a crowd of supporters matching Modi's in numbers.
In his speech, Modi exhorted the people of Haryana to put an end to dyn­a­­stic rule by electing the BJP to power. He was referring to both Chau­tala's clan and that of Bhupinder Singh Hooda, who has been the Congress chief minister of the state for 10 years. Chautala's nephew Aditya­—the son of his younger brother Jagdish—is a political dynast, but has joined the BJP recently and is its star campaigner. At a BJP rally in Dabwali, he accused the INLD of treating the people of Haryana like slaves.
The INLD is not to be outdone. At his rally, Chautala entertained thousands of supporters spread out to hear him. "Narendra Modi said here yesterday that he needs no support (to form the government)," he says. Pause. "But who's is supporting him?" The crowd laughs and cheers.
Supporters mobbed Chautala on stage and he had to admonish them tau-like to sit quietly so that he could speak and be heard. Through most of his speech, Chautala negated the Modi wave and called it a myth. When the results would be announced on October 19, he said, Modi would get a reality check. "I am thanking you all right away for giving your party a historic victory." He took pride in pointing out there were more people at his rally than at Modi's. He also claimed that the chhattis biradari (36 communities of Haryana, of which the Jats are one but in which Muslims are not included) are with him. His rival Hooda found mention only towards the end of the speech: he slammed the chief minister for sprialling prices.
"Jaitley said Haryana was No. 1 in per capita income. So was the PM lying that it is No. 8? Or was it the finance minister who was lying?"


Deepender Hooda, Congress leader, Haryana
Haryana is a state of dynastic politics: the Lals, the Hoodas, the Chaudharys, the Bishnois—the list is long, but the bigger parties of Haryana each have their dynasties. Not so the BJP; in fact, it doesn't have much presence here. In 1996, it had won 25 seats in alliance with Bansi Lal's Haryana Vikas Party. But in 2000, in alliance with INLD, it won just six seats. And in 2009, it won just four assembly seats. The Lok Sabha elections saw the BJP winning seven out of 10 seats, but lost in the Jat-dominated Rohtak, Sirsa and Hissar constituencies.
The streets of Kurukshetra, Rohtak and adjoining areas bear a deserted look after sunset. During the day, the election buzz is conspicuous by its abs­ence: hardly any hoardings, no pamphlets, no motorcades with fluttering party flags speeding past, only occasionally, rickshaws with loudspeakers mounted go by, blaring out political songs set to Bollywood tunes.
The general impression is that Jats vote en masse as a community, and since they form 22 per cent of the population, their preference is usually the decider on who will be chief minsister. "The iconic Jat leaders, now dead, will actually decide who'll win the elections, not Generation Next," says Sadhu Ram Chaudhaury, a veteran politician and INLD national vice-president. He is referring to Devi Lal, Chautala's father and founder of INLD. Devi Lal is alive in folklore as the man who sacrificed the prime minister's chair for higher ideals. Then there's Hooda's father, Chaudhary Ranbir Singh Hooda, a freedom fighter of rep­ute who was also a member of the Constituent Assembly. "The family that preserves and fosters the legacy, goodwill and good name of its ancestors will enjoy the fruit of power," says Chaudhary in Hindi, explaining how Ajit Singh and his son Jayant Chaudhary have failed to cash in on the legacy of their forbear Charan Singh in western Uttar Pradesh. It's a do-or-die situation for Chautala; in his last regime, hundreds of statues of Devi Lal were erec­ted in nearly every town, some of them not really very pleasing aesthetically. The name of Devi Lal is invoked at every INLD rally and an appeal is made to voters in his name.
"Haryana has always been ruled by the party that's in power at the Centre. So now, it's the BJP's turn to be in power in Haryana."


Amit Shah, BJP president
Both the Congress and the INLD hope that Modi remains a weak influence this time. (In the Lok Sabha elections, the BJP had swept seven out of ten seats.) If this voting pattern is repeated in the upcoming elections, BJP could end up winning 50 assembly seats out of 90. But that's unlikely, says Hooda. "The prime minister is not the BJP's chief ministerial candidate for Har­yana." But Congress cadres are also quite unhappy that Rahul is not doing enough to boost the campaign.
In Kurukshetra, the BJP has its office at an old cinema hall. People are seen running around, organising things. The atmosphere is upbeat; the prime minister's rally has proved to be a big morale booster. The BJP had been dismissed by opponents as "an urban phenomenon" with virtually no functional cadre base in the hinterland. But it is trying its best to reassert itself on the Hindutva plank and mobilise support on communal lines.
One of the messages BJP workers try to spread is that Kurukshetra will be made a hub of religious tourism, like Vaishno Devi. They harp on the town being the place where Lord Krishna expounded the philosophy of karma to Arjun. Baba Ramdev, too, has been lending his voice: there are hoardings of him imploring voters to come out and vote in large numbers—though not for any particular party. The BJP calculates that first-time voters, not part of votebanks yet, would vote for it.

Big hope A BJP rally in Haryana
But it cannot be said that Modi hasn't caused politicians from the INLD and Congress some anxiety. For party workers across lines are on the lookout for jobs or government contracts; they are sold on tourism. "In Calcutta, no one knows where Haryana is," says Brijesh Chaudhary, a contractor who supports the INLD but thinks the BJP idea of promoting tourism will be good for the state.
"Even if Modi goes to canvass in all 90 constituencies of the state, the BJP is not going to win this assembly election."


Om Prakash Chautala, INLD president
Garhi Sampla Kiloi, the home constituency of Hooda, is deserted as early as eight in the evening. Some elders are enjoying a hookah and talking politics. Umed Singh Hooda, the sarpanch of the village, is confident that Hooda will win. Ramphal, an advocate and independent candidate, says he will anyway cast a vote for Hooda. He adds that Hooda would win in the constituency, but the Congress would end up losing, and it is Chautala who would become the chief minister. He is shouted down.
Hooda himself is optimistic. He says Chautala has been convicted and isn't even contesting, and that the BJP does not have a chief ministerial candidate. His strategist Shiv Bhattia says the Jat vote will be for a reliable leader—and no one fits that bill except Hooda. Of the DLF-Vadra affair, he says, "The government had nothing to do with it—it was a deal between private parties."
There's an element of fun too: Congress and INLD workers refer to Modi and his confidant Amit Shah as safed dadhiwala and kali dadhiwala respectively. At a Chautala rally, there are many college students and dropouts, the males dressed in jeans and T-shirts or other casual attire. One of them says the wave is with Chautala and the secret is to keep the momentum going. How? Undercover canvassing. It apparently starts 48 hours before voting, soon after official canvassing ends. Gifts are given, threats are held out. "We're not the only ones doing it," he says. What of Modi? "He's good for India, but bad for Haryana."
***
Election Line-Up A SWOT Analysis
Congress
Strengths: Slew of development schemes, urbanisation, high land acquisition rates, better law & order record
Weaknesses: Anti-incumbency, dubious land deals, infighting, desertions, Rohtak-centric development
Opportunities: Chautalas in jail; Hooda still tallest Jat leader and BJP not having leader with state-wide appeal
Threats: The Modi blitzkrieg threatens an INLD- or BJP-led coalition
INLD
Strengths: The main opposition, seen as frontrunner, drawing impressive crowds, sympathy factor, legacy of Devi Lal
Weaknesses: Chautala nearly 80; party has little to offer in policies
Opportunities: Strong anti-incumbency, Jats wavering in support for Hooda, appeal among non-BJP voters
Threats: Modi's seductive campaign telling voters that he'll be able to deliver only if BJP wins in state
BJP
Strengths: Having bagged 7 out of 10 Lok Sabha seats in 2014, hopes for comfortable majority
Weaknesses: Weak cadre base, poor rural penetration; No tall leader from the state barring Sushma Swaraj; no CM candidate.
Opportunities: Consolidating the spectacular gains of the Lok Sabha, luring voters with promise of better Centre-state coordination and new initiatives for job generation
Threats: Rivals project it as party of traders and as anti-farmer
Based on inputs from Nikhil Wagle, political analyst and veteran journalist
***
Modispeak, Nonstop
"Mujhe paas-paas wali sarkar nahin, saath-saath wali sarkar chahiye."
"When the Centre & states work toget–her, 1+1 will not make two but 11."
"If there is one obstacle—say a government of another party—I will not be able to do much for Haryana."
"Haryana has been ruled by five families that have furthered only their interests."
"Our opponents are all involved in scams. I want to create a skilled Haryana."
---
By Mihir Srivastava in Kurukshetra