It was an Id gift. A spanking new Suzuki GSX R1000 from cricketer Mohammed Azharuddin to his 19-year-old son Ayazuddin. The youngster couldn't resist revving it up. On 11/9, Sunday morning, he slipped out of the house with the unregistered bike along with cousin Ajmal. He sent his older brother Asaduddin an SMS at 7.30 am, saying he was racing on Hyderabad's swank but notorious Outer Ring Road on which bikes are not allowed. A worried Asaduddin replied right away, asking him to get back immediately but it was too late. About a couple of hours later, Ajmal was dead and Ayaz hung on to life on a ventilator in Apollo Hospital. Ayaz, a league cricketer, was scheduled to play a club match on Monday. He skipped cricket practice to go racing on the ORR.
He's not alone. There have been 32 accidents on the ORR stretch this year, 11 of them involving superbikes. Manish Kumar Sinha, DCP Madhapur, says in all possibility Ayaz had taken his bike out for a test ride, and that the accident took place near a toll-gate where the road's contour changes. The Hyderabad Metropolitan Development Authority seems to have forgotten the security aspect on the ORR altogether. There are 15 entry points on the busy Shamshabad-Gachibowli stretch of the highway leading to the airport, with not one speed check.

Azharuddin with son Ayazuddin
In fast-growing Hyderabad, superbikes are an epitome of cool, the ultimate must-have for the young arriviste. Ayaz's wasn't the first bike accident involving a celebrity son. In June 2010, actor Kota Srinivasa Rao's son Kota Prasad, riding a Honda CBR 1000 RR, was killed in an accident on the ORR. Other Telugu stars share a passion for fast bikes. Superstar Nagarjuna is a collector—his son Naga Chaitanya owns a Yamaha R1 and a Harley Nightrod Special. ntr Jr too owns a Nightrod Special and a Hayabusa. Designed to touch speeds of 300 km an hour and weighing around 200-250 kg, these machines are the latest playthings of Hyderabad's rich boys, feeding an obsession with speed that often forces the unthinking enthusiast to cough up a toll in blood—but the repeated cautionary tales are almost always ignored.
So how does it work? How are these races arranged? How do they dodge the police? We tracked down a few who obviously didn't want to be named. Ranjith (name changed), a superbike enthusiast and dealer, says illegal racing on the ORR is a common, weekly practice. "Every Sunday morning, bikers congregate for races. Word gets around through Orkut, Facebook and bbm through coded messages. Anyone who buys a sports bike is automatically added to the group." When he was a regular two years ago, a biker's average age was 23. "Now they start at 17-18. Earlier, we started with a 400 cc, graduated to a 600 cc and then a 1,000 cc. Now kids start with a 1,000 cc as they are in a hurry," says Ranjith.
Moreover, friendly bets are placed on beating past 'records'. In the present incident, Ayaz's cousin Ajmal had invited a friend along. "Let's break our record of 220 km tomorrow," he is said to have gushed excitedly. The friend was unable to join in. People in the know say there are at least 150-200 superbikes in the city. While normally 1,000 cc bikes cost around Rs 10-15 lakh, those smuggled in from Maharashtra are worth Rs 5-8 lakh—the preferred choice of many illegal racers. Phani Kumar, a former racing enthusiast, says races are popular on weekends. Many perform stunts. "Many youths who race come out at 2.30 am and hit speeds of up to 250 km/hr. These youngsters come from rich families but some are mechanics from the old city. A group of 40 racers gathers at an agreed location after a recce. In fact, they know more about police movement than the police know about them," says Kumar.

Ayazuddin's damaged bike
The police say it's impossible to patrol the entire 160 km stretch of the ORR all night. The bikes shouldn't be sold to teenagers in the first place, says Hyderabad additional commissioner, traffic, C.V. Anand. "Motorbike showroom owners are supposed to check the credentials of buyers, but seldom do," he says. Besides, many of the seized bikes show they are made from smuggled assembled parts, or are unregistered. "These bikes are for racing, not for riding to college. Bike races need slope, smoothness of track, side walls, biker gear, and a lot of training. You can't just climb on to a 1000 cc bike and zoom off. How many kids on a superbike know that brakes can't be applied when going at 200 km/hour," asks Anand. Drunk on speed, safety is the last thing on a biker's mind. "Bikers don't even wear helmets because their faces have to be on display. Otherwise how will people know this guy owns a superbike," Ranjith says. Azhar's son Ayaz was wearing an ARAI-certified air-conditioned helmet that costs Rs 16,000, which experts say was the only reason he did not meet with the same fate as his cousin.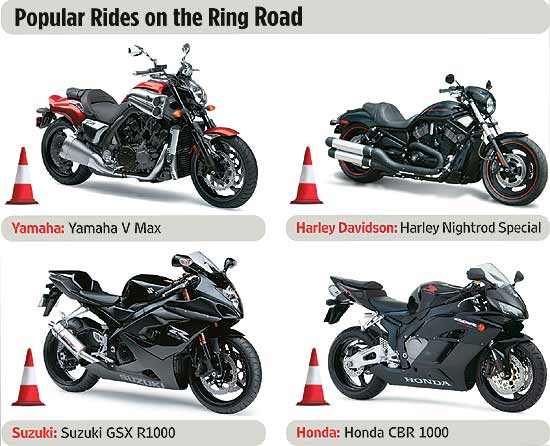 The genuine biking fraternity here is deeply disturbed after high-profile accidents, says Venkat Rao, president of the Speedway Motor Sports Association. Rao organises quarter-mile drag races—in which two bikers race their machines over a short distance in a controlled area—in Hyderabad, and bikers come in from Mumbai and Bangalore. He has organised a couple of races on the Outer Ring Road with prior permission and says it is one of the best roads in the world. Then what explains the accidents on it? "Bikers don't know how to control speed," says Rao. "Ayaz, for instance, was simply too young for the vehicle. He just did not know what speed is. When a 1000 cc superbike is revved up properly, a weak person's heart can stop. That is the kind of power it wields. When we don't know how to use superbikes, they can take lives." Rao says the most popular superbikes are Harley Davidson, Suzuki and Honda. Pillion riders are not allowed in drag races. Rao says a pillion rider without a helmet can cause whiplash, leading to a fatal lapse of balance. This might be a reason why Ayaz crashed.
Will this high-profile accident put an end to illegal bike races in Hyderabad? "It won't cause a blip," predicts Phani Kumar. After this incident, there won't be racing for some weeks. As the shock wears off, the lust for speed will reclaim its worshippers, young men who exult in the inherent, glamorous, danger of it all, one that occasionally spills blood.