Of late, the big question doing the rounds in Bharatiya Janata Party (BJP) circles in Lucknow is whether Narendra Modi will use the Uttar Pradesh capital as his national launchpad. The Gujarat CM, to the bemusement of political parties and people of secular outlook, has been seeing a degree of success in projecting himself beyond his state, a recent appearance at a Delhi college being an example. Media attention to invitations abroad—even their revocation—has only served to bulk that projection. So Uttar Pradesh's two main parties, the BSP and the ruling Samajwadi Party, both of staunch secular avowal, are equally pondering the Modi-in-Lucknow question.
But why Lucknow and why the talk of Lucknow now? "After all, Lucknow has been one of India's key constituencies, not only because it is the capital of the country's most populous state, but also because it was Atal Behari Vajpayee's winning turf—he won the seat five times in succession from 1991 to 2004," says state BJP chief Laxmi Shankar Bajpai. The second part of the question is best answered by senior BJP leader Lalji Tandon, who contested from Lucknow after Vajpayee's long innings. "Well, I think the idea came into circulation at my own press conference, when a rep­orter asked me if Modi was seeking Lucknow as his next constituency," says Tandon. "I had replied, 'I'd only be too glad to offer this seat to Shri Modi, but so far there is no indication to that effect, either from Modiji or from the party leadership.'" Like Tandon, many top leaders are ready to swear by Modi and are more than willing to exhibit their dedication to someone whose star seems in the ascendant, should he seek to contest from Lucknow. But no one is sure if Modi, or the party, is seriously considering the Lucknow option. A BJP leader who was witness to a brief interaction between Tandon and Modi during a recent party meeting in Delhi says, "Tandonji reminded Modiji of his invitation to bat from Lucknow, but Modiji merely smiled and replied that he had read about it in the media. There's been no talk on that at the party level."
For Modi and the party, fielding him from the Uttar Pradesh capital in 2014 might indeed be a worthy, if not risk-free, gambit. The surprise element of jumping right in the middle of his opponents' formation—in the heart of India's cow belt—suits Modi's maverick style. There lingers the possibility of slow-mer­ging his image with the Vajpayee image, which would work to his advantage. And the polarisation bound to follow could help the BJP's fortunes. From its peak during 1996-98, when the BJP had 50-plus MPs from Uttar Pradesh, it now stands at fewer than 20. The party can look to better itself with Modi's foray, and its fortunes at the state level could also revive. Aga­inst all that, weighing heavy, is the possibility of shame-faced departure in failure.
As a top BJP leader from Delhi told Outlook, "Should Modi plunge into Lucknow, it's bound to lead to a sharp communal divide, compelling all other parties to join hands to defeat the BJP. And Lucknow has a 30-35 per cent Muslim vote, polarisation of which could pose a threat to Modi. He wouldn't want to take the slightest risk."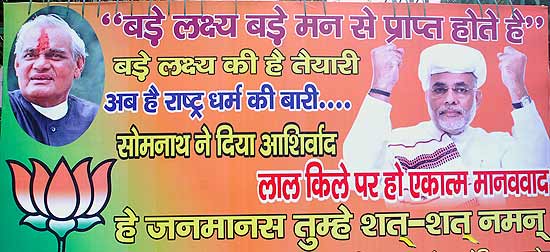 The building-up of Modi as a national figure: a BJP poster in Lucknow proclaims him a humanist and people's man.

On the ground, however, reactions run contrary to the common perception about a total vertical divide: a straw-poll sampling shows not every Hindu is a Modi fan nor every Muslim a Modi-hater. R.K. Agrawal, 56, a bank official and trade union leader, says, "I can't think of voting for Modi or hailing him as the prime minister. He'll create multiple post-Godhras all over the country. There are 18 crore Muslims in India, and you can't run this country by the means Modi adopted against the minorities in Gujarat." And Dr Anil Kumar, a paediatrician, says, "Modi doesn't deserve Lucknow, known for its Ganga-Jamni tehzeeb. After all, he's an intolerant tyrant. He may have survived the law and may have earned the reputation of a tough administrator, but so had Indira Gandhi. She wasn't pardoned for her Emergency excesses. People like Modi are not meant for free democracies." Some, like Yashesh Pandey, an architect, think Modi is overrated, and that the wonder stories of Gujarat's development boil down to just a few concrete examples.
As might be expected, Modi does have a few Muslim supporters. "I'd only be too glad to vote for Modi and to see him as prime minister would be as much a matter of pride. He has been unnecessarily defamed because of one Gujarat 2002, which has been blown out of proportion. In any case, you have to forgive and forget. Time has been a great healer, and today, nearly 70 per cent of Muslims in Gujarat are with Modi. There has been no communal violence in Gujarat after 2002, but Uttar Pradesh has seen a dozen communal riots in 12 months of SP rule," says Khurshid Agha, 60, an advocate. "You can't ignore Modi's honesty and integrity, which his critics cannot match." Similarly, Zia Rahman, 34, also an advocate, says, "I see nothing wrong for a Muslim to be supporting Modi. After all, Gujarat 2002 wasn't the only communal riot in the country. But the Congress and its stooges have made it a habit of targeting Modi, because they see him as a threat to their yuvaraj."
There are, of course, many Muslims who want nothing to do with him. "Modi was directly responsible for patronising the rioters who killed Muslims in Gujarat, so where's the question of all­owing such a man to occupy the highest chair of the country!" says Yunus Siddiqui, 50, an entrepreneur. "As for his overhyped claims of development, investments in Gujarat are also attributable to natural factors, like its long coastline and its ports."
There's no denying, too, that there are many Modi supporters in Lucknow: perhaps his attempts at reinvention as a 'development specialist' and his personal propaganda campaigns have wor­ked; perhaps his critics' blitzes have unwittingly created reactionary support for him. "You cannot name another pol­­i­tician in the country who can match half of Modi's achievements," says Ashok Ganguly, a retired chairman of the CBSE. "Take Gujarat's infrastructure, economy and law and order. Above all, he is a man of high integrity, which is now a rare commodity in Indian politics. He is also suited for the country's top job because of his age—just appropriate, neither too old, nor too young."
To them, Modi's abilities as administrator and deliveryman of development seem to matter most. "The only aberration is the riots under his watch. But the courts are there. In any case, he has got clearance from some courts." But the big question is whether such cluster-support will coalesce into a victory. Modi may not risk a fall, after all.
---
By Sharat Pradhan in Lucknow