One bull in a china shop is bad enough, but two is a recipe for disaster, quipped a wag this week as Delhi chief minister Arvind Kejriwal called Prime Minister Narendra Modi a "coward and a psychopath" and followed it up with a frontal attack on his Union finance minister and the Delhi & District Cricket Association (DDCA) at whose helm Arun Jaitley was till he resigned in December 2013. The instigation, of course, had been the CBI raid on Kej­ri­wal's principal secretary Rajendra Kumar, ostensibly for a corruption case.
Having reached a breaking point, a point of no return, it is difficult to see how the Centre and the Delhi government can return to a normal, working relationship. With both the BJP and the AAP having won massive popular mandates, ideally their governments should complete their five-year terms. But with the BJP hell-bent on hobbling the working of the AAP government at every step, could it be that the central government is, slowly but surely, building up a case to dismiss the state government on grounds of a constitutional breakdown? Was the CBI's fishing expedition then a test of Kejriwal's patience, and did he oblige with his inte­mperate remarks and finger-wagging?
His supporters and officials, however, claim that Kejriwal's wasn't a sudden outburst; it had been building up for the past several months. "This is an undeclared case of Emergency as the CM was given no prior notice," says AAP spokesperson Deepak Bajpai. Kejri­wal himself said that he was the target of the CBI posse and Kumar just the excuse. The case against the offi­cer was a seven-year-old one, the real purpose was to scrutinise files related to the DDCA, claims AAP.
The leak by the CBI that the officer had also violated excise rules by storing 14 whisky bottles at home provided the only comic relief in the unfolding high-voltage drama. "Every second bureau­crat in New Delhi would have as many bottles or more in December," says a reti­red bureaucrat.
None barring the faithful bought the statement of BJP leaders like Ven­kaiah Naidu that CBI was no longer a caged parrot but a free bird. The central agency would scarcely have ven­tured into the CM's secretariat without a green signal from the political masters. In the highly centralised admi­nistra­tion that Narendra Modi is running, there is no way the PMO would not have been consulted bef­ore the CBI embarked on its 'adventure of the year'.

Stern Stuff Kejriwal addresses media after raid
Arvind Kejriwal has been a slap in the BJP face ever since his 67-3 win in Delhi at the beginning of this year. "If he is an anarchist, he should go to the jungle and join Naxalites," PM Modi had taunted then. They seemed to have regained their civility and poise once Kejriwal was sworn in as CM, whether it was on the Raising Day of the Delhi Police a few days later or at the rece­ption hosted by Delhi police commissioner B.S. Bassi where Modi apparently even recommended a Bangalore doctor for Kejriwal to see for his chronic cough.
But the facade was dropped soon after, with AAP finding itself in a constant tussle with Lt General Najeeb Jung—over appoin­tment of bureaucrats and other jurisdiction issues—and the Delhi Police, which comes under the Union home ministry. It is, in fact, Jung appointee M.K. Meena whose Anti-Corr­uption Branch (ACB) lod­ged a case against bur­eaucrat Che­tan Sanghi (who headed the three-member committee which submitted its report on the DDCA) rela­ting to his acts of omission and commission under the Sheila Dixit government. "The ACB under Meena is only registering cases against officers who are trying to dig out corruption in the DDCA," says Bajpai. Bassi, on his part, has challenged the CM to a public debate on the per­formance of his force.
Kejriwal's scoring in the perception game des­pite all this also makes him a constant thorn in the BJP flesh. Whether it's his quick latching on to the demolition in Shakur Basti or his bid to tackle pollution in the city with his dramatic odd-even cars proposal, he continues to be seen as a man who wants to do something, even if they disagree with his victim complex and theatrical style of politics.
It has, in fact, been imposs­ible for political repor­ters to secondguess what the PMO has in mind for Kejriwal and AAP. Delhi government ministers and officials alike claim that whenever they meet Union ministers, the latter are cordiality personified. But whenever the Delhi government seeks any indulgence or a favour, more often than not, they are rebuffed.
For instance, Kejriwal himself is said to have approa­ched Union home minister Rajnath Singh to prevent the transfer of some offi­cers because the state was making steady progress in collecting commercial taxes. "The CM personally met the home minister and made the request," claims an insider, "but within a month the Centre went ahead and transferred the officers." It is not the MHA but the PMO that would have turned down the CM's request, he points out.
Citing yet another instance, he points out how the PMO has been sitting over the CM's request for lending the services of Indian Forest Service officer Sanjeev Chaturvedi, the former Chief Vigilance Officer at AIIMS and a Magsaysay awardee. While Kejriwal had put in the request to the Government of India in February itself, no decision has been taken in the last 10 months. The Central Adminis­trative Tribunal (CAT) this week ordered the central government to take a decision on the matter by January 5. But Delhi government sources say they expect the PMO to take no heed of the order.
"We have not been allowed to have offi­cers of our choice at all. Every time we have asked for specific people, they have ensured we don't get them to form a strong enough team," says Ashish Talwar, political advisor to Kejriwal. Delhi, he points out, is particularly susceptible to influence from the Centre and there is little the Delhi government can do without the cooperation of the Centre, specially in matters related to the home and urban development ministries.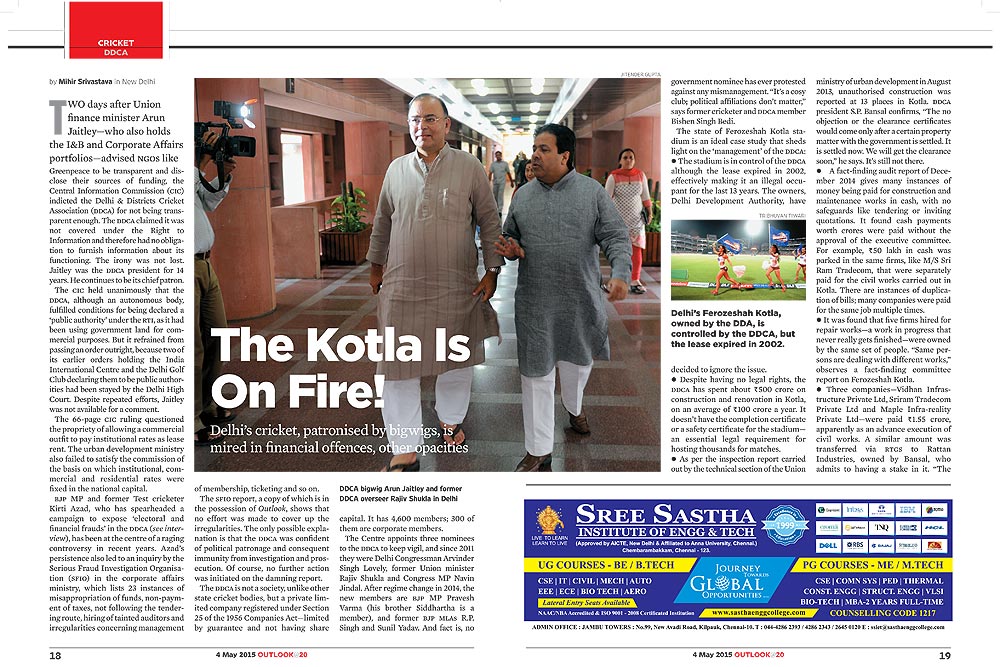 On their part, AAP insiders say they are under instruction to behave responsibly and work in close coope­ration with the NDA government at the Centre. "We have been cooperating with the MCD and with the government on its Swachh Bharat campaign; even on the issue of regulating traffic, the odd-even formula was finalised only after Delhi Government officials met Union ministers Nitin Gadkari and Venkaiah Naidu and obtained their approval," says an official.
"On November 23, there was a high court order that the jhuggis in Paschim Vihar ought to be cleared. We cleared the area and rehabilitated everybody in Nangloi. We did not even seek any publicity though no past government had ever handled an operation like this so efficiently," complains an AAP volunteer.
Even on implementing the odd-even scheme for private cars on alternate days, both Kejriwal and his deputy Manish Sisodia seemed to be striving extra hard to work with the Centre. Sisodia, in fact, thanked the Delhi Police for attending meetings called to finalise plans. But just when the icy relationship seemed to be thawing came this CBI raid.
The opposition and Kejriwal see it as a signal for bureaucrats and politicians to fall in line. If the CBI could do this to AAP's majority government in New Delhi, and that too when Parliament is in session, every CM of an opposition-ruled state would legitimately feel threatened. Mam­ata Banerjee condemned the raids in Ben­gal, while Congress—whose leaders Sonia and Rahul Gandhi are caught in the Natio­nal Herald controversy—made common cause with AAP on investigation into Jait­ley's role at DDCA. Central agencies have helped harden the perception of a political witch-hunt, whether it's against Karti, son of former finance minister P. Chidambaram, the Marans, Mamata Banerjee's ministers, Teesta Setalvad or Greenpeace.
The officer may or may not be corrupt, points out AAP, but since the CBI itself holds that the inquiry pertained to a per­iod seven years ago, why could it not have taken Kejriwal into confidence? While the CBI effectively stopped Kejriwal and his officials from reaching his office floor, it took away recent files which seemed to have no relation with the charges against the officer. Something the CM was quick to take advantage of as he tweeted the seizure list given by the CBI, sarcastically asking what the agency was fishing for.
Delhi government sources claim that the CBI has taken away a file-movement register with records of file movement bet­ween September and December this year. "If the investigation was about Rajendra Kumar, why would they take files pertaining to the DDCA, Lokpal and the ACB? They have nothing to do with the complaint the CBI is allegedly pursuing."
Initially, Kejriwal's tweet provoked amusement, with people wondering if the chief minister knew what 'psycopath' meant or indeed if he knew how to spell the word. But as BJP leaders quickly searched for the meaning themselves and discovered that psychiatrists describe psychopaths as people suffering from "anti-social behaviour disorder" often with criminal intent, they saw red and demanded an apology. By evening, Kejriwal ceded some ground and acknowledged that as he was a 'rustic' from Haryana, his words may not have been app­ropriate. But the PM's deeds, he insisted, were far worse. "Let the PM apologise for his deeds and I will apologise for my words," he offered, still defiant.
The high drama, say people close to Kejriwal, has left him charged. "The more they attack him, the stronger he will emerge. They have started the fire and if they want to escalate it, it will boomerang on them," says an AAP faithful.
Many think it could boomerang on AAP as well, especially if the charges against Kumar do prove to be true. There are others who wonder about AAP's eagerness to dig up dirt on Jaitley, just ahead of the Union budget? The air is thick with rumours.
DDCA, significantly, is a Section 25 company, just like the currently-in-controversy Associated Journals Ltd (AJL) and Young Indian Ltd (YIL). A non-profit company, DDCA's day-to-day working, claims BJP, was not supervised by Jaitley. In any case, they say, the Serious Fraud Investigating Organisation (SFIO) had given him a clean chit during the tenure of the previous UPA government.
Even AAP insiders confide in private conversations that it would be difficult, if not impossible, to pin Jaitley down and make him accountable for every petty irre­gularity that took place in the DDCA. All Jaitley had to do was be patient and wait for the findings of the commission of inquiry, and things need not have gone so out of hand, they say. But AAP has drawn blood, and injury to image is accomplished to a degree. And AAP, as a political creature, is maturing—as it is, it thrives on controversies and revels in skirmishes. It is hardly likely to back off from what promises to be a battle royale. Already gearing up to contest the assembly election in Punjab, the utterly unpredictable political outfit can be trusted to do what people least expect them to do. What will it be?
***
Action, Reaction
How the continuing tug of war is playing havoc in Delhi
Lt Gov Najeeb Jung
A UPA appointee, has been sparring with Arvind Kejriwal on whose writ runs in Delhi, which does not enjoy full statehood
B.S. Bassi
When Kejriwal said his govt was thinking of raising its own police force, Bassi, whose force falls under MHA, called for debate
Railways
A toddler dies in melee around the demolition of unauthorised colony. Kejriwal claims neither he nor his office knew.
CBI
Raids on his principal secretary's office by the "uncaged tiger" leads Kejriwal to dub Narendra Modi a "coward" and "psychopath"
Jaitley
After the FM claims in Parliament that the CBI raid had nothing to do with AAP govt, Kejriwal alleges the sleuths were looking for DDCA papers
What Next?
BJP
AAP

---

BJP's inability to stomach its crushing defeat to AAP stands underlined
Raid on CM's office unites Opposition in Parliament after Bihar debacle
Charges against Arun Jaitley cast shadow over FM ahead of budget
Narendra Modi's claim of providing non-partisan, corruption-free governance will stand tested

Delhi electorate, hoping for change, are tiring of Kejriwal's all-or-nothing theatrics
The CBI raid and the Jaitley case have given a handle to AAP ahead of Punjab elections
Kejriwal's confrontational strategy can seriously rebound on policies he needs Centre's support for