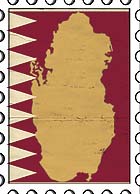 Growing, glowing
On a recent visit to Qatar, I realised how the country has evolved over the years to make its mark as a developed nation. With its profuse oil reserves, Qatar is one of the richest sovereign Arab countries. It's among the 25 richest countries of the world, has been declared a high-income economy by the World Bank, and shows the most promising human development indices among Arab nations. But what marks Qatar out is that its affluence and progress is not weighed down by war, internal conflict, anarchy, communal riots or terrorism. Although the population is mostly of expats, Qatar continues to progress exponentially—and it has managed to ensure that this has not affected peace adversely. Unlike other troubled and war-dogged Islamic nations, Qatar is ranked 15th on the list of most peaceful countries in the world. (One might note that India, in contrast, doesn't figure even among the top 100.) Women amble alone by night without worry, the crime rate is considerably low, and breaking traffic rules invites harsh punishment.
Despite such strict enforcement, strolling down the lanes, trying to get a glimpse of the soul of Qatar, I never got the ominous sense of being watched over or controlled by invisible forces. Rather, I gathered that this is a nation at peace with itself and other countries. Also, that this is a country that's comfortable in its skin. Qatar does not even flaunt its progress and abundance; there's a unique composure that puts visitors and those living here completely at ease, all the while concentrating on constructive growth.
---
Alive and kicking
Qatar has chosen to demonstrate its capabilities largely through actions. Pushing the limits, it has bagged hosting rights for the 2022 FIFA World Cup. I doubt if hosting any other event would have drawn the world's attention to this tiny, beautiful country the way the football tournament would. In this way, Qatar intends to show the world exactly what it's capable of, meeting and going beyond the yardsticks laid down by the international football federation. Among the differences already to be seen are the metro rails cleaving the city of Doha and creating surreal visuals in the desert landscape. It made me wonder when India, Pakistan or Bangladesh will be able to host an event as massive as the FIFA World Cup. Of course, to be sure, Qatar had to try hard to make its bid stick. But despite several controversies, it has become the first Arab nation to get the chance.
The country has also not lagged in building up its own football team: more than four lakh aspirants, from across Africa, were tested and interviewed. Thirty made the cut. They are now being trained to give their best as the home team.
---
Oiling our dreams
I was astonished by the striking transformation of Doha, with its stunning landscapes and streets running like the buzzing veins of Qatar. Over the next few years, hundreds of skyscrapers will come up, a metro, a new, world-class airport and much more. The rapidity of Qatar's growth parallels that of Dubai or Abu Dhabi. Qatar has adopted the most advanced technologies to reclaim land from the seas and build settlements. Parks are coming up, libraries, museums, hospitals, art galleries, cultural academies.... Qatar's exemplary growth in less than a decade could perhaps be a practical model for India. The honest efforts of Qatar in being its best left me wondering how the energy of a diverse nation like India could be channelled into creating success. One day, perhaps....
---
Biding time
While going from Bahrain to Bangalore, I posted a query on a travel advice forum, saying I'd have six hours transit time at Hamad International Airport, Doha, and asked for suggestions on how I could spend the time and also for information on access to paid lounges, getting some rest and so on. Within minutes, someone from Uganda wrote me that he'd been there for 13 hours once and didn't use any of the lounges—even so, time just flew by, for there were quiet family rooms where you can sleep, affordable restaurants, lots of duty-free shops, three fabulous bookshops, Macs all around and free wi-fi to keep your mobile devices active. He said it was a fascinating place. Believe me, he was right. I felt I should have had a couple of hours more to explore some of the shops in the airport, which is spread over 9,000 acres (3,600 ha) and can handle 75 million passengers per year. The airport hotel is designed to meet the needs of global and regional travellers. If your flight is delayed at Doha for some reason, you should consider yourself lucky.
---
Winning touch
There were rumours that FIFA awarded Qatar the right to host the World Cup after some kickbacks. I wonder if, for another donation, they might also tell us who they have arranged to win.
---
Bangalore-based Vishweshwar Bhat is the editor-in-chief of Kannada Prabha and Suvarna News; E-mail your diarist: vbhat [AT] me [DOT] com