Problems With PPPs
Given the PPP rush, little thoughtgenerally is given to project design and viability. Result: many projects have failed to take off, or run into opposition.
Total lack of transparency—even after the deal has been signed. In many cases, terms and conditions have been changed to suit private developer without any review.
Shift from build-operate-transfer to design-build-finance-operate-transfer has led to contractors raising 100% project finance via debt. End-users foot the bill.
To get the projects, contractors are known to offer unsustainable bids, affecting the viability of operations—making demand for tariff review inevitable
Social sector PPPs face an inherent risk of services becoming costlier and not reaching the poor. It is difficult to hold the private sector accountable.
Lack of an independent regulator to monitor, evaluate and review projects remains a major drawback. So, public assets are transferred without proper evaluation.
***
Ask any mid-level government official in any department what is the last PPT (short for that ubiquitous tool, PowerPoint presentation) they have seen, and it's more than likely it'll have something to do with one or the other PPP or public-private partnership project. It's become almost the default mode for bureaucrats, says an experienced infrastructure consultant, who worries how unquestioning people in government have become to PPPs, increasingly advanced as a one-stop mantra for India's infrastructure needs. "Basic queries—like why go in for one—get an almost bewildered and reflexive response: why not?" says the consultant.
It's not surprising the acronym—which trips off the tongue easily, with the promise of private expertise and capital working for the public good—has become the most-touted one today. Especially since the prime minister himself adds to the growing clamour for PPPs. In June, Manmohan Singh told the nation that considering that infrastructure needs over $1 trillion in the next five years, "the government alone cannot invest this amount. Therefore, importance is being given to PPPs." Already they constitute a significant 14.7 per cent of the total project investment in the country, according to Shashikant Hegde of ProjectsToday, which tracks infrastructure projects.
"Till now water/sanitation was something provided by the govt. PPP's limited space can't cover all aspects."
This is only set to grow. The PPP cell of the Union finance ministry, which is monitoring such projects at the central and state level, says their numbers have risen from around 758 in the middle of last year to over 880 currently, with an estimated investment of Rs 5,43,045 crore. From managing and building roads, healthcare services and education institutes; providing potable water supply, sanitation and waste management; operating urban public transport, capacity addition on power units to even running sugar cooperatives—such projects are only growing in ambit. Recently, we have had announcements of Delhi handing over water distribution under various PPP models, and more private sector participation being sought in skill development, education and healthcare.
However, in this haste to fish for private investment, some officials looking after PPPs admit that many new projects are being pushed through without any proper study of the objectives and the cost. "In long-term contracts," states a senior CAG official involved in the audit of infrastructure projects, "the basic monetised value of government assets has to be known. It's not happening in any case." Concerns have therefore been raised that PPPs are the new conduit for rapacious governments or ministries to privatise public assets under the guise of bringing in private expertise.
Sure, there are some successful PPPs—like Belgaum's water supply project, the Kolhapur sanitation project, Nagpur's water and sanitation project, Indore's city buses project or Ahmedabad Janmarg's BRTts project. At the same time, there have been many recent examples that show how PPPs are floundering. Worryingly, in many cases, the end-users—the public—are paying higher user charges. The most recent examples, for instance, are CAG's negative observations about GMR's Delhi airport (more about that later); and the shutdown of the Delhi Metro airport line that has seen both Reliance Infrastructure and DMRC exchanging sharp words—and letters—each accusing the other of negligence and shoddy work. The project has ground to a halt within 16 months.
"To address transparency issues or of the model not working, keep it transparent and audited by the public."
The list goes on and on: the Orissa power distribution project failed to deliver due to a flawed business plan; the Hyderabad waste-to-energy project is being run in a token manner just to keep it going; the water utility Maharashtra Jeevan Pradhikaran (MJP) has cancelled the Latur water supply operations; in Khandwa, Madhya Pradesh, and Mysore, Karnataka, the water supply projects have run into problems due to poor estimation of pipeline infrastructure requirements. "The major problem," says a senior PPP expert, "is that 90 per cent of civic bodies have no idea of their assets. That's why for one success story there are many that are floundering."
What is worrying is the almost blind faith the government has in the public-private vehicle. "Nobody questions whether PPP will be the answer for each project," says Abhijit Bhaumik of Opus Advisory, an infrastructure consultancy. "It may be for some." This brings us to a bigger question: are PPPs delivering on economic and social objectives? Supporters of partnerships brush aside this question, pointing to the wide network of highways and roads built over the last decade. But even within the government, there are many who question the way PPP projects are being pushed at a high cost to the exchequer and the public. Some even support the view that PPP ventures are a privatisation bid by the government as it seeks to withdraw from social commitments that serve the poor, often in inaccessible areas.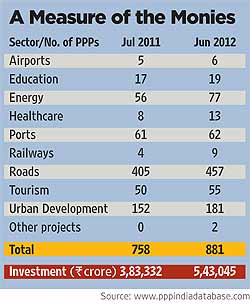 It's easy to dismiss opposition to PPPs as being ideologically driven. Even if CPI(M) leader Tapan K. Sen reiterates the oft-quoted description of PPPs—"Where the investment is by the public and the profits are for the private sector"—it is true that political parties of every hue (including CPI-M) seem to be banking on PPPs to achieve inclusive growth objectives. "Three different governments at the Centre continued with this, so we cannot write it off," says Rajesh Khullar, joint secretary, PPP cell in the finance ministry. "By 13th Plan (period), we plan to move into a gallop." That's why it's crucial to look at the many issues around PPPs:
No Clarity On Terms: Take a recent example, the T-3 terminal of the Delhi airport, developed by the GMR-led DIAL. There is a lot of ambiguity about the terms given to the private developer. While GMR asserts that it went by the book and the government added projects post the contract, there is no doubt that DIAL overstepped boundaries in some areas. In its report on the project, CAG listed out a number of anomalies: the lack of valuation of government assets, the quantity of land given out at nominal rates, and no estimate of the benefit accruing to the public. While it has been argued that partner Airports Authority too benefits from revenues, there are other big concerns. For instance, the government granted an automatic extension of the lease for 30 years after the completion of the first 30 years, with no provision for performance review.
"Too many PPPs have not been negotiated due to lack of clarity on policies. People hesitate to take decisions."
Then, there is the levy of a development fee on flyers, which was later allowed to cover a part of the project cost. According to CAG, 27.32 per cent of the project funding came from the Airport Development Fund (or public money)—as equity and not from the developers. This was clearly out of DIAL's mandate as the operations, management and development agreement did not permit it to do so, but the civil aviation ministry cleared this. DIAL, on the other hand, puts the blame squarely on the government. Says I. Prabhakara Rao, CEO, DIAL, "No change has been made post bidding. We have followed everything that was laid in the contract. But many projects were added later that were not part of the contract and these add up to a significant cost."
At a broader level, no lessons have been learnt from the hullabaloo over the Dabhol power project, which worked to the advantage of Enron during the first phase of operation and led to its shutdown in 2001 when the Maharashtra governments objected to the high power cost. A project can take up to 10 years or more to prove its success or failure. "If the project has to be redone, it is the government which loses," says Professor Ashwin Mahalingam of IIT Madras, based on his study of PPPs in southern states, particularly Tamil Nadu. With the Dabhol project, renamed Ratnagiri, it was finally the government which had to pick up the huge tab for getting it restarted.
Lack Of Regulator: As the government pushes ahead with plans to bring more and more projects and services under the PPP umbrella, experts voice concerns about the lack of transparency on the terms of the contract even after it has been signed and sealed. "There is a need for concession agreements that set the right standards. Lack of independent regulators is a drawback, which hopefully will be addressed soon," says a senior officer closely associated with PPP projects. Indeed, an independent regulator is urgently needed.
Though it is too early to write off many on-ground projects, there are clear signs of troubles ahead—companies bidding for ports and other infrastructure projects promise more than what they can deliver without compromising project viability. The result: tariff increases are sought before efficiencies gain has been demonstrated. Says Hemant Kanoria, managing director, SREI Infrastructure Finance, "Wherever there is aggressive bidding, we have found that concessionaires have overstretched themselves. So some of them are now facing problems."
"Since it had no efficiencies in its own functioning, the govt chose the PPP shortcut. But it should be monitored."
Conflict Of Objectives: PPP models for infrastructure projects will be successful only if the projects are eminently viable and the private investor can reap good returns on his investment. Consider metro projects. "On account of high capital cost and high operational expenditure, metro projects are never financially viable. Hence they will not attract private investment unless attractive sweetnesses are extended in the form of high viability gap funding or lands made available for commercial exploitation," Dr E. Sreedharan, principal advisor, DMRC, wrote in an e-mail to Outlook. This situation has led to many metros—Hyderabad, Mumbai Metro I & II, Ahmedabad, Kochi—facing cost overruns or being delayed indefinitely.
Abhay Kantak, director, Urban Practice, at CRISIL Risk & Infrastructure Solutions Ltd, which has done a detailed study of PPPs in urban infrastructure, calls it "still a new experiment in learning" where the focus should be on utilising private sector expertise. Their study of several projects, particularly in water and sanitation, has revealed that most cities today don't know what the problem is. "So unless they define it, the PPP will not work," says Kantak. Lack of accountability is another major flaw with PPPs, particularly in the social sector where most of the models depend on public assets and resources.
"As of now we are putting the system in place so that every ministry will have a central monitoring unit," says Planning Commission deputy chairman Montek Singh Ahluwalia (see interview). That's needed. In effect, the government push for PPPs in anticipation of private investments is based on flawed logic. Unless the private sector brings in efficiencies, the cost to the government and public will be high. Sadly, the government prefers to put money ahead of clear service goals and expertise. The result is many wrong kinds of projects are selected for PPPs, leading to failure.
---
By Lola Nayar with Arindam Mukherjee