Manav Kaul can't stay still. For the 37-year-old playwright, theatre director, filmmaker and actor, life has been all about drifting from one calling to another. The wandering has not been due to aimlessness, though. It stems from a refusal to get complacent or to be straitjacketed by creative boundaries. So, despite the acclaim for his performance as an embattled security guard in search of a better life in Hansal Mehta's Citylights, he displays no sense of having arrived in showbiz after 14 years of struggle. Instead, he seems impetuous, restive. "I want to do everything I possibly can," he says. "Left or right, I want to take every turn in life."

In fact, the Baramullah-born, Hoshangabad-raised Manav dabbled in "everything" as far back as he can remember. "English, Hindi, typing, judo, tabla. I used to try out just about anything in the hope that at least one of them will open the door that will help me escape Hoshangabad," he recalls. He eventually moved to Bhopal where he became a national level swimming champion. But two-three years of commitment was all that he could give to the sport. "I get bored of things when I am at the top," he says. So he got bored of swimming as well.

Chance took him to a play at Bharat Bhavan, Bhopal, and after watching it, he turned to theatre. In fact, he owes much of his grounding to Alok Chatterjee, a renowned theatre person from Bhopal, who opened Manav's mind to world literature—Chekhov, Dostoevsky, Brecht. But restlessness struck him again and took him all the way from Bhopal to Mumbai. That was in 1999. Living in a chawl with five others, he spent time reading and discovering the modern Hindi writer Vinod Kumar Shukla, his seminal works like Naukar ki Kameez, Deewar Mein Ek Khidki Rehti Thi. He remembers it as his "finest, happiest time". A workshop with late theatre doyen, Satyadev Dubey, a play with him called Inshallah and Manav started off on a long and chequered journey as a theatre actor.

He has been devoted to theatre, but after tasting success in seven or eight plays as an actor, he began feeling uneasy. "I began to wonder if that was what I wanted to do all my life. It was a bad phase, when I left everything and did nothing," he says. The jadedness and his search for something new to do resulted in his first play as a writer, Shakkar Ke Paanch Daane. A monologue, it was performed by his long-time associate and friend Kumud Mishra, and was like a breath of fresh air on the Hindi stage. Illham, Park, Bali aur Shambhu followed. In 2004, Manav formed his own theatre troupe called Aranya. Despite being rooted in theatre Manav admits being influenced more by the written word and films. His play Red Sparrow is an ode to all the writers he has admired. Wong Kar Wai's In the Mood for Love is a personal favourite and the inspiration behind his play on a father-son relationship called Peele Scooterwala Aadmi.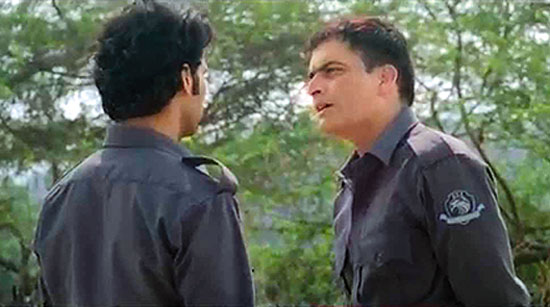 Manav in Citylights
However, the eventual move to movies was dictated by the need to earn money. Though he has been acting in films like Jajantaram Mamantaram, 1971, I Am and Daayen Ya Baayen, it was as a right-wing politician in Kai Po Che that Manav got his big break. "Manav at that time was thoroughly busy in writing and directing. I don't think he was thinking about acting in films. I really don't know how it struck me but I just knew that no one would be able to do that role better than him," recalls casting director Mukesh Chhabra. Manav did the film only because he was broke but came away with a changed perception about Bollywood. "I really enjoyed it. Films have begun to give rightful space to the performers. People can do their own thing," he says. But the decision to not fall into the trap of playing similar characters has meant fewer roles and more than a year's gap between Kai Po Che and Citylights.

Manav admits relishing the role of Vishnu in Citylights. Director Hansal Mehta claims he was an instinctive choice for the role. "I did not audition him unlike other characters in the film. I called him over for a meeting. We had nimbu paani, chatted about Shahid & its lead actor Rajkummar Rao, gossiped and laughed, then decided to work together," he says. "The character was written as a villain," says Manav. But he decided to turn it upside down, improvised and played him like Deepak, the hero of Citylights—as embattled and humiliated as him but with an element of overarching greed. Manav claims that it's Rajkummar, the film's hero, who brought out the best in him. "Rajkummar's eyes are so honest that when you look into them nothing can go wrong with your own performance," he says. Rajkummar returns the compliment: "We both understand the craft in a similar way. His motivations, while performing, are not corrupt which is why our chemistry works. We were both acting for each other."

Apurva Asrani, editor of Citylights, admires Manav's complete involvement with the film. "He's that rare actor who listens on the sets, to other actors' lines as well. He has a childlike enthusiasm, submits fully to the director and becomes like the character," he says. Mehta agrees: "Being a writer, director he interprets subtext and works towards a better film. He is not a selfish actor. He responds to the actors, the environment and the script brilliantly. He surrenders to the director's vision but will argue gently if he believes something can be better. Manav is an intelligent actor and a very charismatic person. Only weakness is that sometimes he can break into uncontrollable laughter."

What's most fascinating, however, is Manav's move to filmmaking in 2012. For a mercurial guy like him launching into film direction (with just a few thousand in his pocket, and without knowing even something like a "giving the clap") was also on sheer whim. "16 of us just went to the hills and began shooting," he recollects about his first film as a director called Hansa. He sums the shoot as "ek naye ascharaya ki talaash". Manav quite clearly likes to live in the moment and seek out new wonders. "The past is dead, right now is who I am," he declares. When he looks back to read his plays he feels as though he hadn't ever written them. "I move on so fast," he says. Even leaving those places behind wherein he had once been rooted. He doesn't want to go back and live in Bhopal or Hoshangabad. Instead the hills of Uttarakhand have now become home. "Since 2006 I have been there more often than to even meet my parents in Indore," he says.

Much is happening in his life at the the moment. His latest play Colour Blind has Kalki Koechlin in it. It has been getting good reviews. He is currently busy reading and researching Hamlet for an adaptation. He will be seen next as the lead in Soumitra Ranade's remake of Albert Pinto Ko Gussa Kyun Aata Hai. "It's a different, humourous take on the Saeed Mirza film and character," he says. Meanwhile, his latest directorial venture, Tathagat, on a monk's obsession with childhood, is stuck at the editing table for lack of money. But that doesn't seem to deter him. "It will happen when it has to happen, every film has its own journey," he says. But there's another ambition tickling Manav: to open a tea shop somewhere in the Uttarakhand hills—with a library attached.
---
A shorter, edited version of this appears in print