By Sorit
15, 000 The cost, in rupees, of covering one of Mayawati's larger-than-life statues, as per EC diktat. The elephant busts (the BSP symbol) come cheaper at Rs 1,500. Cost of 'veiling' all the disputed statues—an estimated Rs 1 crore.
---
"Kushwaha is a means to reach Mayawati's jugular. He'll provide us vital clues on how to nail her."
—Vinay Katiyar, BJP vice-president,
The BJP leader explains that his plan that backfired
—taking the tainted BSP minister in—
was actually a set-a-thief-to-catch-a-thief tactic

"He's back, with a win and a bang"
—Captain Amarinder Singh's slogan
---
Congress Prospects: According To The Pundits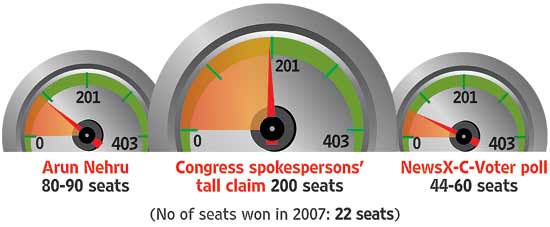 ---
Goa

It's All Gas
Sops promised to Goa voters by BJP leader and ex-CM Manohar Parikkar has a familial lilt to it: affordable housing for government employees, cut in petrol prices by Rs 12, LPG cylinders at lower costs and a special monthly grant of Rs 1,000 to the state's housewives.
---
Punjab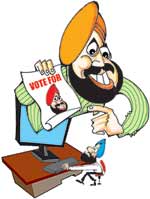 Click 'n Vote
Online campaigning has seen an immense jump in popularity this poll season in Punjab. Leading the pack is Manpreet Singh Badal's fledgling People's Party of Punjab with its version of Kolaveri di. "Sadde dil vich bas gayi PPP (PPP has won our hearts)" is the popular refrain. Badal's version of Kolaveri, part of which Manpreet has sung himself, has got more than 15,000 hits on YouTube and the party claims to have a fan base of 70,000 on Facebook. And it's not just him. Backroom cyber warriors of all parties are working constantly to upload the latest videos, songs and news items on their sites. Jeet and Jaggi, the two cartoon characters from the Congress campaign, have also become a hit on the Net, particularly on Facebook. In one of them, Jeeta asks, "Punjab di tarakki kyun ho rahi hai late?" To which Jaggi retorts, "Kyonki sarkar ne fix kar ditte bhrashtachar de rate." Guess the Net run rate is going to count for something now.
---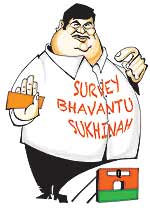 Delhi
Survey Subs
The buzzword at the BJP HQ on Delhi's Ashoka Road is the sanskrit shloka, "Sarvey bhavantu sukhinah (May there be happiness everywhere)." And it's acquired an all new meaning now for ticket-seekers. Every time they approach senior leaders in Delhi to push their case, they're told, "'Survey' bhavantu sukhinah', a nasty aside directed at party president Nitin Gadkari, who refuses to take 'nominations' of other leaders. Instead, he goes by a survey done to identify candidates by Arun Narendranath (who also helped Gadkari with the Bihar polls). Which is where our leaders' 'survey' comes.
---
UP And Punjab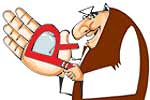 Big Bubble
Now, if you ask Congress spokespersons about its prospects in UP and Punjab, they paint a very rosy picture. This when the Patiala royal family feud between ex-CM Capt Amarinder Singh and brother in Punjab is just hotting up. But the bubble may well be stretching itself too thin. There is already talk in sections of the party and the media that they may not do as well as projected. Will the crowds Rahul Gandhi is attracting in UP translate to votes? The tie-up with Ajit Singh's RLD seems to be the only real silver lining.
---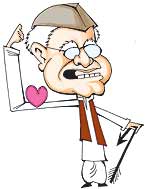 Uttarakhand
The Old Fox
At 87, veteran Congress leader N.D. Tiwari is still a wily operator, still managing to wrangle his way on party decisions in the Uttarakhand polls. For those who thought the governor house sex scandal and paternity case controversies had finally flat-decked him there's news—he's arm-twisted the Congress into allocating three tickets to his own people, including one to his nephew. Earlier, he had tried to cosy up to BJP leaders in Uttarakhand and Delhi, which set off alarm signals in the Congress. In fact, at one point, he even threatened that his Nirantar Vikas Samiti would field candidates in all 70 seats. Soon after, the Congress caved in. The latest is that Tiwari has issued a statement saying he's been a Congressman since Pandit Nehru's time and shall remain one till he dies!
---
Manipur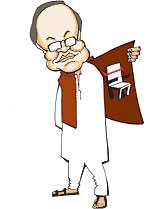 No Woman...
Manipur may have more female voters (8.97 lakh) than male (8.28 lakh) and they may be in the forefront of the anti-Armed Forces Special Powers Act campaign. But it still hasn't translated into better political representation in the state assembly. Of the 60 seats in the outgoing assembly, only one is held by a woman and she, unsurprisingly, happens to be O. Landhoni Devi—wife of the current chief minister, Okram Ibobi Singh.