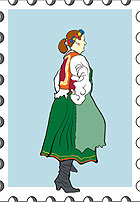 Reigning Women
The May air in War­saw feels so wonderfully naked and untouched by toxic demons that it leaves me breathless. But we are here for the Sixth Congress of Women, not to practise Polish pranayam. The Palace of Culture and Science, Poland's tallest building and a gift from the Soviet Union in 1955, is the venue. Colourful balloons cheer its European hauteur and cheerful women add colour to its Stalinist stoniness. Polish women, though, are neither stony nor haute. They appear focused and friendly, attractive without being painted and gelled, concerned about their rights but not loud. We don't see too many young girls here so the view could be skewed, a fact we (the Indian delegation) ignore for a while to say cheese in our saris and silks to assorted cameras, other delegates and to thin air.
The two-day Congress with participation from across Poland and Europe and addresses by First Lady Anna Komorowska, Warsaw mayor Hanna Gronkiewicz-Waltz and Prime Minister Don­ald Tusk is buoyant with anthems, concerts, powerful speeches. It mainstreams issues of political equ­ality, gender, body, family, sex education, vio­lence and homosexuality with vim and heft but sans caustic labelling. A big difference from the way we braid feminism with lament in India. My take­aways? 1) Equality and freedom are not the same. 2) Pope Francis may be the global media's favourite Catholic celebrity of the moment, but for the Poles, he isn't 'our Pope'. Vatican or the Church of Poland both are right-wing institutions in action and intent and nationalism is diminished to being a right-wing idea. 3) The feminist truth is somewhere between the bitch-with-the-briefcase and the lazy housewife stereotypes, but we refuse to face it, says Jewish writer Agnieszka Graff. 4) And from the Men against Violence session: always tell your friends and family what you believe in. That'll imprint your views even before you voice a revolt.
---
Heartfelt Chopin
The Fryderyk Chopin museum is musically intelligent; you can press a red button green and it will tell you a story, show you a map, play you music. You can slip inside a kiosk and tune in to the pianist's karmic purpose, fondly preserved to help wax or wane your spirits, depending on the emotional notes your nerves can play. I pore over an artistic interpretation of Cho­pin's slender hand and muse over a description of his nocturnes, evocative of his nightly unease. A heart-rending story raises that pitch. In Paris, the ailing Frederic Chopin had directed his eldest sister to dismember his heart after his death and bring it back home. It lives in the heart of Warsaw till date under a Holy Cross on the Krakowskie Przedmiescie Street. A memorial slab quotes the Book of Matthew: 'Where your treasure is, there your heart will be also.' When I see him windswept in musical frenzy as a sculpture at the maddeningly green Lazienki Park or frozen as a landmark in the name of the international airport, it is clear that Chopin's heart will never leave the Polish mind.
---
A Peace of Krakow
The quaint old town of Krakow, unharmed during World War II, is from where day trips take you to Auschwitz-Birkenau, the concentration and death camps built and run by the Nazis. These sites where more than 1.1 million victims of hate crimes, most of them Jews, were sent to horrifying deaths mandate a separate story. Let me gloss over it here and stick to Krakow's bookish oldness. At its main market square, you can stare endlessly at the overwhelming range of wine-hued and green-black amber from the Baltic Sea, including pieces with insects in them. It's a cold, rainy day, making the Jewish quarters so vivid in memory from Schindler's List look dreary. Less than 350 Jews live here now, says our guide, pointing to cosmetic wizard Helena Rubenstein's childhood home, painted pista green.
---
What the Duck
Traditional Polish restaurants reveal how the minds of fairy-tale writers look like from inside. I also have proof that geese, even when wooden, are hopelessly cute, that tulip stems can look painfully beautiful in vases, that when wallpaper, upholstery, paintings, curtains, lamps and table linen have synchronised patterns—strawberries, green apples or wild flowers, when each room of a restaurant has cloyingly pretty decor, you even forget to order the fantastic (Zhurek). The traditional Polish soup made with sour rye bread and country garlic, spiced with pork sausages and boiled eggs, is enjoyably sour and comforting. Roasted duck with cranberry sauce is terrific too but I just eyed the veal chops, salmon, steaks and breaded pork cutlets and the tempting dessert trolleys from far. Being asparagus season, asparagus menus came around like separate wine lists. I stuffed lots of it. What the duck.
---
'What a lovely dress, madam'
So said the breakfast buffet manager seeing my sari. 'Is it a traditional Indian kimono?'
---
Shefalee Vasudev is the author of 'Powder Room: The Untold Story of Indian Fashion'; E-mail your diarist: shefatwork [AT] gmail [DOT] com