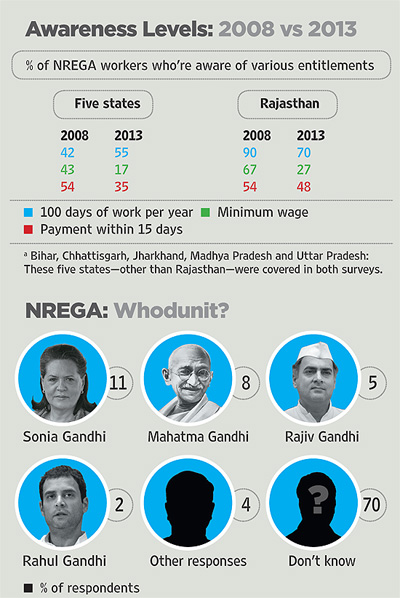 The helplessness of rural workers is a big hurdle for the National Rural Employment Guarantee Act (NREGA). The whole idea of the scheme is to give people entitlements that they can demand as a matter of right—work on demand, minimum wages, payment within 15 days, and so on. To this day, however, NREGA workers know little about these entitlements. Nor is people's awareness rising over time, judging from a comparison of the PEEP survey with an earlier study of NREGA workers. Even in Rajasthan, NREGA's stronghold, people seem to know less today than they did five years ago.
The interests of those who have the information (NREGA functionaries) and those who need it (NREGA workers) are often at odds with each other. This is one reason why awareness drives, using mass media and other means, are necessary. Many states, including Rajasthan, did this in the early days of NREGA; colourful slogans were found everywhere. Not anymore. Declining employment and declining awareness are feeding on each other.
Intrigued by claims that the UPA owed its 2009 victory to NREGA, the PEEP Survey asked this question: 'Which of these four leaders has done most for the creation of NREGA: Mahatma Gandhi, Rajiv Gandhi, Sonia Gandhi or Rahul Gandhi?' Sonia was the winner—but with just over one-tenth of the respondents getting it right. Most of them had no idea. Four per cent ignored all four and argued for some other name: Manmohan Singh, Jairam Ramesh, their own CM, or even the local sarpanch!