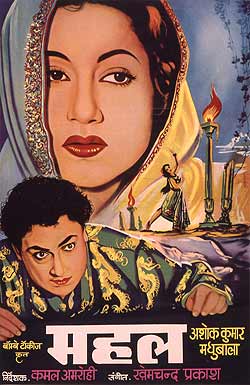 One of the pleasures of celebrating a hundred years of cinema is revisiting films whose influence is profound and long-lasting even though they might not count among the greats. Kamal Amrohi's Mahal is a fine example, and deserves a special place in Indian film history. Today, Mahal seems not the least bit scary, and some may find the pace painfully slow. But, together with Mehboob Khan's Andaaz and Raj Kapoor's Barsaat, all released in 1949, it brought a new aesthetic to Hindi cinema. It's the story of Hari Shankar (played by Ashok Kumar, also the co-producer of the film), who visits an abandoned mansion, bought in a government auction. An old gardener and his daughter Asha (unseen at this point) live in the ironically named Sangam Bhavan. The gardener recounts the tragic story of the former inhabitant, a solitary, unnamed man who drowns one stormy night crossing the Jamuna to meet Kamini, his beautiful lover. The dying man promises Kamini he'll be reborn and return to her some day. Not long after, the inconsolable Kamini too drowns in the dark waters of the Jamuna.
Soon after the gardener finishes his tale, Hari Shankar hears the sound of a woman singing afar. Following the voice through the eerie mansion, he comes upon a beautiful woman (Madhubala) on a swing. He assumes she is Kamini's ghost and falls in love with her. From that moment, his world is turned upside down.
Many believe Mahal is about a beautiful ghost ensnaring Hari Shankar. But the real twist is the reincarnated lover. Kamini's ghostly appearances distract us into believing she is the one who is reincarnated. In fact, it is Hari Shankar who is reborn with the soul of the mansion's former inhabitant. He says as much in dialogue; but no scene conveys this with certainty, and this could be considered a narrative flaw. The viewer is left somewhat confused, and the only helpful clue is the song 'Aayega, aayega... aanewala aayega'. It isn't 'Aayegi, aayegi...aanewali aayegi'. But viewers, who had never before seen a ghost story in Hindi cinema, did not mind the holes in the narrative. They loved this Bombay Talkies production with its mysterious mood, unusual music by Khemchand Prakash and lyrics by Naqshab.

Director Kamal Amrohi with Lata Mangeshkar
When Amrohi made Mahal, like all first-time directors, he wanted the film to be fresh in every aspect. He asked Lachchu Maharaj, the great Kathak artiste, to choreograph the musical sequences, including the song 'Yeh raat phir na aayegi', sung by Rajkumari and Zohrabai. It resulted in some trance-inducing moments of cinema. He bravely cast the 16-year-old Madhubala as Kamini/Asha, her first significant role. She had appeared in a number of films but had till then made no great impression. Mahal turned her fortunes forever. (There's a confusion worth clarifying here: the Bimal Roy who edited Mahal isn't the celebrated director of Madhumati.)
The opulent sets, the doors and corridors were used to convey the entrapment of the hero's mind in delusion.
Mahal was the first Hindi film to have opulent sets, the kind usual with historical films. They were created by art director B.N. Tagore. Perhaps the desire for opulence came from Amrohi's experience of writing the screenplay for Sohrab Modi's Pukaar. But he used the ornate sets to a different effect: at one point, the hero is shown walking on and on through a series of doorways opening into a grand corridor, fabulously visualising in physical space the entrance into, and entrapment of, the hero's mind in a world of delusion from which there is no escape. Soon, Hari Shankar will see things "through a glass, darkly", as his sense of reality becomes blurred.
It's unknown whether Amrohi was familiar with Hollywood supernatural thrillers of the 1940s, especially those of Jacques Tourneur, shot in the film noir style, its roots in German Expressionism. These melodramas had gloomy, flawed characters, inexorably drawn to their ruin. Mahal has a comparable mood; and it's no surprise it is rooted in film noir, for it was shot by the German cinematographer Josef Wirsching, who used stunning close-ups and shadows to create dramatic tension and infuse menace.
This ace cinematographer came to India on the invitation of Himanshu Rai in the 1930s to work at Bombay Talkies and became Amrohi's close collaborator. He's an unsung hero of Indian cinema, largely uncredited for influencing the cinematography of our black-and-white classics. As a German living in British India, he was interned in detention camps during World War II, but returned to work at Bombay Talkies on release. He died in 1967, during the initial filming of Pakeezah.
Very few of today's generation would watch Mahal, but the title is well-known, owing to the popularity and the back-story of Aayega, aayega.... In those years, playback singers were not credited on record labels, perhaps to conceal the fact that actors did not sing their own songs. When the 78 rpm record of Aayega... was released, the song was credited to the character Kamini. Faced by a crescendo of demands, HMV had to finally tell radio listeners the singer was a young woman called Lata Mangeshkar, who became famous after Mahal was released.
Today sound perspectives are created using digital technology. But Aayega, aayega... was recorded more than 60 years ago. In an interview, Lata Mangeshkar once told me how much inventiveness Amrohi, composer Prakash and she brought to the recording to the give the song a ghostly feel: she stood in a corner of the studio, with the microphone at its centre and walked towards the microphone singing the opening verse, from Khamosh hai zamana... to is aas key sahare, and when she got close to the mike, she sang the refrain, Aayega, aayega.... After much trial and error with this procedure, the song was finally recorded to everyone's satisfaction.
With Mahal, Amrohi set the formula for suspense films, spawning many clones, including Madhumati, Woh Kaun Thi? and Mera Saaya, and creating an appetite for tales about ghostly mansions, murderous goings-on, unhinged minds and a female apparition sauntering as a haunting melody plays. But at heart, Mahal is less about reincarnation than about people obsessed with finding eternal love. This search for and union with the perfect beloved is close to the Sufi idea of divine love, a theme running through all of Amrohi's films: in Pakeezah and Razia Sultan, the question is whether love can transcend social and class barriers; in Mahal, it is whether love can transcend death itself.
***
Endless Waiting...
Khamosh hai zamana,
chupchaap hain sitaare,
Aaram se hai duniya, bekal
hai dil ke maare.
Aise mein koi aahat is
tarah aa rahi hai,
Jaise ke chal raha ho
man mein koi hamaare,
Ya dil dhadak raha hai
is aas ke sahaare.
Aayega aayegaa ayega,
Aanewala, aayega...

(Time stands still,
The stars are silent,
The world is at rest.
Yet my heart is uneasy.
Suddenly, I hear footsteps nearing,
As though someone were
walking through my heart.
Or is it the sound of my heart
quickening with hope?
The one meant to return
will return)
---
(The writer is a film-maker and author of many books on cinema.)