Sitting at his desk in the cabinet office on what was by London standards a warm autumn day, an aide to British Prime Minister Harold Wilson shot off an urgent note to Number 10. A "ceasefire had been agreed" and was to come into effect at precisely 10 pm (GMT). It was September 22, 1965. Around the same time, at 7 in the mor­ning in Washington, military and civ­ilian personnel inside the situation room in the White House drafted a similar note to President Lyndon B. Johnson. The war was over. For Johnson, who cared little for South Asia, the central concern had to do with China. On Sep­t­e­mber 17, premier Zhou En-Lai warned India that further escalation could result in Chinese intervention. The CIA strongly argued that such involvement was "unl­ikely", but the risk made it all that more important to end the war at the earliest.
If the Chinese too chose to send forces across the border into India, the United States would be compelled to enter a war its commander-in-chief had no interest in whatsoever. Unlike his predecessor John F. Kennedy, Johnson did not mask his disinterest in South Asia. In fact, soon after the Chinese warning made headlines in the People's Daily, the president told Robert McNamara, the US defence secretary, that he had "made up" his mind in April, following the hostilities in the Rann of Kutch, that the US was "out of business with Ayub and Shastri".
On balance, Johnson's apathy was understandable. His administration was involved in a war in Vietnam that would change the course of American history. Operations like Rolling Thunder—the air bombardment campaign against North Vietnam—was far more important to this Texan and 36th American president than events in a part of the world where historical disputes had proven intractable.
Unlike Kennedy, who seized upon an opportunity following the Sino-Indian border war in 1962 to broker a deal on Kashmir, Johnson's interests were limited to China. An intelligence field report passed to his staff on September 23 provided the assurances he needed. The "first signs", it read, "of a relaxation in Chinese Communist military alert status" was clear. During a visit by Ayub Khan in December 1965, Johnson wryly confessed that the Pakistani president "who he once admired" was "subdued, pathetic and sad". Ayub's misplaced faith in the willingness of Kashmiris to rebel against the Indian state—the sole purpose of what was called Operation Gibraltar launched on August 5-6, 1965—had taken him, as Johnson put it, "on an adventure" and he had "been licked".
In fact, and far more disastrous than Ayub and foreign minister Zulfiqar Ali Bhutto's misreading of local sentiment in Kashmir, was their utter lack of appreciation for Anglo-American interests. These were shockingly different to those held by Kennedy and British prime minister Harold Macmillan only three years before. In fact, it was a textbook case where perceptions and strategies were based upon past trends rather than taking cognisance of changing times.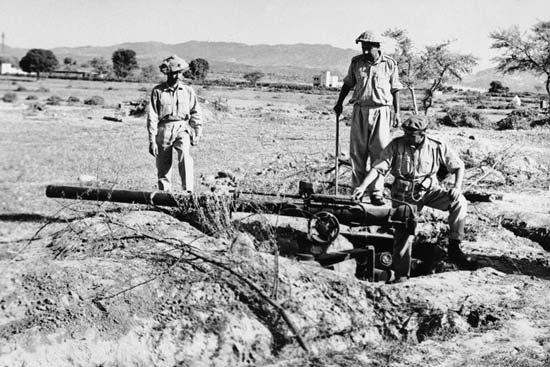 Ayub's misplaced faith in the Kashmiris had taken him, as LBJ put it, "on an adventure" and he had "been licked".
For Bhutto, the "intellectual father", as the historian Dennis Kux put it, of the failed Gibraltar exercise, the calculation was simple. Intervention, escalation and war over Kashmir would force the West, the Chinese, and even the Russians to force India to negotiate away the Kash­mir Valley. After all, India succumbed to pressure from the Anglo-American qua­rter soon after the Chinese announced a unilateral ceasefire ending the 1962 war. Further, Harold Wilson's remarks and actions in the summer of 1965 gave such fanciful thinking room to fester. It was he who offered his good offices to negotiate an end to the fighting across the Rann of Kutch in April 1965. An inf­ormal ceasefire took effect on April 30. Yet, when the Indian army crossed the international border in Punjab on September 6, "opening a second front", Wilson pointedly told his ministers that there would be "no new initiatives in the subcontinent". The UN, and secretary-general U Thant, would be left to "deal with this". Britain's approach, a foreign office memo underlined, was simply "riding out the storm".
What Wilson failed to app­reciate was that actions and words lead to expectations. Soon after the Kutch ceasefire in April, the chest-thumping PM fervently argued that "Britain's frontiers were on the Himalayas". As hollow as these statements might have been, they did well to support Bhutto's view that the West would once again intervene. Such loose talk, Bhutto and others later learnt, were better suited for after-dinner huddles around a fire remembering the Raj inside the likes of the Brooks Club in Pic­cadilly. Britain's feeble attempt to rec­over post-colonial authority died a quick death. Wilson's frontiers disappea­red when it really mattered. In turn, Joh­nson's disinterest could have been excused. After all, he was charged with recovering the fortunes of American power gradually sapped by a relatively tiny country in Southeast Asia.
That Russia under Alexei Kosygin was quick to occupy the diplomatic space vacated by London and Washington was both expected and ironic. Expected because Kosygin suggested a peace conference in Tashkent well before the war ended. Ironic because for the first one-and-a-half decades following Indian and Pakistani independence, the US and Britain had done everything possible to stem the Soviet tide in what historian Robert McMahon calls the "Cold War in the periphery". As one of Wilson's staffers argued, the reality was that the "Russian move", directed as it might have been against China's growing authority, was equally "directed against western influence in the subcontinent", and there was little to be done. A special report prepared by the CIA concurred. Further, Kashmir, it argued, was a "national issue" for both India and Pakistan. It was best to leave this "impasse" to them.
Non-involvement became the new mantra for both Britain and the US. India has done much since 1965 to limit western involvement. Pakistan has invested considerable treasure and manpower to lobbying congressional representatives in the US and the many members of parliament representing the 1.5 million diaspora in the UK to reignite Wilson's Himalayan frontiers, but to little realisable effect. The 1965 war may not have been a watershed conflict. It was unlike the more dramatic encounter in 1971 that led to the birth of a new country. Yet, for the large part, it seriously limited Anglo-American interest in a dispute that, as the CIA pointedly put it, is one best solved between the nations involved.
---
(The author is senior lecturer, Department of War Studies and the India Institute, King's College, London)